Giving impetus to sustainability as brand's purpose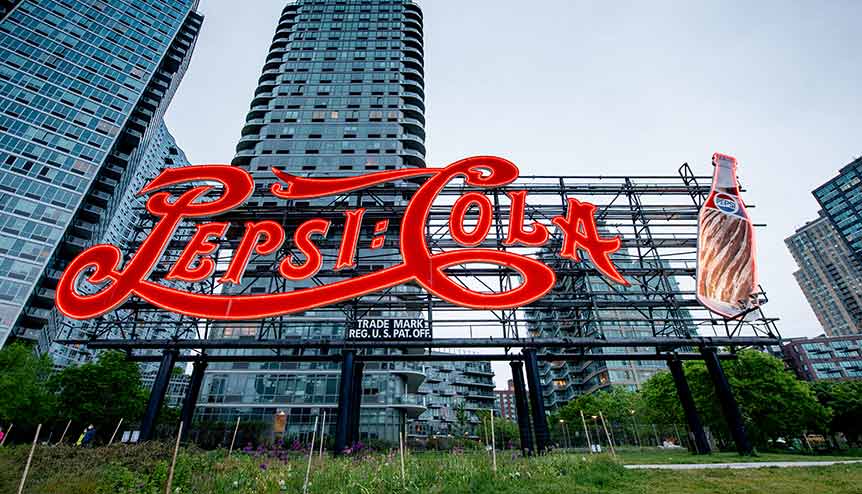 PepsiCo India is helping build a sustainable future based on its 'Winning with Purpose' philosophy.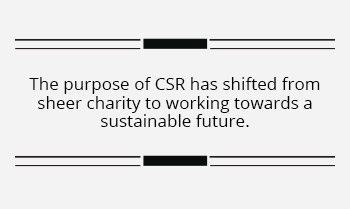 Globally the call for a sustainable environment has been strengthening over the last decade and corporates are increasingly focussing on CSR to plan their operations. The purpose of CSR has shifted from sheer charity to working towards a sustainable future.
At PepsiCo India, we are fully committed to sustainable growth based on our philosophy 'Winning with Purpose'. This philosophy draws from the fact that the success of a company is inextricably linked to the sustainability of the world around.
We are focussing on three priorities to build a sustainable environment – Circular Future for Packaging, Positive Water Impact, and Climate Change Mitigation. For each, we have defined a pathway to achieve accelerated and sustainable growth. 
Circular future for packaging 
We are striving to build a world where plastics need not become waste. As one of the world's leading food and beverage companies, we recognise the significant role we play in helping to change the way society makes, uses, and disposes of plastics. We are doing our part to make sustainable plastics a reality.
As part of our 2025 sustainability goals, we are committed to the circular future of packaging by achieving the following:
Design packaging that is 100 per cent recyclable, compostable or biodegradable. 

Ensure at least 25 per cent recycled content in our packaging. 

Reduce the use of virgin plastic by 35 per cent across our beverage portfolio.

Invest to increase recycling rates in key markets. 

To achieve our sustainable goals, we are working with the government, NGOs, implementation partners and individuals across multiple states to collect, segregate, and sustainably manage the equivalent of 100 per cent plastic packaging by 2021. Apart from encouraging behavioural change towards segregation and disposal of plastic waste in communities, PepsiCo follows a Sustainable Plastics Vision, hinged on three pillars:
Reduce: PepsiCo India keeps exploring ways to minimise plastic content in its packaging, using low impact, environment-friendly packaging materials and delivery mechanisms.
Recycle: We are working with the government and waste management partners to enhance plastic waste management in the country. Last year, backed by our waste management partners, we ensured proper collection and sustainable management of packaging across 20 states through our post-consumer plastic collection and waste awareness initiatives. We have also announced achieving 100 per cent PET collection and recycling for Maharashtra and Delhi.
Reinvent: PepsiCo is working to radically reinvent packaging and the plastics we use to help us fully realise our sustainability vision. Globally, we are working on different business models like Beyond the Bottle, Beyond the Plastics and Beyond the Packages.
Beyond our sustainability initiatives, we are also trying to collectively drive change through strategic partnerships and stakeholder engagement through industry consortiums like 'WeCare' (Waste Efficient Collection and Recycling Efforts), AARC (Action Alliance for Recycling Beverage Cartons, PACE (PET Packaging Association for Clean Environment), et al.
Positive water impact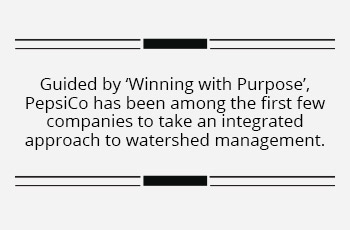 Guided by 'Winning with Purpose', PepsiCo has been among the first few companies to take an integrated approach to watershed management — from improving water-use efficiency on farms and in manufacturing facilities to replenishing local water in the regions that are most at risk and where we operate, to increasing safe water access for the most vulnerable.
PepsiCo India has pioneered several major initiatives to replenish water in communities. The India unit of the company works with Alternative Development Initiatives under PepsiCo's Sustainable Water Resource Development and Management Programme to work towards groundwater recharge and conservation, agriculture development, livelihood enhancement, and community and gender empowerment in several rural communities around our manufacturing plants. In 2019, PepsiCo replenished over 4.4 billion litres of water through its community water programmes.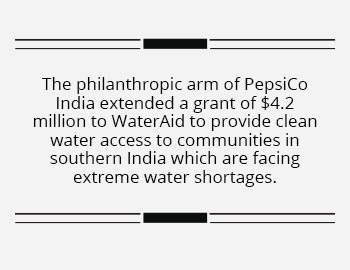 The philanthropic arm of PepsiCo India extended a grant of $4.2 million to WaterAid to provide clean water access to communities in southern India which are facing extreme water shortages, namely, Palakkad (Kerala), Nelamangala (Karnataka), and Sri City (Andhra Pradesh). This grant helped increase access to clean water for more than 200,000 people; built community and government capacity to manage water resources and educated community members to adopt sustainable sanitation and hygiene practices.     
The intervention has created 200 new water supply schemes and has restored over 130 existing water supply infrastructures.
Under the project over 18.5 million liters of rainwater has been harvested through rainwater harvesting structures at the school, household, and community level.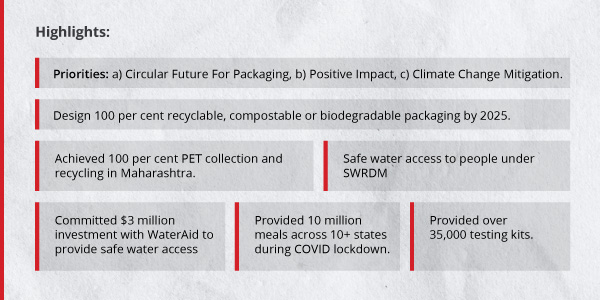 Expanding our water initiatives, PepsiCo India's philanthropic arm The PepsiCo Foundation recently committed an investment of $3 million with WaterAid to provide safe water access to 200,000 farmers and their families in Maharashtra and West Bengal. Aligned with the government's mission of 'Har Ghar Nal Se Jal', the programme aims to provide access to piped water supply for household use, increased water resources, and will establish community-managed water distribution systems in these communities. 
By 2025, our goal is to improve operational water-use efficiency by 25 per cent and replenish 100 per cent of the water that we consume in our manufacturing operations. 
PepsiCo has received many industry awards from ASSOCHAM, CII, WaterDigest for its water stewardship leadership including the Award for Corporate Excellence in 2019 from the US Secretary of State for its efforts to save more than 17 billion litres of water through community water replenishment programmes and agri water savings.
Climate change mitigation
Climate change mitigation is of paramount importance to us. We do our part to curb climate change by reducing greenhouse gas emissions across our value chain.
In 2019, to reduce GHG emissions in India, our snacks operations used 81,505 tons of farm waste as fuel for heating and produced 2.53 million units of green electricity from in-house biogas plants and roof-top solar plants. By 2030, we aim to reduce absolute GHG emissions across PepsiCo India's value chain by 20 per cent.
Amidst breakout of the Covid-19 pandemic, we designed PepsiCo's community assistance programme focussed on providing over 10MM meals in line with the global programme #GiveMealsGiveHope and providing over 35,000 Covid test kits to the public and private healthcare systems to ramp up testing and contain infections. We partnered with the NGOs like Akshaya Patra Foundation, Smile Foundation, CII Foundation, Foundation for Innovative New Diagnostics (FIND) to weave the programmes focussed on providing cooked as well as dry rations for communities to address the immediate requirement of food, a key need that emerged due to the lockdown situation.
Diagnostics emerged as another key area where more testing requirements emerged to strengthen the government's healthcare and testing priorities by providing testing kits to contain community infections.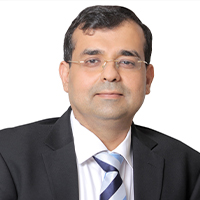 Viraj Chouhan is the Chief Government Affairs and Communications Officer of  PepsiCo India.