Georgia: A promising market for Indian businesses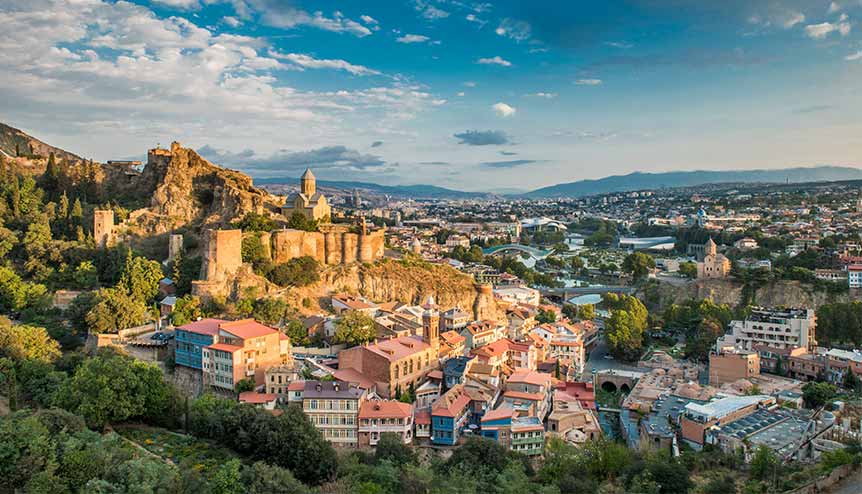 The Georgian investment agency summaries the advantages Indian companies can avail in Georgia while highlighting the government's initiatives for foreign investors.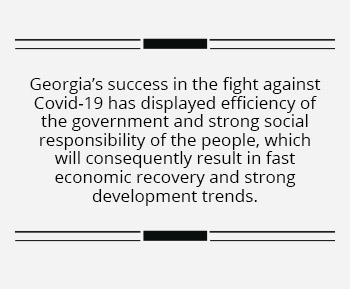 Strategically located, linking Europe with Asia, Georgia offers the combination of a cost-competitive and business friendly environment along with a skilled workforce and tariff-free access to major markets. Georgia is the perfect investment destination, where lower costs are matched with reduced risks. Furthermore, Georgia's success in the fight against Covid-19 has displayed efficiency of the government and strong social responsibility of the people, which will consequently result in fast economic recovery and strong development trends in the country. With its swift and effective response, Georgia has once again demonstrated that it is the place to do business with high security and reduced risks.
In the recent period, the business ties between Georgia and India has been growing significantly. In 2014, the first session of the inter-governmental commission for the Georgia-India cooperation in the fields of trade, economy, science and technology, culture and education took place in New Delhi.
Indian investors in Georgia
In recent years, India has become one of Georgia's important partners in the field of investments, with a significant inflow of Indian FDI in Georgia. Some of the most prominent Indian companies are already successfully operating on the Georgian market in different sectors. For instance: JSW Group, one of the largest steel producers in India and a trusted name in the global steel manufacturing industry; TATA Power, an integrated power company which is part of the Tata Group, the largest Indian multinational diversified company; Jindal Petroleum, one of the largest Indian companies operating in the oil and gas sectors, which has oil and gas blocks in different parts of the world, including Georgia.
The positive business experience of the above-stated companies and their fruitful operation on the Georgian market will serve as a success-story for other Indian companies as well and create additional confidence towards the promising Georgian market.
What does Georgia offer to Indian companies?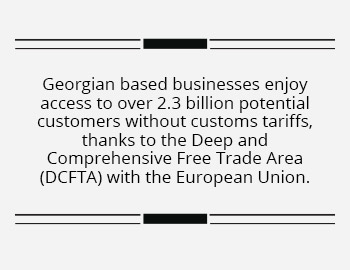 Georgia offers global investors a promising market for investments with a range of opportunities across the country's fastest growing sectors, including business process outsourcing (BPO), hospitality, manufacturing of pharmaceuticals, electronics, automotive and aircraft parts, logistics and renewable energy.
Located in the Caucasus region, Georgia is positioned as a gateway between Europe and Asia. Since Georgia is a major regional transit hub, the country offers significant distribution access and opportunities through newly renovated and expanded transportation infrastructure, which includes upgraded highways, international airports, rail, and seaport networks.
Georgian based businesses enjoy access to over 2.3 billion potential customers without customs tariffs, thanks to the Deep and Comprehensive Free Trade Area (DCFTA) with the European Union, free trade agreements with China (including Hong Kong), EFTA, CIS countries and Turkey.
Moreover, Georgia's strong education system generates competitive professionals equipped with quality knowledge and skills. Literacy rate in Georgia is 99.4 per cent and 92 per cent of the population have at least secondary education. Georgia has 64 higher educational institutions and 66 Vocation education institutions. Kutaisi International University, which is the largest university complex and regional education and technology hub in Caucasus, will receive the first wave of students in September 2020. On the other hand, a modern Vocational Education and Training (VET) system has already been developed in Georgia, ensuring delivery of industry-relevant qualifications and technical skills.
Offering a business-friendly environment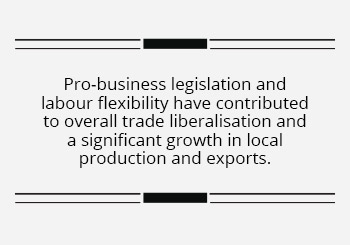 Through the implementation of extensive reforms to offer investors a liberal tax system and more business-friendly environment, Georgia has illustrated its commitment to opening its doors to the international investor community. Furthermore, pro-business legislation and labour flexibility have contributed to overall trade liberalisation and a significant growth in local production and exports.
On top of that, Georgia offers simplified administration and registration services for businesses, which can be utilised to obtain the full range of required work documentation via one-stop-shop organisations. According to the rating of the World Bank, Georgia is a top performer on the ease of Doing Business and is ranked third among the countries with the lowest tax burden in the world.
The message to Indian investors is quite simple and straightforward – Georgia is a great destination for companies from all around the world, whether it's to enter the regional market, the European market, or the broader Asian markets. And it has an Open Door Policy to help foreign and local companies grow in and via Georgia.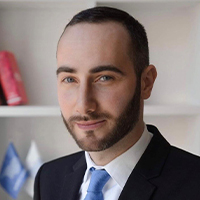 Tornike Zirakishvili is the Deputy Director of Enterprise Georgia.