Gandhi statue graffiti evokes diaspora hurt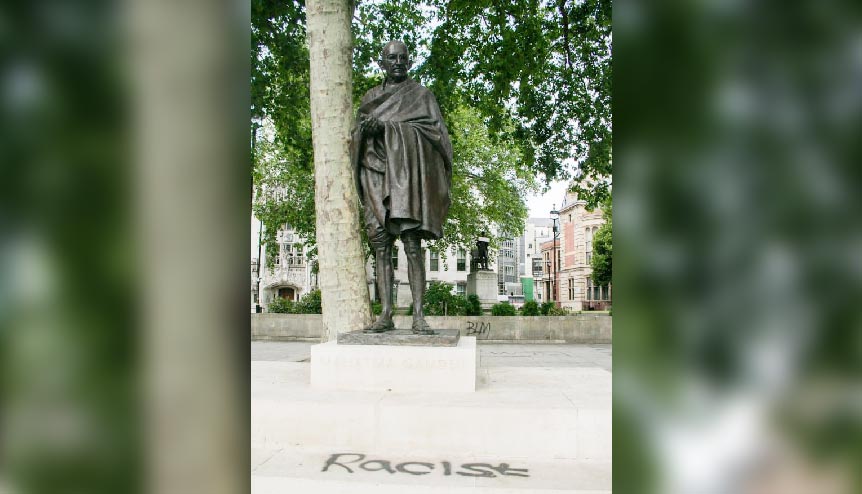 Several Indian diaspora members took to social media to express their hurt and anger at the statue of Mahatma Gandhi at Parliament Square in London being targeted by Black Lives Matter protesters, with the word "racist" imprinted on the steps below the plinth.
While some branded it a "highly unethical" and "cowardly" act given Gandhi's lifelong struggle for people regardless of race, caste or creed, others branded it sheer ignorance.
"Mahatma Gandhi was a promoter of peace, non-violence and community harmony. I am totally ashamed that the great leader's statue has been decimated with graffiti," said Jayu Shah from the Friends of India Society International.
UK Prime Minister Boris Johnson condemned the "thuggery" of the protesters, who he said had betrayed the cause they purport to serve with actions such as emblazoning Winston Churchill's statue with the words "was a racist" and hurling bottles and fireworks at police officers.
"To the criminal minority who have subverted this cause with their thuggery, I simply say this: your behaviour is shameful and you will face justice," UK Home Secretary Priti Patel told the House of Commons on Monday, following a weekend of protests across the UK in reaction to the killing of George Floyd – the 46-year-old African American victim of police brutality in Minneapolis.
Anger and rage
A visibly enraged Patel referenced her own upbringing as she countered Opposition allegations of not fully understanding the anger of the people and the anti-racist demonstrations.
"On that basis, it must have been a very different Home Secretary who as a child was frequently called a Paki in the playground, a very different Home Secretary who was racially abused in the streets or even advised to drop her surname and use her husband's in order to advance her career," the Gujarati-origin minister said at the despatch box.
Her parliamentary intervention came as Scotland Yard confirmed a total of 36 arrests related to violent clashes, which involved a statue of 17th century slave trader Edward Colston being pulled down and dragged into the river in Bristol. The move has triggered a movement against similar symbolism, with an online petition to remove the statue of Robert Clive from Shrewsbury attracting hundreds of signatures within hours.
Clive of India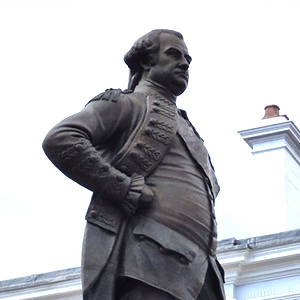 Referred to as Clive of India for his role in establishing Britain's colonial domination over India in the early years of the Empire in the 18th century, Clive is another controversial figure from history.
"Robert Clive was one of the early figures of the British imperial domination of India, Bengal and much of South-East Asia," reads the petition, which is fast edging towards its 2,500 target.
"Clive as a symbol of British colonialism is significantly offensive to Indian, Bengali and south-east Asian descent and to attempt to justify it as a celebration of British pride and nationalism is only justifiable if one revels in the persecution and murder of millions of innocent people," it reads.
Local Shrewsbury MP, Conservative Party's Daniel Kawczynski, called for a peaceful discussion on the statue and pledged to conduct a "blow by blow" research on the life of locally-born Clive.
"We are doing a research paper and while I won't comment on his life until after it's written, the British Empire was a tremendous source for good during its time," said Kawczynski, who said he would be using the House of Commons library for the research.
"We honour and celebrate those who helped establish this empire. They are part of our history and should be treated with respect and dignity. I know some people will want to eradicate all traces of the British Empire, but I've seen huge pluses of things it did around the world," he said.
Peter Nutting, the leader of Shropshire Council, said that in line with the council's constitution, all petitions that gain 1,000 signatures are debated to determine any action required.
by Nadia Hatink