From India's farms to the UAE's tables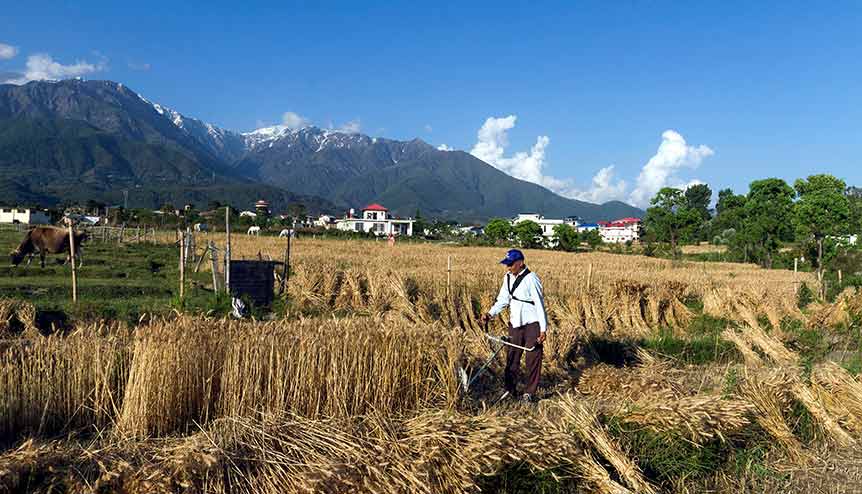 This is a textbook case of how blockchains boost the agritech business. The Agriota platform empowers India's local communities and export prospects, while rapidly expanding the UAE's long-term food security and serving as a showcase for bilateral embrace of emerging technology.
Beans, beetroots and bananas from farms across the far-flung corners of India, brought to right to the table in the United Arab Emirates thanks to blockchain.

This marvelous mingling of modern technology and government collaboration is what has produced Agriota E-Marketplace – a unique joint venture project between India and the UAE that will seamlessly connect India's rural farmers and the UAE food industry.
Under the initiative, launched recently by Dubai's free-zone Dubai Multi Commodities Centre (DMCC) and the Dubai government authority on commodities trade and enterprise, millions of Indian farmers will get the opportunity to connect directly with the entire food industry ecosystem in the UAE – including food processing companies, traders and wholesalers – through the Agriota E-Marketplace.
Disrupting traditional farmer-importer ties
While the UAE and India are among the biggest trading partners of each other and India boasts of a robust export of agricultural produce to the UAE, Agriota-E Marketplace is a disruptor that could upend the traditional symbiosis between farmers, middle men and importers. For the blockchain-based platform will act as an agricultural commodity trading and sourcing hub, thereby allowing farmers to bypass intermediaries, optimize supply chains and ensure traceability to create value for all stakeholders.
While DMCC provides the free trade zone to host the platform, the logistics and connectivity is being handled by CropData Technology – an Indian company dedicated to connecting Indian farmers to fair markets and essential services.
In 2019, India exported more than $38 billion worth of agricultural and processed food products, with one of their largest markets being the Middle East. Of this, New Delhi exported more than $1 billion of food products to the UAE, according to data from the country's Agricultural and Processed Food Products Export Development Authority. Undoubtedly, the partnership between DMCC and CropData will help further boost agricultural commodity trading between the two countries.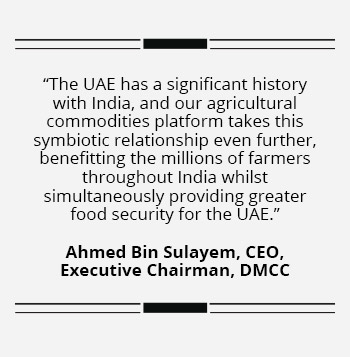 "The UAE has a significant history with India, and our agricultural commodities platform takes this symbiotic relationship even further, benefitting the millions of farmers throughout India whilst simultaneously providing greater food security for the UAE," said Ahmed Bin Sulayem, CEO and Executive Chairman of DMCC.
With the onslaught of the Covid-19 pandemic and its crippling impact on global supply chains, ensuring long-term food security has emerged as a strategic necessity for mostly non-agrarian countries such as the UAE and Saudi Arabia – and India has swiftly moved to fulfil their demands.
Secure and direct income for farmers
But that element of security is also not just a one-way necessity – while platforms such as Agriota will ensure the continuous supply of agri-products for the UAE, it will also aim to shore up a direct and secure income for Indian farmers.
One of the key highlights of the project is end-to-end traceability and transparency through last-mile verification and extension infrastructure in a blockchain environment. Additionally, the introduction of a proprietary banking system with a multi-tier escrow structure will guarantee secure transactions of funds when using the platform, officials said.
"The UAE has a comprehensive plan in place to ensure food security and champion agribusiness trade facilitation, with the ultimate goal of positioning our nation as a world leading hub in innovation-driven food security," said Bin Sulayem. The launch of an innovative model like Agriota will also push the UAE closer to the top of the Global Food Security Index, he said.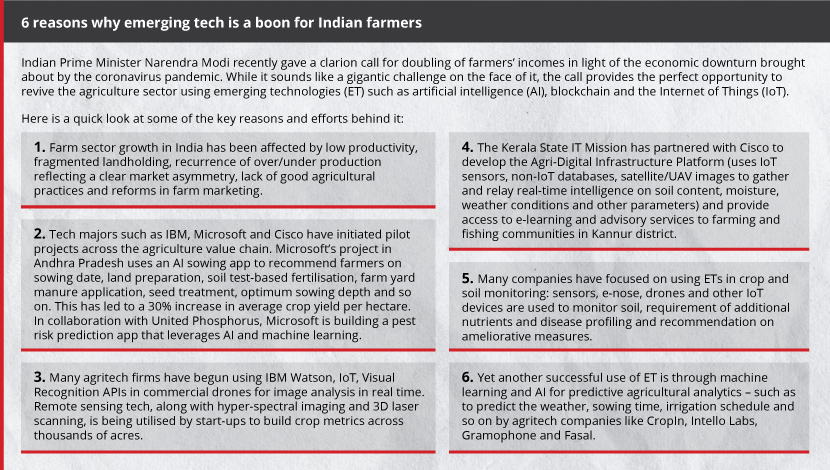 Unlocking new opportunities amid Covid-19
According to officials, such aggregation has the potential to empower local communities, deliver better quality farm-to-shelf products and expand the UAE's long-term food security, while boosting India's agritech sector and export prospects. The platform will initially offer cereals, pulses, oil seeds, fruits, vegetables, spices and condiments.
The setting up of the platform is also an indicator of how the Indian government and agribusinesses have embraced the benefits of blockchain. Like Agriota, the Coffee Board of India launched a blockchain-based coffee trading marketplace last year, targeting rural farmers and aiming to help them achieve fair prices and increased traceability while reducing intermediaries.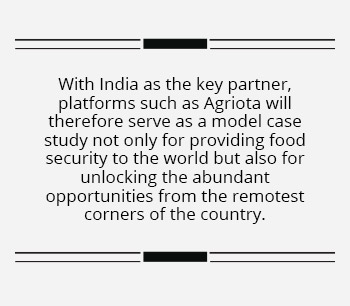 Sahyadri Farmers Producer recently announced adopting a blockchain solution for end-to-end product traceability, providing consumers with live data on produce harvest and quality. The Government of India has also partnered with AI and blockchain company Agri10x to help farmers access Agri10x's online marketplace.
With India as the key partner, platforms such as Agriota will therefore serve as a model case study not only for providing food security to the world but also for unlocking the abundant opportunities from the remotest corners of the country.