FrankfurtRheinMain: Where Indian businesses flourish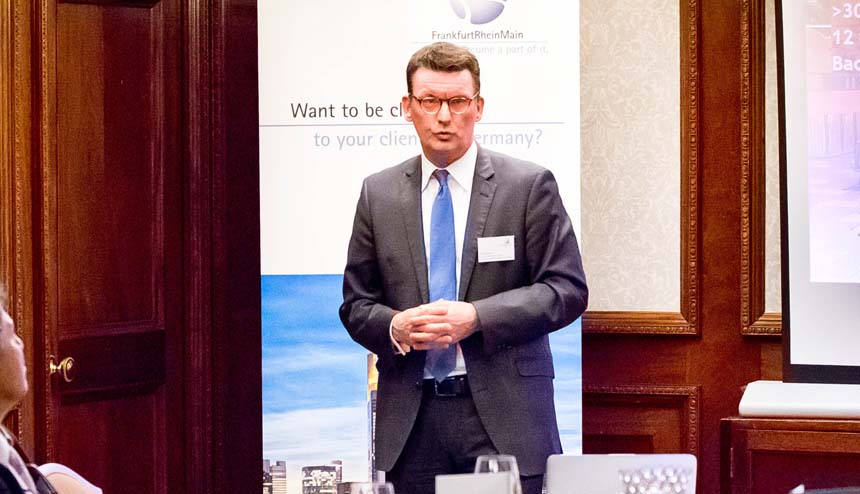 Eric Menges is President & CEO of FrankfurtRheinMain GmbH, the inward investment agency of FrankfurtRheinMain region of Germany. In this interview with 'India Global Business', he outlines the scope for investments in the region in the wake of the Brexit vote and why the German hub is a prime location for Indian companies looking to expand in European markets.
How is the Brexit vote changing the landscape for Indian investments?
Germany's most dynamic business location, FrankfurtRheinMain, is named after the city of Frankfurt and the rivers Rhein and Main surrounding it. It has been a leading contender for Indian businesses post Brexit.
My team has been actively talking to and engaging with Indian companies in the UK to know more about their post-Brexit plans.
The outcome of the Brexit negotiations is very uncertain. But one thing that is certain is that the greater Frankfurt region has been the launch pad for numerous Indian companies in continental Europe and presents an excellent alternative business location.
Why should Indian businesses be looking at Frankfurt for investments?
The FrankfurtRheinMain region, named after its core city Frankfurt and the two rivers Rhein and Main, is the third-largest metropolitan region in Germany stretching over three German states (Hesse, Bavaria and Rhineland-Palatinate). Centrally located and well-connected by air, rail, water and road, FrankfurtRheinMain is one of the most important business hubs not only in Germany but also in Europe.
With approximately 35 million people in a 200-km radius, companies enjoy proximity to a wide customer base. Companies entering the region not only benefit from a strong customer base but also gain access to cutting-edge products, innovative technologies and solutions. Furthermore, companies can also benefit by collaborating with German companies & research institutes in the latest advances in IoT, Industry 4.0, AI, Green Tech and E-Mobility. In the long term, once the Brexit negotiations close in 2019, FrankfurtRheinMain, because of its position as a leading financial hub and its central location, will play an even greater role as the gateway to Continental Europe. Businesses operating out of FrankfurtRheinMain will enjoy uninterrupted access to customers and the ease of doing business across continental Europe.
All this said, the Frankfurt region is easily Germany's most international location. It is very cosmopolitan and culturally-diverse, thereby offering a smooth landing pad for Indian companies right in the middle of Europe's strongest economy.  

What are some of the key sectors with great potential for closer Indo-Frankfurt ties?
Germany being the most stable economy in Europe, the opportunities for Indian companies are huge. Over the past couple of years, Indian companies have established a strong foothold in the greater Frankfurt region. With Brexit looming, Banking & Finance is an obvious choice. However, the Frankfurt region offers great opportunities in the ICT/Software, Automotive Engineering, Lifesciences, and of course, Logistics sectors. Companies from all these sectors will certainly find favourable conditions for business growth and development.
What opportunities does the Frankfurt Metropolitan region provide to Indian businesses in the context of Brexit?
Since Brexit presents operational challenges for organisations from the finance/banking, logistics, automotive and pharmaceutical/Life sciences sector, there is a dire need for companies to have a base in continental Europe to continue to service their European clients without interruptions. This is obviously true for organisations providing banking services of which some even require the so-called "European banking passport". Also for Indian IT companies providing, for example, cloud services to the finance sector, the location of data and data protection will be critical. Germany, and especially the FrankfurtRheinMain region, has attracted many organisations due to its immediate connectivity to all major European hubs and the ease of doing business in continental Europe. Numerous surveys conducted post the Brexit Referendum have ranked the Frankfurt region as one of the leading and best positioned alternatives for international businesses in continental Europe.
What are some of the major investments that have come in from India in recent times?
The Indian community in FrankfurtRheinMain, with 8,000 Indians and 135 Indian companies, is amongst the strongest in the whole of Germany. Besides some of the Indian banks such as ICICI and State Bank of India, the FrankfurtRheinMain area has attracted investment from leading Indian corporates such as Infosys, TCS, Wipro, Godrej Security Solutions, Persistent Systems, Tata Autocomp, etc. Apart from the large-sized companies, medium-sized family-run businesses as well as small-scale entrepreneurs have also kickstarted their operations in our region. I should add that these operations have been very successful.
Forums such as India Meets FRM' and India Business Forum (IBF)' are well-established platforms for Indo-German business networking. All this has led to a very vibrant and active Indian community in the greater Frankfurt region.
Are German businesses equally interested in investing in India?
India being one of the fastest growing economies in the world offers various opportunities for German companies. Bilateral trade between Germany and India in 2016 stood at more than €17.4 billion. Since January 2000, Germany is the seventh largest foreign direct investor in India. Today, more than 1,700 German companies are active in India, providing around 400,000 direct and indirect jobs. Germany is India's largest trading partner in Europe and among India's top ten global trade partners. Whenever I visit India, I am always impressed by the high level of German investment and engagement that can be witnessed in all major Indian business cities, especially in Pune where six years ago our organisation, FrankfurtRheinMain GmbH decided to locate the FrankfurtRheinMain India representation office.