Food processing is India's sunrise sector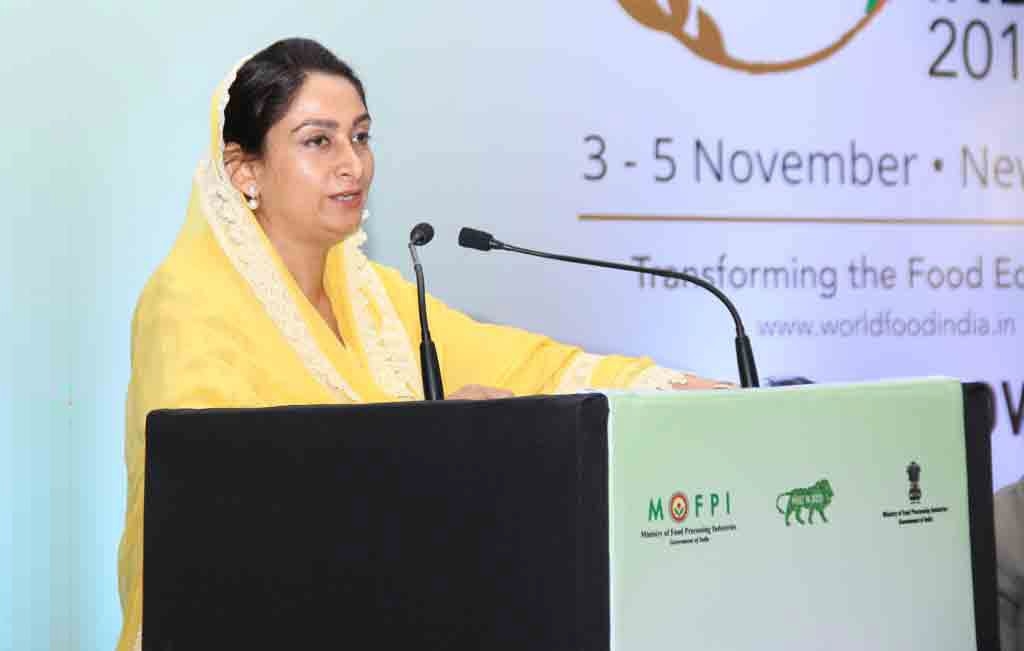 Harsimrat Kaur Badal, as the minister in charge of India's Ministry of Food Process Industries, has been on a worldwide mission to attract investors to the country's $915bn farm-to-fork ecosystem. During a recent visit to London, 'India Investment Journal' was given an insight into her plans for India's first-ever World Food India summit this year.
What is the investment update since your last visit to the UK?
From our last meeting, all the big retail chains were hoping for some relaxation in the FDI [foreign direct investment] policy. The existing model in India is only for food and most of them do food plus other items. That is a decision the government will be taking very shortly and the serious interests will become apparent once that clarity is there.
Meanwhile, we have had people who have in any case applied for FDI for food. Amazon has committed $500 million over the next three years in the food sector, not just in e-retail of food but also brick and mortar – which is a new model for them. And there have been others like Big Basket, and Grofers.
There has already been an additional 40 per cent of FDI since the FDI policy was announced. And, in case there is a further relaxation given, then I think the numbers will grow pretty significantly.
In the UK, the retailers may say that they want to replicate their existing model in India. To make a new model which is only food, they would need to rework their entire plans. Food has to have very low margins but requires huge amount of infrastructure. If they had the option to bring in their current model of food plus other items, they would be competing against each other for the Indian market.
Which areas of food processing are growth segments in India?
Wellness foods and organic foods is something which is growing worldwide. In India, we have the advantage of many of our states being naturally organic – our entire North East and all our hilly states are naturally organic. While many of the Western countries have had to actually detox themselves and de-chemicalise themselves and become organic, we from time immemorial have been organic.
So, that is an added advantage – we have already got the infrastructure for people who want to get into the processing of just organic. These same areas of India have a lot of health products, Ayurveda, herbs and spices and natural healing which are becoming very popular worldwide.
Which countries are keen to invest in this sector?
Japan was one of the first countries which had applied to be the partner country in World Food India because they currently import almost 40 per cent of their food and India has a very small segment of that. They are very interested in increasing the import of vegetables from India and replace some our neighbouring countries as a source, one of the reasons being because we are not genetically modifying our food and they know they are in safe hands.
The attraction is also the huge raw material base that we have and agro-climatic zones which can grow almost anything in some part of India.
Then we have the Arab countries, which are huge food importing nations showing a lot of interest in our food parks where they want to come and manufacture to their standards and take back to their country. Geographically, India is located in such a way that with the infrastructure thrust and incentives being offered to companies who set up base here, the cheap and skilled work force on offer, coupled with ease of doing business, food processing has become a sunrise sector.
Italy is very interested because it is starting business and trade with India after a huge gap of four years. They are interested in the retail and dairy sector as well as technology. Other machine manufacturing nations like Germany are also interesting in coming into the sector. For every Western market which is saturated or ageing, India compares as one of the fastest-growing economies in the world today which attracts huge amounts of FDI.
The World Bank also highlighted India as the one bright spot in a gloomy global economy. Keeping that in mind and the rapidly growing urban middle class and demand, there are very few countries which can in fact afford to ignore India.
What are the priorities you have set for your ministry?
It would be to get the infrastructure up and running and also used to optimum levels. Then to ensure that the infrastructure actually impacts the lives of farmers because for food processing, the raw material of this industry is the farmer's produce. The whole idea is to cut out the middle man and get the industry to partner with the farmer so that the industry can hand-hold and help him with technology, know-how, seeds and assured buy-back of his produce.
Also, ensuring there is value addition to what the farmers are doing and supplement his income and at the same time the consumer benefits through additional processing and availability.
What are some of the milestones achieved in food processing so far?
In the last three years, this government of Mr Modi has taken all the necessary steps to address the infrastructure needs of the food processing sector, starting by separating the ministry of food processing industries from the agriculture ministry. With 127 agro-climatic zone across India and as one of the largest food producers of the world, this combination was not ideal. Now there is the required focus on food processing industries.
We have put in the investment to create mega food parks and cold chains and offer cheaper credit options. We have 42 mega food parks coming up in practically every state across India – out of them nine are already functional and another three will become functional this year and all 42 will be operational in the next two years. There is huge capacity building underway.
Under the cold chain scheme, 113 are already functional and the government has sanctioned 101 more cold chains which will also be ready in another two years. The good news is that this year the government has sanctioned Rs 6,000 crore ($90mn) to incentivise this sector to create such infrastructure over the next three years.
What impact do you see GST having on FDI?
GST is one of the biggest reforms that has taken place in this decade. In the first few weeks, any kind of roadblocks and queries which are coming up are being handled and addressed on the spot. The very fact that the government has undertaken such an exercise, which I would say after the Jan Dhan Yojana or inclusive banking for the Indian population, is among the biggest economic reforms in modern history. So far, there has been successful implementation in bringing all the states on board. The government is committed to ensuring there are no hurdles in achieving one nation, one tax.
What will attract countries to the first World Food India?
India is a $600-billion retail sector, out of which 70 per cent is just food retail and this is set to treble in the next three years. An average Indian will be spending 50 per cent more on food in the next five years. So, that is the kind of huge market that we have.
We feel the platform is ready for World Food India, which would be a place for people to meet and take partnerships to another level. We are looking to invite a lot of retailers and food processors to come and set up in India. We look forward to taking India's food diplomacy to the next level.
*World Food India takes place between November 3-5 in New Delhi.