Flanders accelerates India toward a bright, high-tech future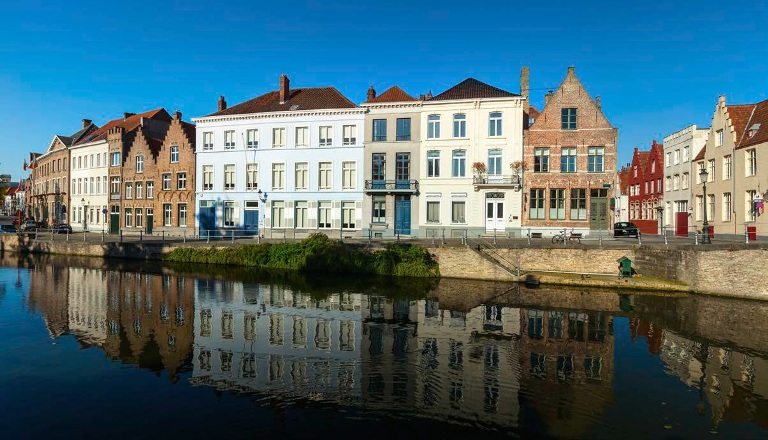 Flanders is one of three official regions of Belgium in the European Union (EU). 'India Global Business' throws the spotlight on this economic powerhouse to see what it can offer Indian companies looking to set up in Europe.
Flanders is all about synergy – synergy between knowledge centers, corporations, universities, markets and culture. The region's perfect combination of talent, innovation, infrastructure and purchasing power make it a bustling metropolis that gives wings to Indian businesses. Are you ready to take off? The sky is the limit in Flanders.
The gateway to Europe's biggest markets
New to Flanders? As the northern half of Belgium, the region is located right next to the beating heart of European commerce. People and goods travel at lightning speed to Europe's largest capitals and biggest markets – the UK, Germany, the Netherlands and France – in just a couple of hours max.
60% of Europe's purchasing power is located within 500 kilometers of Flanders.
A history of collaboration
Doing business in Flanders isn't a new concept to Indian companies. India is Flanders' most important Asian trading partner, receiving almost EUR 7.6 billion in exports. Imports from India into Flanders totaled around EUR 4 billion in 2015.
Since 2009, the Belgium-India Social Security Treaty has boosted Indian investment by exempting Indian personnel from Belgian social security contributions – and vice versa, for Belgian personnel in India. Belgium's funding opportunities and tax incentives are some of the most extensive in the world, and the work permit process is a breeze.
India is Flanders' most important Asian trading partner.
The result? Indian investments in Flanders continue to accelerate year upon year, with over 60 Indian companies currently present, representing industries as diverse as ICT, pharma, automotive, cleantech and financial services.
Big names in big business
Add your name to the growing list of Indian companies – from newbies to global stars – that now call Flanders their strategic European home.
Tata Consultancy Services
Infosys
Tech Mahindra
Aditya Birla Carbon
JBF Industries
Piramal
Godrej Group
Binani
Emrald Tyres
State Bank of India
Union Bank of India
Rewards for Indian investment
Knowledge-based economy
As an advanced region rich in talent, expertise, business and culture, the economy of Flanders is founded on knowledge – the new gold. The region is home to four of the world's most advanced science and technology research centers, which attract talent from across the globe. The rapid rate of innovation and scientific advancement in Flanders makes it the perfect place to generate high value returns and outpace other players, no matter the industry.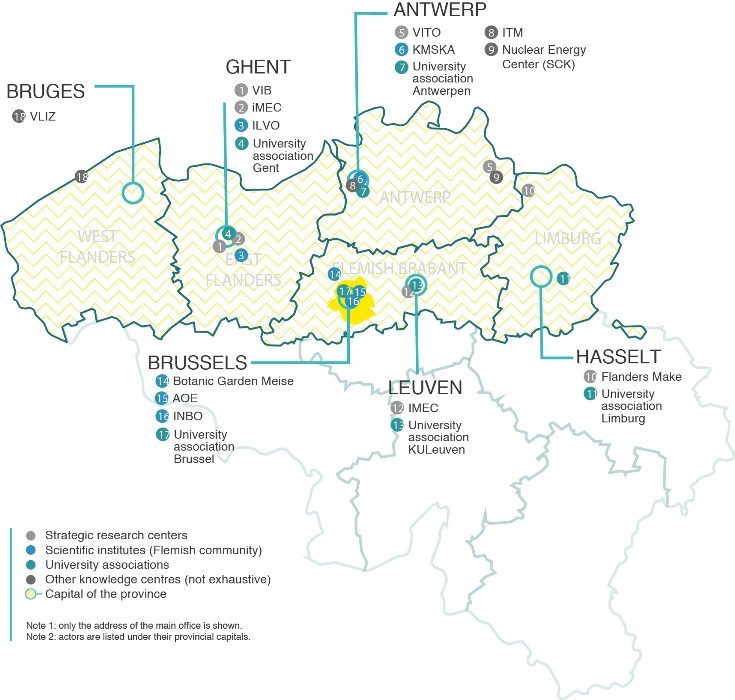 Skilled, multilingual, productive workforce
Ranked at the top of the list for quality of education, Flanders' workforce has a proven track record in math and sciences. The region also boasts 5 internationally-ranked universities and a number of globally-competitive management and business schools.
Workers in Flanders have an incredibly strong work ethic, outperforming workers in almost every other country in terms of productivity compared with labor cost. In fact, the workforce of Flanders is the 4th most productive in the world. The region's workers are also typically fluent in English, French and German and accustomed to international business environments.
A business-boosting blend of strategic research centers
Nothing highlights Flanders' frontrunner position in science and technology like the region's four knowledge centers. Nowhere else on earth are top-class facilities clustered together within such a small area. Tech transfer? Academic-industrial collaboration? World-altering breakthroughs? Flanders has it all.
Imec – leading nanotechnology research and digital innovation center.
VIB – one of the world's premier life sciences institutes.
VITO – multidisciplinary research center active in the fields of energy and sustainable development.
Flanders Make – cross-domain research facility focused on the transformation of advanced production technology.
Ideal business environment
Indian companies are perfectly positioned for huge gains here in Flanders. The region's combination of location, incentives, talent, knowledge ecosystem, infrastructure and culture of innovation is so much greater than the sum of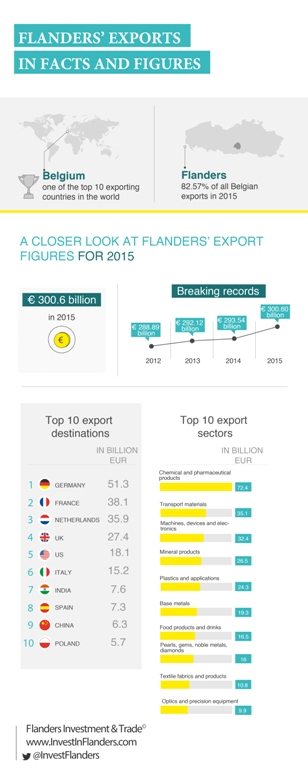 its parts. Businesses have everything they need close at hand for success in Europe and worldwide.
When it comes to ease of doing business, no other Western European country makes it simpler to get up and running. In addition to other personnel-related benefits, highly-qualified workers can receive their work permits in as little as two weeks. The governments of Flanders and the country of Belgium offer enticing business-boosting incentives and smart financing options to foreign companies with activities focused on green business, R&D, high-tech and more.
Get the facts: logistics in Flanders
Flanders is home to one of the most advanced logistics infrastructures in the world. With its high-capacity, high-throughput ports, extensive inland waterways and rapid rail, air and roadway connections to important European markets, it's no surprise that Flanders boasts more than 800 EDCs (European Distribution Centers). Bring your products to exciting new markets and go big via Flanders.
Flanders has one of the most advanced logistics infrastructures in the world.
The numbers tell the tale, as Flanders has:
4 international seaports ranked 2nd best worldwide
the world's densest road network
the world's 2nd-densest railway network
1,375 kilometers of navigable waterways
all major European markets within reach by road in under 24 hours
Superior in diverse tech sectors
As an urbanising economic powerhouse with a growing population, India stands to gain the most from innovations in ICT, advanced technology and cleantech. Flanders fits India's goals of empowering, connecting and improving the lives of its citizens like a glove.
Leading-edge innovators in ICT, pharma, advanced technology and cleantech.
Cleantech was born in Flanders. Prominent renewable energy companies, innovative research centers and governmental support have been instrumental in developing Flanders' position as a pioneer in wind energy, solar energy, bioenergy and other alternative power sources. It's also a fact that 95% of all cleantech-related equipment produced here is exported abroad.
Face the digital transformation head-on, save costs and outdistance your competitors by taking advantage of the advanced ICT infrastructure, technical knowledge and innovative atmosphere of Flanders. The region even offers unparalleled access to accelerators, technology clusters and incubators that can take Indian tech companies to the next level.
A match made in innovation
Flanders brings huge advantages to India in the form of technology and expertise in important sectors, including chemistry and pharma, advanced manufacturing and ICT. Technologies developed in Flanders are already resulting in huge payoffs for India – especially in the form of cleantech innovations and the establishment of smart cities.
India and Flanders? We need each other. With so much to offer on both sides of the equation, there's no question that Flanders and India are a match made in innovation.