Festive season sales could launch Indian tech cos globally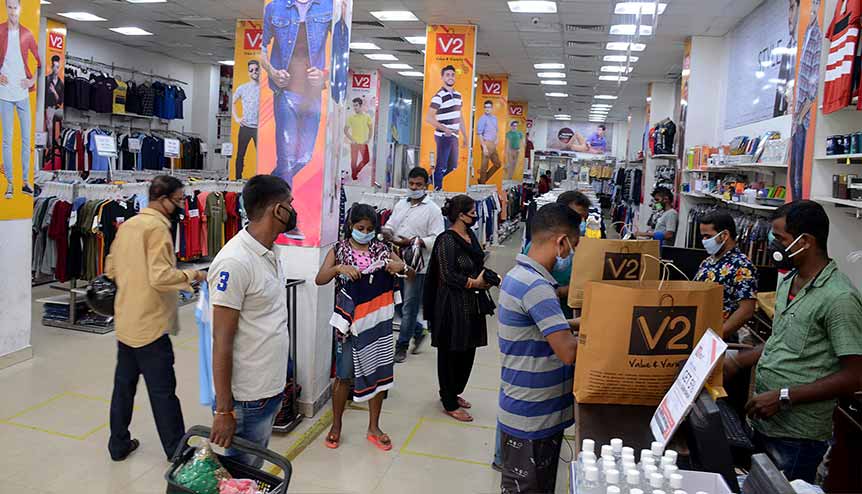 Consumption demand is expected to revive for the e-commerce sector in India this festive season. This could do for Indian tech companies what the 2002-04 SARS pandemic did for Chinese internet firms.
Consumption demand is expected to make a resounding comeback to the Indian economy, especially in the e-commerce segment, in the coming quarter.
A report by Internet consulting firm RedSeer says festive season sales in India this year are expected to almost double to $7 billion from $3.8 billion in the previous festive season. This year, the number of shoppers making purchases online is also expected to almost double to 50 million from 28 million last season.
Read more:
India's online pharmacy sector is booming
Retail and e-commerce must present level playing field for all
Profitable future in store for Indian online grocery market in post-Covid-era
Battleground India: The next frontier in online streaming
Ambani-Bezos rivalry heats up; market awaits Amazon's next move
Turnaround for Indian economy
This will mark a sharp turnaround for an economy that contracted 23.9 per cent in the first quarter of the current financial year and, according to many economists, is headed for its first full year economic contraction in four decades.
Consumer spending, which is a marker of people's confidence in their economic future, has decelerated quite dramatically in the first quarter. In economic parlance, it is called Private Final Expenditure; this important indicator shrank 26.7 per cent in the first quarter. Now, the RedSeer report offers hope that this may rebound and ensure that the full-year report card for the Indian economy is not as gloomy as is being predicted.
Reliance Retail adds spice to e-commerce battle
What will add spice to the sizzling battle for the wallets of Indian consumers is the mega-entry into the market of Reliance Retail, the click-and-mortar retail venture of Asia's richest and the world's fourth-richest man, Mukesh Ambani.
More to read:
Self Reliance and Reliance are writing the great Indian story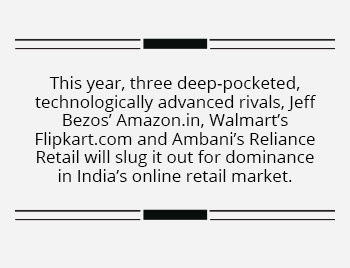 Indian toy story: Let the games begin
Rural India drives the boom in Indian e-commerce sector
China's Great Wall showing signs of wear and tear
Challenges and opportunities in India in turbulent times
So, this year, three deep-pocketed, technologically advanced rivals, Jeff Bezos' Amazon.in, Walmart's Flipkart.com and Ambani's Reliance Retail will slug it out for dominance in India's online retail market.
Online sales are convenient, safe and hygienic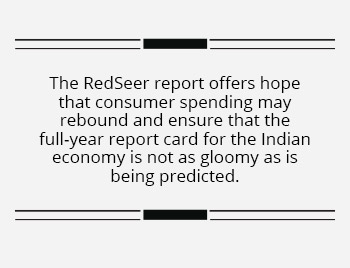 "Consumers now more than ever prefer to shop in a manner that is convenient, safe and hygienic and the e-commerce space meets all these requirements, the RedSeer report says.
"E-commerce has seen a sharp revival from the lockdown days, trading at 1.8 times of January," Anil Kumar, CEO of RedSeer Consulting told leading Indian financial daily The Economic Times. "This has largely come at the cost of organised trade and offline grocery buying. This trend is expected to have significant long-term impact, providing tailwinds to online buying behaviour."
Still more to read:
New payment opportunities fill in the e-commerce gap for small businesses in India
India's e-commerce policy caught between a rock and a hard place
Kirana stores are vital for dominating India's e-tail sector
India's growth rates likely to rebound quite strongly next year
India's Kisan rail will propel the rural economy ahead
Overall shipments expected to increase
Analysts concede that some of the incremental online sales will come at the expense of offline retailers but add that despite this cannibalisation, overall shipments this festive season could be 20-25 per cent higher than last year.
This could lead to the revival of another important economic indicator. Gross fixed capital formation, which is a proxy for private investment in the economy, was down 47 per cent, almost entirely due to the 65 per cent lockdown of the Indian economy, the world's most stringent.
Alternative to China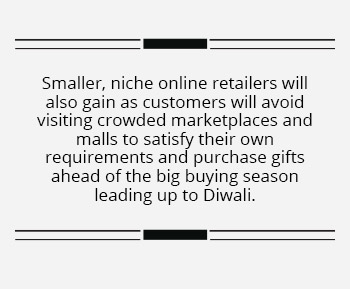 With imports from China now restricted – and given the strong consumer resistance to Chinese goods in the wake of its unprovoked aggression on the disputed trans-Himalayan India-China border – this could provide an opportunity for Indian industry to step into the breech and meet the pent-up demand that has built up in the Indian economy.
Although the big boys of Indian online retails – Amazon, Flipkart and Reliance Jio – are expected to walk away with the lion's share of the increased consumer spending, smaller, niche online retailers such as furniture seller Pepperfry, cosmetics seller Nyka, grocery chain Big Basket and others will also gain as customers will avoid visiting crowded marketplaces and malls to satisfy their own requirements and purchase gifts ahead of the big buying season leading up to Diwali.
Tier II towns, villages to drive boom
A large part of this expected boom in online sales will be driven by consumers in Tier II towns and beyond – what the English language media somewhat derisively calls Bharat.
Rural India is experiencing a financial boom following a bumper winter harvest, record disbursements of the Prime Minister's basic income scheme and another expected bumper harvest of the summer crop.
Farm sector to drive sales
Although agriculture accounts for only 16 per cent of India's GDP, rural India accounts for 46 per cent of the country's consumption demand.
Opportunity for Indian tech companies to launch globally
The Covid-19 pandemic has opened up another opportunity, apart from the one for the Indian e-commerce sector. Analysts recall that the SARS pandemic of 2002-04 was the catalyst that launched the then fledgling Chinese internet sector to global greatness and turned it into an international powerhouse, albeit behind impregnable ideological and technological firewalls.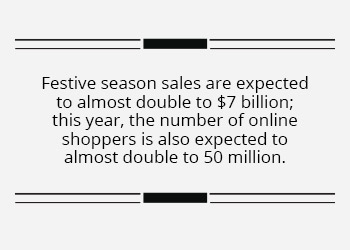 Indian technology companies, operating in an open democracy, do not have the same luxury of a protected home market and easy access to consumers across the globe. But the current global pandemic does offer an opportunity for e-commerce companies in India – not only the Indian-owned Reliance Retail but also US-owned Amazon and Flipkart – to consolidate their position in the world's second-largest e-comm market.