FDI inflows into India have scaled new peaks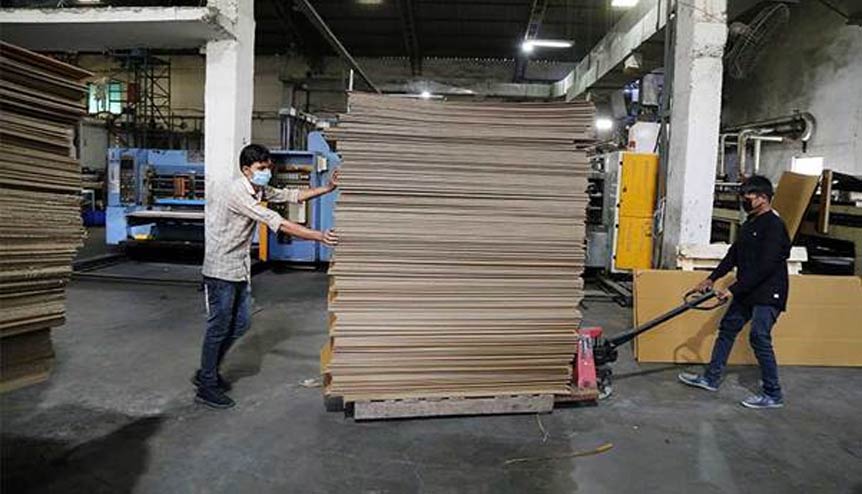 Enthused by India's future prospects and the reforms undertaken by the Modi government, in the face of the pandemic and national lockdown, several marquee foreign investors have poured in immense sums of money into companies such as Jio Platforms Reliance Retail and a few others.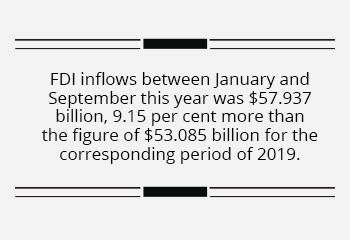 The calendar year ended December 31, 2020 promises to be a blockbuster year for foreign direct inflows (FDI) into India.
Despite the Covid-19 pandemic and the world's most stringent total lockdown that effectively closed more than two-thirds of the country's economy for the best part of six months, deep pocketed and marquee foreign investors such as Facebook, Amazon, Google, Mubadala, KKR, Silver Lakes and others poured billions of dollars into the country – even while India was in the middle of the lockdown.
According to figures aggregated from the Reserve Bank of India's Monthly Bulletin and available at https://dipp.gov.in/sites/default/files/FDI_Factsheet total FDI inflows into the country between January and September this year was $57.937 billion, 9.15 per cent more than the figure of $53.085 billion for the corresponding period of 2019.
Foreign investors have made record investment in FDI and FPI during COVID in India.

Our private sector is not only capable of fulfilling our domestic needs, but is also capable of creating its strength globally.

– PM @narendramodi pic.twitter.com/vmnikvCm0q

— BJP (@BJP4India) December 12, 2020
Total FDI includes equity inflows, re-invested earnings and other capital. Globally, this is the accepted standard for calculating FDI inflows.
If one considers only equity inflows during this period, as some analysts do, the inflows during the January-September 2020 period is $43.211 billion, up 16.88 per cent over the figure of $36.970 billion for the previous corresponding period.
Investor optimism trumps lockdown blues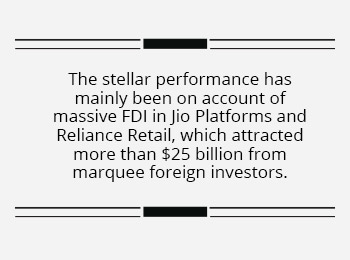 These figures, impressive by any standards, stand out all the more when one considers that India was in total lockdown mode for three months from March 25 and in partial lockdown for three more months.
The fact that foreign investors decided to look beyond the lockdown and the resultant 23.9 per cent contraction of the economy in the April-June quarter and the 7.5 per cent shrinkage in the following quarter is a huge vote of confidence in the Narendra Modi's management of the economy and its future prospects.
Reliance Jio, retail arm the star performers
The stellar performance this year has mainly been on account of several large investments, totalling more than $20 billion, in Jio Platforms, the technology vehicle of Mukesh Ambani's Reliance Industries by several blue-chip global investors. Reliance Retail also attracted investments of close to $5 billion.
The investors included global tech titans Facebook and Google, private equity powerhouses like KKR, TPG Capital, General Atlantic and Silver Lakes and sovereign wealth funds and government-owned trusts like Abu Dhabi's Mubadala and Abu Dhabi Investment Trust and Saudi Arabia's Public Investment Fund.
Expectedly, the US, Mauritius and Singapore were the top sources of FDI. But this year, countries such as the United Arab Emirates (UAE) and Saudi Arabia also figure in the list of top FDI sources.
Most attractive sectors
So far this year, the telecom and technology sector attracted the highest FDI inflows, followed by the services sector. Other industries that attracted large amounts of FDI were computer hardware and software, trading, real estate and manufacturing.
The figures for the October-December quarter (and also for the 2020 calendar year) will be available next month, but Indian officials are confident that when the final figures for the full year are tabulated, it will break all previous records.
Reforms measures to lift growth rates
That's because global agencies such as IMF, S&P and Fitch are projecting a complete rebound from the Covid-induced technical recession this year. They see a V-shaped recovery leading to very high growth rates for India next year. Then, many companies looking for alternatives to China are likely to set up manufacturing facilities in this country. And the reforms measures unveiled by the Modi government will sustain high growth rates for many years to come. All these will combine to increase India's attractiveness as a global investment destination.
Thumbs up from global agencies
Global ratings agency S&P, while affirming India's sovereign rating at BBB- with a stable outlook, has said it sees the country recovering strongly from the slowdown this year. It has projected GDP growth in the next fiscal at a turbo-charged 8.5 per cent.
Another global rating agency, Fitch Ratings, also expects the Indian economy to recover sharply next year. In a massive endorsement of the Modi government's management of the economy, it has said it expects India to grow at 9.5 per cent next year. And the IMF expects India to grow at 7.4 per cent next year.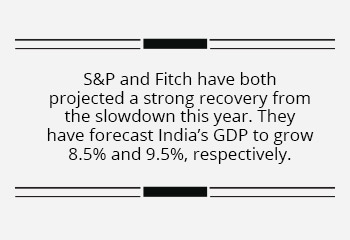 The 10-nation ASEAN bloc became the "miracle economies" of the 1970s by clocking sustained annual GDP growth rates of 7 per cent-plus. If India can achieve the economic expansion forecast by the global agencies cited above – some analysts expect it to grow even faster – it will very likely reclaim the crown of the fastest growing large economy in the world.
So, obviously, foreign investors are looking past the immediate coming quarters and investing in Indian capacities for the long term. That is likely to remain the story of FDI inflows into India in the future as well.