Domestic gaming companies must cash in on China ban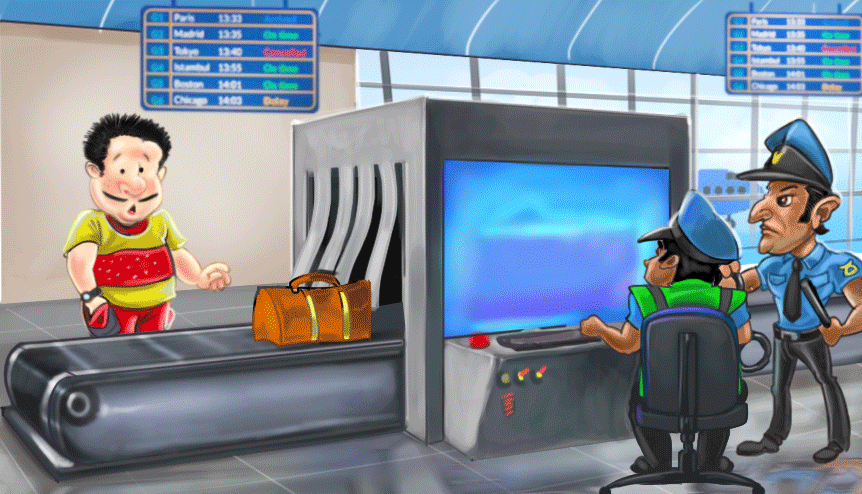 Forget the geo-political calculations that may have gone into the Modi government's decision to ban 224 Chinese apps. The decision offers Indian app developers and mobile gaming companies an almost open field to develop world-beating apps and games that will help the country establish self-reliance in technology.
Can Indian start-ups and technology companies fill up the gap in the market that has opened up after India banned 224 Chinese apps in the wake of tensions and unprovoked Chinese aggression on the border? Can India achieve Prime Minister Narendra Modi's dream of an Atma Nirbhar Bharat (Self-Reliant India) in this emerging field of consumer technology?
That's a question that hasn't been properly answered. Most analyses in the Indian and foreign media have focused on whether these bans are enough to enforce good behaviour from a belligerent Chinese leadership bent on establishing its writ as the new Asian hegemon.

Read more:
Blanket ban on Chinese apps secures Indian cyberspace

Connectivity makes the Indian farmer App-solutely successful

TikTok sale may not convince India to lift ban on app
Atmanirbhar Bharat: An initiative to foster entrepreneurship

The age of telemedicine in India

But these analyses miss the point that India is home to the world's second-largest start-up community and also that many popular apps owned by US and other Western technology majors have been developed and/or upgraded by Indian software professionals.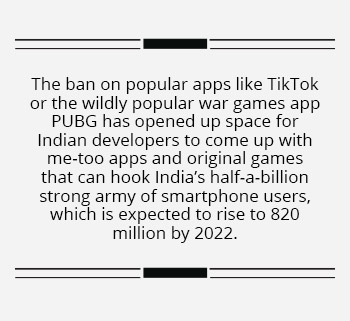 The truth is that the ban on popular apps like TikTok or the wildly popular war games app PUBG has opened up space for Indian developers to come up with me-too apps to begin with and then completely original games that can hook India's half-a-billion strong army of smartphone users, which is expected to rise to 820 million by 2022.
That's a massive market. India is TikTok's largest overseas market, with more than 200 million subscribers. Some estimates even put the figure as high as 300 million. For PUBG, too, India is one of its largest markets, with an estimated 175 million users, accounting for 24 per cent of its global subscriber base.
The background
On July 29, the Indian government banned 59 popular Chinese mobile apps, including ByteDance's TikTok, Alibaba's UC Browser and Tencent's WeChat, citing security concerns. It followed it up in August by banning 47 clones of these apps and then, in a fresh move on September 2, banned 118 apps in response to the "provocative actions" of Chinese troops on the disputed Himalayan border with China.
The government invoked powers under Section 69A of the Information Technology Act, 2000 and provisions of the Information Technology (Procedure and Safeguards for Blocking of Access of Information by Public) Rules, 2009 saying the apps were engaging in activities "prejudicial to sovereignty and integrity of India, defence of India, security of state and public order." According to the Ministry, the banned apps were "stealing and surreptitiously transmitting users' data in an unauthorized manner to servers which have locations outside India. The compilation of these data, its mining and profiling by elements hostile to national security and defence of India, which ultimately impinges upon the sovereignty and integrity of India, is a matter of very deep and immediate concern which requires emergency measures."
🗞️📰📺 #TuesdayThoughts

➡️ PUBG ban brings opportunity for Indian gaming firms to boost their domestic market share

A report by @spriyankaET @EconomicTimeshttps://t.co/RDnj74qnLz pic.twitter.com/NEopMrSpV3

— RSPrasad Office (@OfficeOfRSP) September 8, 2020

Industry leaders in the apps business feel that the ban on Chinese apps provides their business an opportunity to increase their footprint and make a mark.
The opportunity
Many analysts, including founders and CEOs of Indian app companies feel the ban on Chinese apps will provide Indian companies the opportunity to spread their footprint and increase their market share in what is already the world's second-largest internet and smartphone market.

More to read:
Data in India takes its place on stage – front and centre

India-Singapore collaboration on fintech set to grow
UK-India Tech Partnership takes an innovative approach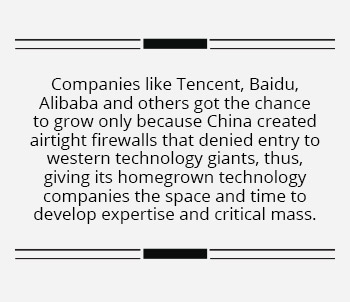 Cutting edge tech the key to reshaping the hotel industry post-pandemic
How the pandemic is fuelling India's edtech platforms
Their logic is: Most gaming subscribers in India are casual gamers; they will move to other platforms if the Chinese games are not available. And TikTok rivals in India are already gaining subscribers by the millions.
Their thinking is based on, ironically, the Chinese model. Companies like Tencent, Baidu, Alibaba and others got the chance to grow and achieve gargantuan scale only because China created airtight firewalls that denied entry to western technology giants, thus, giving its homegrown technology companies the space and time to develop expertise and critical mass.
Supporting PM @narendramodi's AtmaNirbhar movement, proud to present an action game,Fearless And United-Guards FAU-G. Besides entertainment, players will also learn about the sacrifices of our soldiers. 20% of the net revenue generated will be donated to @BharatKeVeer Trust #FAUG pic.twitter.com/Q1HLFB5hPt

— Akshay Kumar (@akshaykumar) September 4, 2020

An Indian firm nCore has announced plans to launch an India-themed game called FAU-G with the expectation that Indian IPS will work in India. Indian gaming companies now have an opportunity to go global.
Made in India, by Indians, for the world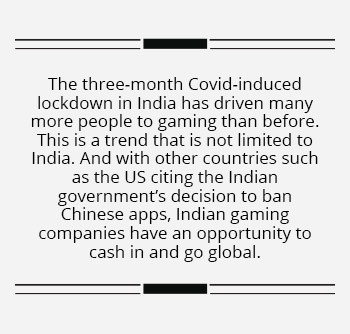 There has been feverish speculation and excitement in India about Reliance Jio, billionaire Mukesh Ambani's telecom company, launching a PUBG rival called JioG, almost within hours of the news of the ban on PUBG becoming public. But that was fake news. Jio has made no such announcement.
What is true is that a leading Indian game developer, nCore has launched an India-themed game called Fau-G with the expectation that Indian IPs will work in India.
The three-month Covid-induced lockdown in India has driven many more people to gaming than before. This is a trend that is not limited to India. And with other countries such as the US citing the Indian government's decision to ban Chinese apps, Indian gaming companies have an opportunity to cash in and go global.
Still more to read:
Technology key to financial well-being in post-Covid world
Why big tech is betting big on India
Reimagining learning: Growth of EdTech Start-ups in India
Agritech platforms are the need of the hour to protect Indian agriculture
A UK-India collaboration in health-tech will mean health and wealth for both countries
Leveraging existing strengths
India is already a world leader in coding and business process outsourcing. With the Indian market now an open field, much like what Chinese technology giants like Tencent, Baidu and other had when they started out, domestic gaming studios have a small window of opportunity to create world beating games that can, hopefully, replicate the success of the Indian IT industry that really came of age in the wake of the Y2K crisis at the turn of the last century.
Indian gaming companies such as 99Games, Octro and Nazara, among others, have a massive chance to ride this opening and use it to develop high quality, easy to play games than can replicate the user experience of the Chinese games they are expected to replace and supplant.
So, this is a massive opportunity for the still nascent Indian gaming industry to score a goal while the field remains open.
Start-up India provides ideal platform
The Modi government's Start-up India initiative offers small gaming companies an ideal eco-system for this.
The app value chain involves intense, time-consuming and very expensive research and design by software developers, coders, graphic artists and copy writers collaborate, sometimes across geographies to create games that challenge players even while remaining relatable to them. These professionals often come from such varied backgrounds as content creation for media and movie production to coding in IT companies.
Given that India has the world's second-largest start-up eco-system, there will be no dearth of angel investors to finance good ideas. All it needs is some imagination and lots of gumption.
Ban is beginning to pinch
US President Donald Trump has cited the Indian precedent while banning TikTok – its Chinese parent has a small window to sell the popular app, which has been accused of making users' data available to the Chinese security establishment for espionage and influence peddling purposes, to an American company.
The Indian business is also reportedly in play, with Reliance and Japanese billionaire Masayoshi Son, reportedly interested in bidding for it.
The Indian government's action, which was mirrored in some ways by the Trump administration in the US, has shaved off billions of dollars' worth of market capitalisation from Chinese companies Tencent, Baidu, etc.
These are beginning to hurt China as is evident from the prickly response of the Chinese embassy in India to the three instalments of the app ban.
But that's another story.
The real benefits of the Modi government's decision to ban the Chinese apps will be felt when Indian app developers succeed in launching rivals that can stand up to the heat of the global market.
The challenges ahead
According to conventional wisdom, it takes between one and three years for gaming companies to achieve scale and size. As of now, Indian companies are still quite small and will need time, market protection and some handholding to get there.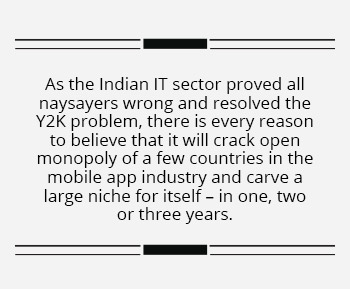 Then, the domestic gaming market for India, though massive in terms of users, is till relatively puny in terms of revenues. It was worth less than $1 billion last year and is expected to grow to about $3.5 billion two years from now – piffling by international standards.
But that's not to say that the odds are impossible. As the Indian IT sector proved all naysayers wrong and resolved the Y2K problem, there is every reason to believe that it will crack open monopoly of a few countries in the mobile app industry and carve a large niche for itself – in one, two or three years.