Do Modi's numbers stack up?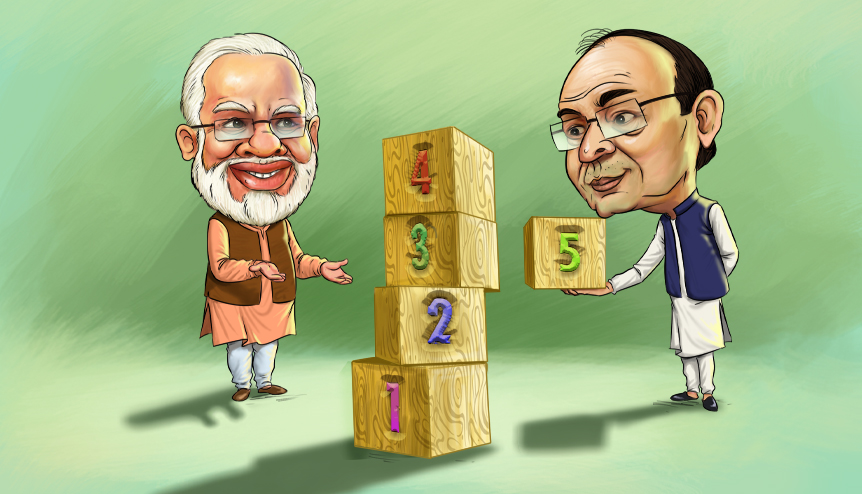 As India's General Elections get underway, a closer look at Prime Minister Narendra Modi's report card on the economy and the social sector shows he does have a good story to sell to his electorate.
The war drums are reaching a deafening crescendo heralding the start of the greatest show on earth – when 900 million Indians get together to elect the government that will define the destiny of one-sixth of the world's population.
The Bharatiya Janata Party (BJP)-led 30-party National Democratic Alliance (NDA) is seeking another term in office on the basis of its track record of governance over the last five years. Lined up against it a group of Opposition parties that does not seem to have any common agenda apart from a shared dislike of Prime Minister Narendra Modi.
In this article, 'India Global Business' will dissect his report card and judge the Indian Prime Minister and his government on performance. A few caveats first: for the purpose of this report, IGB has considered only objective parameters, i.e. those that can be judged on the basis of numbers. Hence,  subjective opinions, which often depend on individual perspective, have been left out of this discussion.
The picture in 2014
Let us rewind to May 2014 when Modi swept to power in New Delhi. The Indian economy was in the doldrums. The heady feeling of being part of the five emerging BRICS economies had dissipated. Instead, the country was being counted among a less exalted group, the Fragile Five, whose economies were expected to collapse very soon.
The fiscal deficit that year was an unsustainably high level of 4.5 per cent, indicating that the government was living way beyond its means. The current account deficit the previous year had reach an all-time high level of 4.8 per cent, indicating that the country was burning up its dollar reserves at an alarming rate.
Rising deficits meant the government had to borrow more from the market to meet its expenditure. This crowded out private sector borrowing and had an impact on the rate of investment in the Indian economy, which was critical for creation of new jobs.
Then, ordinary Indians were reeling under the pressure of rising prices as the inflation rate measured by the Consumer Price Index (retail inflation) was at a high 9.49 per cent.
The long hard yards
In his first Budget, Finance Minister Arun Jaitley committed to bring down the fiscal deficit to a more manageable 3 per cent of GDP within five years, cut the current account deficit and rein in inflation.
Foreign investors and global credit rating agencies are particularly sensitive to changes in the first two. And these two important macro numbers have a huge bearing on the third, which directly affects the well-being of Indians.
Modi declared early in his tenure that since it was not possible for a sick person to exercise his/her way back to health, his first priority would be to fix the plumbing of the Indian economy to enable it to sustain higher growth rates in future.
Cutting the slack, curbing leakages
To curb leakages, pilferage and outright loot, Modi launched the Jan Dhan Yojana, the world's largest financial inclusion scheme, which resulted in almost 350 million new bank accounts being opened in the names of poor Indians who had never before entered a bank.
With every Indian having a bank account, the government launched the Direct Benefit Transfer (DBT) programme to deliver subsidies directly into the bank accounts of beneficiaries. Government benefits on account of food, fertiliser, education and gas cylinders, which were earlier provided to companies and departments, are now delivered directly to these bank accounts.
Former Indian Prime Minister Rajiv Gandhi once said a staggering 85 per cent of all subsidies and benefits meant for the poor were lost in transit. The DBT has cut this leakage out completely saving the government about $14 billion, or about a sixth of its total subsidy bill.
The benefits have been two-fold: This scheme enabled the government to significantly rein in expenditure and meet its fiscal goals while at the same time ensuring that the beneficiaries received their dues in full and on time.
Increasing revenues
Cutting expenditure by better targeting was just one end of the spectrum. The Modi government also launched an all-out effort to increase the tax base and bring about greater revenue buoyance.
A relentless drive to unearth unaccounted income, most notably with the bold decision to demonetise high value currency notes in 2016 led to a dramatic increase in the number of income tax payers, the number almost doubling from 38 million in 2014 to 70 million now.
Then, the most important indirect tax reform in India, the launch of the Goods and Services Tax (GST), brought millions of previously unaccounted transactions to light. This also contributed significantly to this rise in the direct tax base.
Result: India's fiscal deficit is now at 3.4 per cent of GDP and on course to reduce further to 3 per cent in FY 21.
The battle against inflation
Along the way, the government also cracked down against price rise. The retail inflation rate throughout Modi's term in office has been around or lower than the RBI's target rate of 4 per cent. In February this year, the CPI inflation rate was at 2.57 per cent.
This careful nursing of the price situation has prompted the Monetary Policy Committee (MPC) of India's central bank, the Reserve Bank of India (RBI) to finally cut the repo rate to 6.25 per cent and changed its stance to neutral from calibrated tightening, indicating that further rate cuts could be in the offing if the price situation remains benign in the months to come. Commercial banks benchmark their lending and deposit rates against the repo rate. The repo rate cut is good news for businesses and retail borrowers as lending rates are expected to fall after a lag.
Improving ease of doing business
When one used to ask any foreign or Indian investor and you would hear the same thing: India is a very difficult place to do business. Licenses and permits take ages to come through; electricity connections take months; and registering a business is a big headache. These are just a few among a litany of woes facing anyone wanting to start a business in India.
But that was then. It was little wonder that India's rank in the World Bank's 'Doing Business' report was a lowly 142 out of 189 countries. This, by itself, was enough to plant seeds of doubts in the minds of decision makers around the world when considering setting up or expanding businesses in India.
The Modi government, which has set a target of entering the ranks of the Top 50 nations on this list, has completely re-engineered several processes to make India an easier place to do business in.
Several processes were transferred online, obviating the need for face-to-face interactions. This also cut out corruption and the possibility of rent seeking by officials in charge of giving approvals. Then, several cumbersome steps were done away with, single windows created in several instances and many approvals were made time-bound.
As a result, India's rank has improved dramatically over the past five years – jumping 65 places to 77th place last year. It is expected to show further improvement when some of the reforms undertaken over the past year are reflected in the current year's ranking.
The reforms push and the hard work of the government are showing results on the ground. Foreign direct investment has surged to an all-time high level of $62 billion in 2018, from $38 billion in 2014. Significantly, India overtook c in FDI inflows for the first time this year.
This is important as domestic investment still remains tepid, as a result of the overhang of the bad loan crisis inherited from the Congress-led previous government. So, FDI, along with public spending, has become an important driver of economic activity and job creation.
A recent Confederation of Indian Industry (CII) survey of 105,000 MSME firms across 28 states in the country showed that this sector alone created 13.5-14.9 million new jobs over the past four years.
"The survey establishes a growth of 3.3 per cent (compounded growth rate) per annum. When mapped to the macro level data sourced from Labour Bureau, this works out to an estimated additional job creation to the tune of 13.5 to 14.9 million per annum," CII president Rakesh Bharti Mittal said.
This survey also punctures the certitude with which the opposition parties and a section of academics are asserting that India has suffered huge job losses over the last five years and especially after demonetisation.
From fragile to fastest
This proactive management of the economy has paid the country handsome dividends. For three years now, India has retained the crown as the world's fastest growing large economy – quite a remarkable change from its "fragile" state five years ago.
Rupee on a roll
This is showing results in the markets as well. After getting beaten down for a variety of factors, the Indian currency has emerged as Asia's best performing currency over the past few weeks. At the time of writing, the value of the rupee stood at 68.82 against the US dollar, with experts predicting that it could rise further to 67/$ by the end of June if Modi wins the elections.
Focus on maximising social good
The economy is not the only part of Modi's report card that is showing a good score. The government has racked up impressive achievements in the social sector as well.
Early in his term, Modi announced a flagship scheme to build toilets in order to eradicate the scourge of open defecation, in which, shamefully, India then topped the world.
The government has set a target of at least one toilet per family. This will not only reduce the incidence of communicable diseases and environmental damage but also improve women's safety and provide them with dignity that is currently denied to a large number of them.
It was a Herculean task as only 38 per cent of Indians had access to toilets, according to data put out by the Times of India, India's largest circulated English newspaper. But four-and-a-half years after the flagship Swachh Bharat Yojana was launched by Modi on Mahatma Gandhi's birth anniversary (October 2, 2014), the scheme has succeeded in providing toilets to 98 per cent of India's 1.3 billion people.
It was equally shameful that almost 70 years after Independence, India, which had become a recognised nuclear power and a leader in space technology, had still not been able to provide electricity to almost 250 million people, or about a fifth of its population.
The Modi government has committed that it will provide electricity to every last Indian home by the end of this month. After completely electrifying every village in the country last year, the Saubhagya scheme, launched by the government, is well on track to achieve its goal of 100 per cent electrification across the country.
Poor women, especially in rural India, and their families face severe health problems while cooking on wood or coal-fired stoves. Thus, was born the Ujjwala Yojana, which aimed at providing a free cooking gas connection to every family that lived below the poverty line.
Three years after the scheme was launched, Ujjwala has improved the liquified natural gas (LPG, also called cooking gas in India) coverage to more than 90 per cent. In the previous 69 years, all the previous governments combined had managed a coverage ratio of 55 per cent.
Then, the Pradhan Mantri Awas Yojana, another flagship scheme to provide brick and mortar houses to every Indian, has also got off to a flying start. Over 25 million houses have been built till date and millions more are being constructed or on the drawing board. The goal is to ensure that every Indian has a roof over his/her head by 2022, the 75th anniversary of India's Independence.
The numbers do stack up
The numbers look impressive by any yardstick. The economy has done well, especially when one considers the precarious condition in which the previous Congress-led government left it. The gains in the social sector are actually making a difference to the lives of a large swathe of Indians.
Now, it's over to the voters.