Digi-tainment goes desi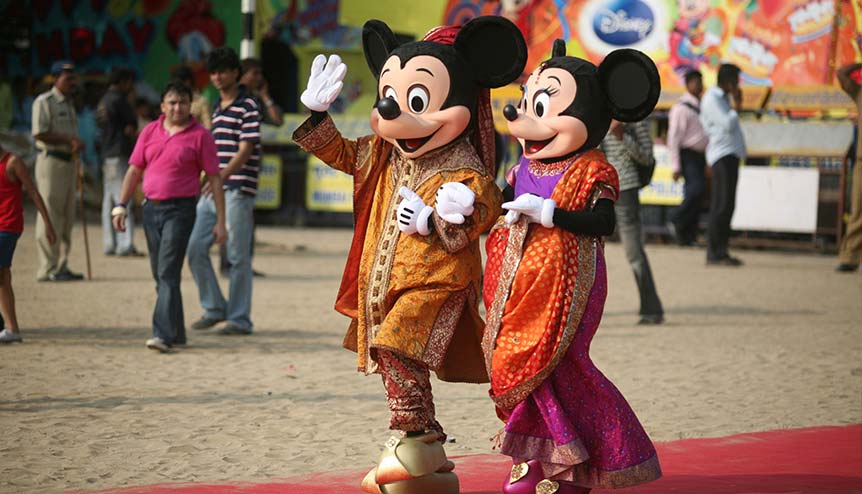 The rising popularity for quality digital entertainment and the fast adoption on digital technology in India have led to a boom in the OTT and video streaming sector.
The internet is flooded with gifs of 'Sima Taparia from Mumbai.' If you don't know who that is, don't worry. A quick visit to Netflix will grant you a quick introduction to the Mumbai matchmaker who stars in the latest offering by the American digital entertainment channel – Indian matchmaking.
The show has garnered widespread following of people who love it, love to hate it and hate to love it. And say or think what you might of the show, the bottom line is it's grabbing eyeballs. And that in the world of digital entertainment is very good news, indeed. In fact, it's the stuff OTT dreams are made of.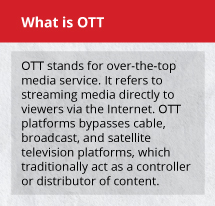 Let's back up a bit to really appreciate this moment in time for a second. A decade ago, going to the cinema was cool. Then came the era of 'Netflix and chill.' And then the pandemic hit. The Covid-19 crisis has been to upending reality what Newton was to gravity. Suddenly social gatherings were out. Schools and universities were closed but so were restaurants, café's and restaurants. And moviemakers suddenly faced the greatest crisis and opportunity of their careers.
Sure, cinemas closing was bad for business. Yet perhaps for the first time in years moviemakers were looking at a large captive audience, quite literally. Trapped in the confines of their homes, it wasn't long before people were longing for entertainment, escapes into fantasy and a way to deal with boredom.
From the silver to the small screen
It wasn't too hard then to make the jump to the small screen. After all the framework already existed. OTT platforms like Disney +, Netflix, Amazon Prime, Hotstar were already popular. It was just a matter of making the leap from the big screen to the home screen. And the results have been astounding. Nowhere is this success more apparent than in India.
Having plummeted face first into digitisation thanks to coronavirus, Indians have discovered a whole world of entertainment within the screens of their handheld personal devices. The Boston Consulting Group has predicted that the OTT segment in India, right now pegged at $0.5 billion, is poised to grow to $5 billion by 2023. Currently, India has over 40+ OTT video streaming players according to the OTT Landscape In India report. With a 1.3 billion strong population to cater to and a growing domestic and international competition, it is little wonder OTT platforms are getting quicker at seizing the diem.
The Desi touch
Indian filmmakers have been quick to jump on the new trend, having already seen the popularity of OTT platforms in India via past successes such as Sacred Games, Mirzapur and little things amongst others. And OTT platforms in return have been quick to expand their influence and viewer base by offering more bespoke and commercial content. But mainline Cinema is just the tip of the proverbial iceberg that is the Indian demographic. Tier 1, Tier 2 and Tier 3 cities along with rural India offers a vast and untapped market. And OTT platform providers have quickly discovered that the key to successfully entering these market segments is costuming the content to their needs.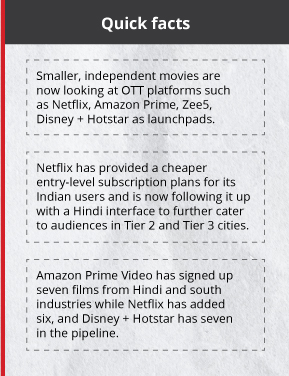 According to a KPMG study, 30 per cent Indians consume content on OTT in their preferred language which is other than English and Hindi. Another report showed that from the 40+ OTT video streaming players present in India, 30 are already offering content in regional languages.
In early 2019, Amazon unveiled the ambitious plan of launching one Indian original per month. While Netlix announced its plans to launch 22 original movies and 11 series in India.
With the stakes getting higher and a huge market to vye for, it will be worth watching how this sector pans out post -pandemic. Until then, however, one can only video stream and chill.
Dr Ishita Mandrekar is the Online Editor at 'India Global Business'.