Decoding the Wuhan "reset"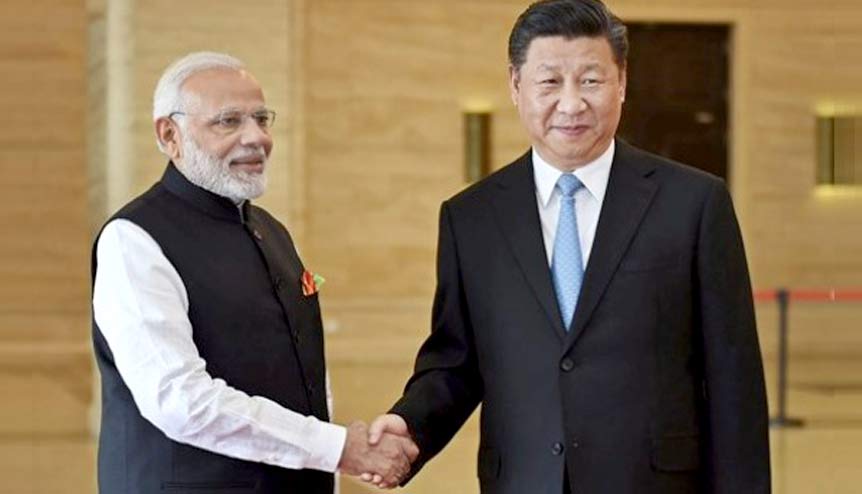 The Modi-Jinping summit breaks with the usual stuffy precedent and protocol of diplomacy. What do these two global giants want and what are they willing to give in return, analyses India Inc. Founder & CEO Manoj Ladwa.
Writing about a summit meeting, even an informal one, between the leaders of any two countries whilst it's going on, is fraught with risk. The chances of  things going horribly wrong increases manifold when the two leaders in question are Indian Prime Minister Narendra Modi, known for his out of the box thinking, and Chinese President Xi Jinping, who, too, has a shown a proclivity to deviate from script. Making matters more difficult, the planned six meetings over two days are free of any pre-decided agenda.
Having got that caveat out of the way, let me tell you why I'm excited by the ongoing meeting between Modi and Xi.
Indo-Pacific power game
China, which considers itself to be the challenger if not already an equal to the United States for global leadership, suddenly waking up to the potential of India, which it considers a "middle power", is not a coincidence.
The government-controlled Chinese media never tires of reminding their public of the massive gap between the size of the Indian and Chinese economies, their military spending and their ability to project hard power across the globe. The tone has been uniformly patronising and condescending.
Beijing is also actively spreading its economic, political and military tentacles across India's neighbourhood. With Pakistan firmly in the bag, China is now aggressively pursuing policies to draw Nepal, Bangladesh, Sri Lanka and Maldives into its sphere of influence. The goal: increase its influence in the Indo-Pacific and pin India down and chip away at New Delhi's ability to challenge China's rise as the new global hegemony.
Why then is Xi going out of his way to woo Modi and that, too, in a style that is totally uncharacteristic to the protocol and precedent-driven Chinese government? If anything, the manner and style of this summit is signature Modi.
Summit body language
This is the first-ever "informal" summit being hosted by China. Xi will spend a full two days away in China's Wuhan district for as many as six structured as well as informal meetings with Modi as the two leaders try to bridge the trust deficit that plagues the India-China relationship.
It should be borne in mind that despite the glitz and hype connected to China's rise as the new Asian power, all is not right in the Middle Kingdom. Maverick US President Donald Trump's proposed anti-dumping tariffs on $150-billion Chinese exports threatens to set off a full scale global trade war that could destabilise a delicately rebalancing Chinese economy.
Then, Trump's unexpected summit meeting with North Korean dictator Kim Jung-un, if successful, could rob Beijing of a critical nuclear-armed proxy, which adds to China's strategic heft.
Thus, Xi needs to de-escalate the rising tensions with India to make strategic space for more immediate battles elsewhere.
New ground realities
The Indian media is rife with talk of a so-called "reset" in bilateral ties.
This has become necessary because the old understanding that guided relations between the two countries, based on the arrangements agreed during Rajiv Gandhi's 1988 visit, are no longer valid. China was just beginning its rise then and India was viewed as a "Third World" basket case.
The stature of the two countries is dramatically different now and ties between the two, thus, need to take into account the new ground realities – of India and China vying for influence in the same parts of the Indo-Pacific, particularly in South Asia, South East Asia and Africa.
So, commentators who have suggested that the summit is a show of "goodwill" by China towards India are dead wrong. The word goodwill doesn't exist in Chinese diplomatic lexicon. Instead, pragmatism is the operative word guiding China's foreign engagements.
This could work to Modi's advantage, if he can extract some concession of balancing bilateral trade, which is skewed in China's favour, by gaining entry for Indian manufactured goods into the Chinese market.
The Indian media, which seems to believe only in the immediate, has speculated that Modi and Xi will discuss the border dispute and, in particular the situation in Doklam, India's entry into the Nuclear Suppliers' Group (NSG), Beijing's protection of Masood Azhar from being designated an international terrorist, fugitive diamantaire Nirav Modi's arrest and extradition from his alleged hideout in Hong Kong and India's acceptance of and participation in the trillion-dollar OBOR.
All of these are important for India and they will, in all probability discuss all of the above. But going by what Modi said prior to leaving and articles in the Chinese media, there is a strong possibility of the two leaders focusing on the international situation, particularly the rising protectionism in the West, and how India and China can cooperate in this area.
Spirit of reciprocity?
China and India are both great power aspirants, though I have to accept that Beijing is much closer to its goal than New Delhi. China has made no secret of its ambition to replace the US as the dominant player in the fields of culture, ideology, politics, economy, military and technology. It has even set in motion its long-term plan of replacing the dollar with the Renminbi as the global reserve currency.
But given Modi's track record of playing hardball when pushed, China surely cannot be expecting any major concessions from him without a reciprocal mark-down from its own side. But that will not be in keeping with China's recent behaviour with its neighbours.
That is what makes Xi's gesture of breaking with protocol and precedent for his summit with Modi so tantalising. What does he want? And what is he willing to give in return?
We'll find out soon enough. But I, like many keen India watchers, will be happy if the talks lead to a de-escalation of border tensions, a decrease in cross-border terror from China's "all-weather friend" Pakistan and greater access for Indian goods to the Chinese domestic market. India will have to cede some space in return for these but give and take is part and parcel of diplomacy.
Manoj Ladwa is the founder of India Inc. and chief executive of MLS Chase Group @manojladwa