DBS-LVB merger test case for troubled Indian banks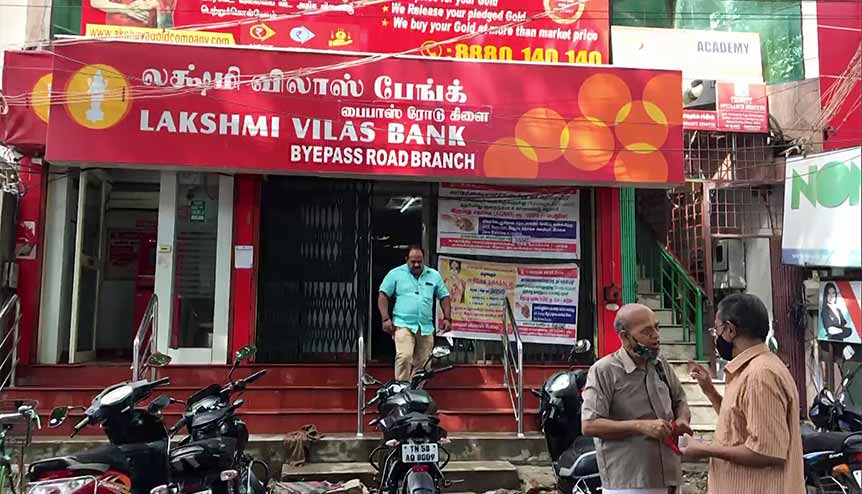 The Modi government and the RBI have moved with speed and decisiveness to resolve the crisis at the troubled Lakshmi Vilas Bank (LVB). If this move succeeds, and passes judicial scrutiny, it could open up new avenues for resolving the bad loan overhang in the Indian banking system.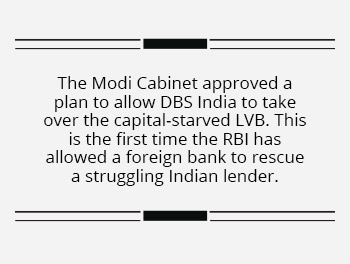 The Narendra Modi government and the Reserve Bank of India (RBI) are clearing the cobwebs that are threatening to strangulate India's banking sector. In the latest move towards cleaning up the mess in the Indian banking system, the Modi Cabinet recently approved a plan to allow DBS India to take over the capital-starved Lakshmi Vilas Bank (LVB).
This is the first time the RBI has allowed a foreign bank to rescue a struggling Indian lender.
The merger, which took effect from November 27, will give DBS India, a subsidiary of Singapore-based DBS Group Holdings, LVB's 550-plus branches, 970-plus ATMs, two million depositors and 320,000 borrowers, thus, setting the stage for it to achieve a pan-India footprint.
Read more:
Need for governance reforms in the banking sector
A new public sector merger bodes well for Indian banking reform
Singapore GIC sets sights on first Indian fund
India and Luxembourg are building bridges in Europe
Plasma to start Cryptocurrency Business in India
According to the resolution plan, DBS India will invest $335 million in the equity of the LVB for a 51 per cent stake even as the existing reserves and surplus of the bank, set up 94 years ago, will be extinguished.
Speed and decisiveness surprises experts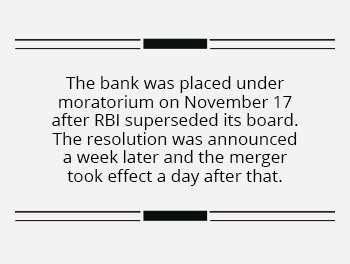 Several analysts were pleasantly surprised at the speed with which the government and RBI moved on the issue. LVB, which had been facing cash flow problems for some time now, was placed under moratorium on November 17 after the central bank superseded its board. The resolution was announced a week later and the merger took effect a day after that.
"LVB will be amalgamated with DBIL from the appointed date, and with this there will be no further restrictions on the depositors regarding withdrawal of their deposits," the finance ministry said, adding that the speedy resolution is in keeping with the government's vision of cleaning up the banking system while protecting the interests of depositors and the financial system.
Modi government approves the Amalgamation of Lakshmi Vilas Bank with DBS Bank India Limited.

It will not only protect the interests of depositors of the stressed bank but will also enhance public confidence in the banking system and its cleaning up. pic.twitter.com/WrOGp3J60E

— BJP (@BJP4India) November 25, 2020
New template for rescuing banks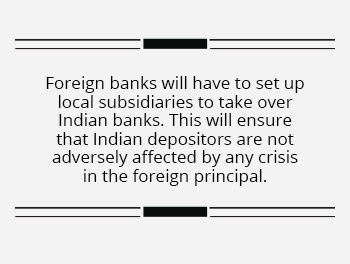 If the merger succeeds, it could serve as a new template for RBI to rescue other Indian lenders that are struggling to stay afloat. Allowing deep-pocketed foreign banks to take over weak Indian ones will give the RBI more options in its efforts to clean up the Indian banking system, which is groaning under the burden of a massive pile of bad loans that some experts estimate at 10 per cent of total lending.
However, there is a caveat attached. Foreign banks will have to set up subsidiaries in India to be eligible to take over Indian banks. This will ensure that the Indian bank and its depositors are not adversely affected by any financial or other crisis faced by its foreign principal.
More to read:
Data Centres in India offer opportunities galore
Pharma, IT returns BSE,Sensex to pre-Covid heady days
UPI could become first Made in India brand to take the world by storm
India preps for the world's biggest privatisation exercise
The worst may be over for the Indian economy
Most foreign banks operate as branches of their overseas parents. The law allows this even though the RBI encourages these foreign lenders to set up subsidiaries in India. DBS was the first foreign bank to do so. This structure brings DBS India at par with local banks such as HDFC Bank, ICICI Bank, etc.
Freedom to close down, merge branches
Of interest to other potential investors in the Indian banking sector is the fact that even though all LVB staff will become DBS India employees from the date of the merger, the latter can retain or release them from service as per its HR policies. DBS India will also have to the right to close down or merge LVB branches as per its operating plan.
Though DBS will get a 51 per cent stake in LVB, it is expected that RBI will direct it to reduce its stake to 15 per cent in phases as per existing laws.
Still more to read:
Made locally, disrupting globally
India has a unique advantage in the digital manufacturing age
Modi says artificial intelligence is as real as it gets
Skill development crucial to making India's workforce Atmanirbhar
Cloud technology provides a silver lining to pandemic lockdown
Some LVB shareholders are, however, unhappy at their holdings being extinguished completely and have moved the Chennai High Court against the proposed merger.
In an interim order, the court, while declining a stay on the merger, directed DBS Bank India to create a reserve fund from which LVB's shareholders will be compensated if the court so orders.
Judicial review to iron out wrinkles
This judicial scrutiny is welcome as it will help iron out any legal and/or procedural wrinkles that may emerge. Once this process is complete, India could have a new, judicially vetted template for the resolution of future banking crises.
"It's good to see such a decisive and swift move by the Reserve Bank of India and the government. Both the authorities worked in tandem in protecting depositors' interests and saving the bank," Kuntal Sur, Partner and Leader, Financial Risk and Regulation, PwC India, told a leading daily.
This could open new doors for resolving the bad loan overhang that is bogging down the Indian banking sector.