Critical minerals, strategic ties to take India-Australia relationship forward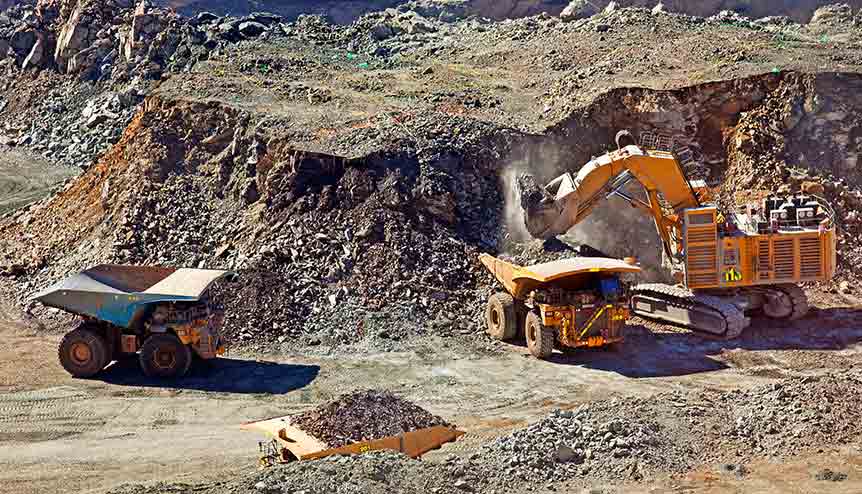 Australia has several critical minerals such as cobalt and lithium while India has proven manufacturing prowess. If the two countries combine these strengths, they can produce cutting edge products for the world market.
Will India invite Australia to join the trilateral Malabar naval exercise involving India, the US and Japan? Washington is pushing for it and a section of defence analysts in New Delhi also want the Modi government to shed its ambivalence on the issue in the light of Chinese aggression on the Line of Actual Control (LAC), the disputed border between India and China.
Have you read: Australia can bring a depth of experience to Indian mineral mining sector
Minerals sector reforms to usher in transparency, increase competition, efficiency
India's strength QUAD-ruples against China
India's Malabar dilemma
If India does shed its past diffidence about upsetting China and invites Australia as a permanent member of the annual Malabar exercise, it might, in future, be seen as the first step towards militarising the Quad, the four nation grouping of democracies comprising India, the US, Japan and Australia that many see as the core of a future China-focused Asian NATO.
Whether or not it happens, New Delhi and Canberra have begun to put aside their history benign neglect of each other and of viewing the other through ideological blinkers. Thus, for their first time in their history, the two big democratic middle powers in the Indian Ocean are exploring the real potential of their bilateral relationship.
Both countries wary of China
This is very timely because both countries are facing a concerted but undeclared assault on their geographical, political and economic interests by an increasingly assertive and aggressive China.
"The bilateral relationship is taking off for the first time. I've never seen such comprehensive understanding between the two countries," said Rory Medcalf, Head of National Security College, Australia, at a session on "Partners in Revival: Giving Meaning to Ambition" at the virtual India Global Week (IGW) conclave organised by India Inc. in July (India Global Week is also published by India Inc.).
Trade and commerce to help boost ties
Trade and economic ties, neglected by both countries, will play an important role in future. Bilateral trade, at $21 billion per annum, is way below potential. To correct this drift in the economic relationship, the countries have resumed negotiations over the India-Australia Comprehensive Economic Cooperation Agreement (CECA) which were suspended in 2015.
Critical minerals to play a key role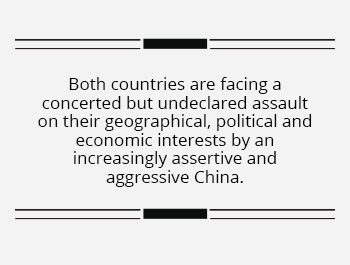 At another session on "The next mining boom: Rise of Australia's 'critical' minerals" at the IGW, Vanessa Guthrie, Non-Executive Director, Australia-India Council, said: "Australia's strength is in mining and India's is manufacturing. By combining these strengths, Australia can develop its manufacturing sector and India can improve its mining industry… India and Australia can, to use a cricket analogy, form a great team with fast bowlers, spinners and all-rounders and win the cup."
Australia has several strategically critical minerals such as lithium, cobalt and rare earth minerals. Perhaps that is why the two countries have included critical minerals in their bilateral strategic partnership.
But global supply chains in critical minerals like rare earths, lithium, cobalt and titanium are dominated by China. "So, India and Australia have to work together to ensure critical mineral security. Diversifying sources of rare earths and critical minerals are of supply are of critical importance, said Rajesh Chadha, Programme Director, Natural Resources, Brookings India.
India, Australia have complementary strengths
But the few attempts by Australian mining companies to enter India have not been very successful. In fact, as Guthrie said, the India-Australia mining partnership has been marked by some spectacular failures.
To this, Chadha said: "The Modi government has unveiled major mining reforms that will change the outlook of the sector; this could change the narrative of Australian companies' experience in India."
Joe Kaderavek, CEO, CobaltBlue, a company that mines critical minerals in Australia, who was also on the panel, added: "If the value chain from mineral to final product requires 10 steps, Australian companies can take the first three steps and Indian firms the rest to produce a good end product."
Closer strategic relationship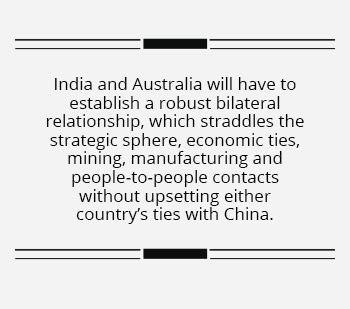 Everyone agrees that Beijing is the 800-pound gorilla in the (virtual) room and so, India and Australia will have to establish a robust bilateral relationship, which straddles the strategic sphere, economic ties, mining, manufacturing and people-to-people contacts without upsetting either country's ties with China.
There are indications that they are moving in that direction. Prime Ministers Modi and Morrison have agreed to upgrade their 2 + 2 dialogue to the level of defence and foreign ministers of the two countries – as is the case with the US and Japan. Significantly, India now has this 2 + 2 mechanism with all the members of the Quad, whose formal existence Indian policy makers prefer to underplay for strategic reasons.
This careful balancing act will allow India and Australia to develop their relationship without ruffling any feathers anywhere.