Covid-19 has unlocked unexpected opportunities in India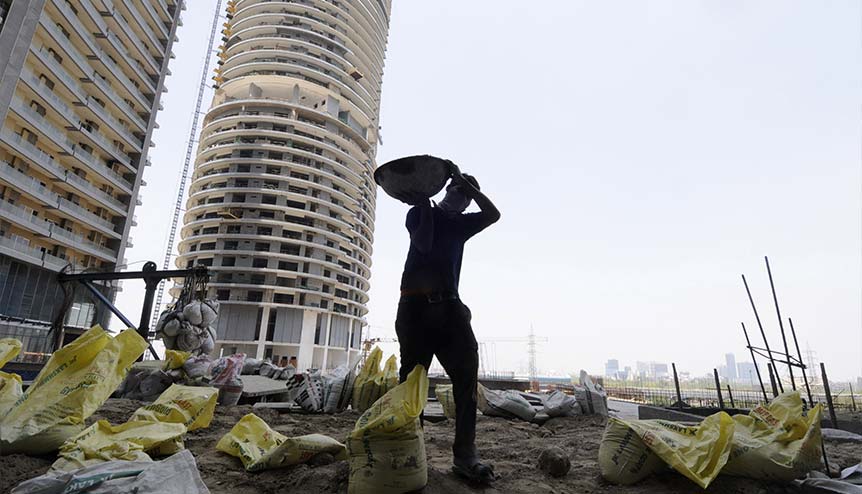 With the adoption of virtual technology, the maturing of the prop tech market, an exponential growth in demand for warehouses and the looming prospect of 100 per cent FDI in completed projects, Indian realtors might even thank Covid-19 for being the unexpected game changer for the industry.
Crisis, as they say, is the mother of all invention.
Ask any realtor in India right now – and they will readily agree. They might even thank Covid-19 for being the unexpected game changer in an industry grappling with sluggish demand even before the pandemic started.
At a time when people in India can neither physically check out their potential dream home nor haggle over the final price in a face-to-face meeting, why is the real estate industry suddenly so buoyant?
Related stories: India's real estate sector adopts largest remote working experiment
Smart cities in India have attracted the world's leading tech providers
Real estate opportunities in India are going to be unbelievable
2020 Indian real estate – limping back to a functioning liquidity cycle
Smart cities – India's potent weapon in the battle against COVID-19
Necessary pain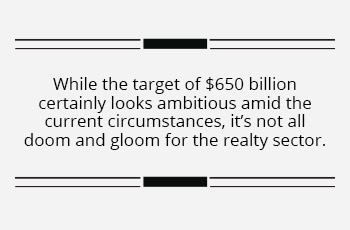 Indeed, the coronavirus crisis has also caused widespread concerns in the industry. Extended lockdowns, supply chain disruptions, liquidity crisis and labour shortages are just some of the ways that the pandemic has piled even more pressure on the sector struggling with the short-term impact of a slew of policy reforms and structural changes brought about by demonetisation, RERA and GST in the past few years. But while the sector initially found it difficult to adjust to these reforms, the measures have since been recognised as critical and necessary steps in fortifying the largely fragmented Indian realty sector. A recent report from Anarock highlights that the sector was on a growth trajectory for the past few years and en route to emerging stronger owing to these reforms – instilling transparency, accountability and fiscal discipline. Industry estimates of the Indian real estate market was projected to grow to $650 billion by 2025 and a jaw-dropping $1 trillion by 2030.
Then came the Covid-19 pandemic.
While the target of $650 billion certainly looks ambitious amid the current circumstances, it's not all doom and gloom for the realty sector.
Giant technology leap
In fact, many enterprising realtors have seized upon the opportunity to widen their showcase portfolios to a much wider audience in India as well as the Indian diaspora spread out across the world – accelerating Indian real estate's giant technology leap. Developers, service providers and online rental platforms have started leveraging technologies like virtual tours, artificial intelligence, digital booking tools and online payments mechanisms to adjust to the new normal – drawing new customers, boosting sales and maintaining vital business continuity amidst the Covid-19 crisis.
"While the country has already relaxed the lockdown restrictions, prospective customers are still reluctant to make personal site visits for the fear of contracting disease. This therefore has been driving real estate companies to use digital marketing strategies such online listing, video demos and tours, and e-launches for the properties on offer," says Nidhi Gupta, Technology Analyst at GlobalData.
Virtual tours and walkthroughs
A case in point is Square Yards, a technology-enabled real estate aggregator, which managed to sell more than 1,000 units during the lockdown with innovative CRM solutions, which come with features such as virtual tours and 3D walkthroughs that cover the city, area, neighbourhood, site plans, unit and layouts; payment gateway, digital signature among others. Like Square Yards, another popular tech-enabled real estate platform, NoBroker.com, too launched video walk-throughs in March – and soon noticed a spike in interest from both owners and tenants. "While virtual property tours and online bookings have been a popular trend in several developed nations, the trend is only now beginning to catch pace in India thanks to the lockdown and social distancing measures in place due to the COVID-19 crisis," adds Gupta.
Robust investments in prop tech
Similarly, property tech startups that simplify processes by reducing the need for face to face interactions or digitising physical processes have had the opportunity to shine during the pandemic. Corporates are showing an increased interest in technology which allows them to work "normally" despite the pandemic – and India is no exception. According to Concrete VC founder Taylor Wescott and MetaProp co-founder Zach Aarons, "Decision making processes that involve making [real estate] tenants or customers feel safe have become a priority and in many cases, the internal hurdles that were preventing innovation have been removed, as key decision-makers realise that the rules have changed." The result is a growing interest to invest more robustly in property tech – a rather nascent sector in the Indian real estate industry compared to its Western peers.
Diaspora's growing interest
The allure of Indian realty also appears to have rubbed off on NRIs investors around the world amid the pandemic, with many of them now being able to view their favourite properties through virtual site visits. Along with a stronger dollar and favourable exchange rates, the sudden post-Covid reverse exodus is also driving demand for realty among NRIs. Anarock India's consumer sentiment survey in the wake of Covid-19, conducted to gauge homebuyers' preferences during the pandemic, also points to a positive outlook for the sector. Majority participants consider real estate to be the best asset class for investment and 'now' to be an ideal time for property purchase, the survey found, as demand for affordable and mid-segment properties is also at an unprecedented high.
Scope for 100 per cent FDI
A majority of buyers were found to favour risk-free investments, preferring developers who have the capability to complete a project on time with least execution risk, the survey highlighted. That sentiment is hardly a wonder given the economic uncertainties surrounding the pandemic. But in a move that could provide a massive boost to investor confidence in the sector under the current circumstances, the Indian government is reportedly planning to relax foreign direct investment (FDI) rules for the realty sector and give the green signal for 100 per cent overseas investment in completed projects. If implemented, the decision will allow real estate companies to monetise completed housing projects amid the current liquidity crunch caused by the pandemic.
Industry experts have widely welcomed the proposed relaxation, saying it will help real estate companies raise critical revenues to focus on finishing pending projects that are struck mainly because of lack of funds. According to the Department for Promotion of Industry and Internal Trade (DPIIT), officials are weighing the options of attracting more investment in the construction sector from overseas. "There are only limited sectors where FDI norms can be further relaxed and housing is one of them," an official with knowledge of the matter recently told Economic Times.
Preparing for the warehouse boom
Even if this radical relaxation of FDI norms doesn't excite the prospective global investor, there's plenty more reasons for them to be buoyant about the situation.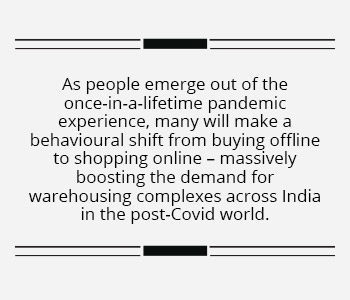 As people emerge out of the once-in-a-lifetime pandemic experience, many will make a behavioural shift from buying offline to shopping online – massively boosting the demand for warehousing complexes across India in the post-Covid world. Many e-commerce categories are expected to boom and as a result industrial warehousing is expected to emerge as a strong sunrise segment as global manufacturing moves out of China – and many of them relocate to India instead. It is for this precise reason that private equity investment in building warehouses has grown at a frantic pace in India.
Across eight major Indian cities – the National Capital Region, Mumbai, Bengaluru, Pune, Kolkata, Chennai, Hyderabad and Ahmedabad – quality warehousing stock totalled 211 million sq ft in 2019. That number is forecast to rise to 253 million sq ft by the year end and leapfrog to nearly 300 million sq ft in 2021, according to estimates by JLL. The warehousing industry has seen a solid growth pattern with demand increasing by 87 per cent in 2017 and 77 per cent in 2018 – and experts maintain that warehousing and logistics spaces will bounce back the strongest in the post-lockdown period in India.
The fact that the real estate sector in India – like its counterparts around the world – has taken a huge hit due to systemic shocks caused by the pandemic goes without saying. But when viewed for medium to long-term perspectives, this is where the future opportunity lies for both buyers and businesses. "Make hay while the sun shines," as the saying goes, "but also sharpen your tools while it's raining."