Covid-19 has dramatically changed the education landscape across the globe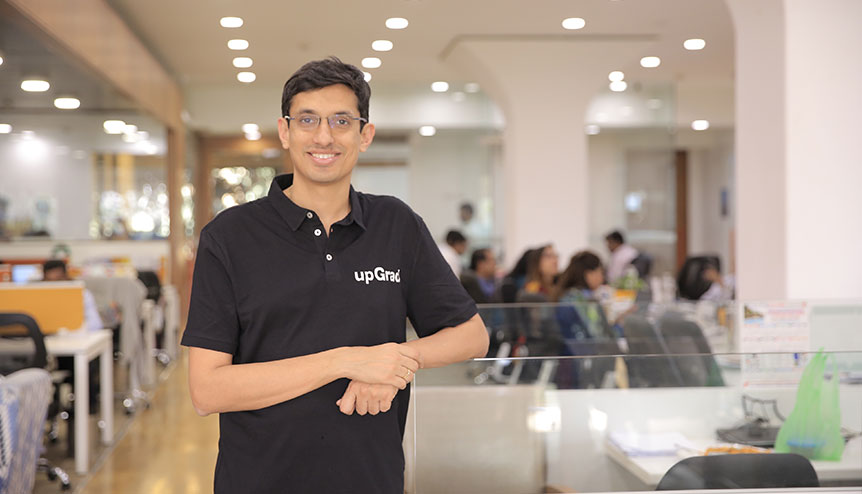 Interview
In an exclusive interview with India Global Business, Mayank Kumar, Co-founder & MD, upGrad shares his thoughts on digitalisation in the Indian educational sector, the recent National Education Policy and the various collaborations being undertaken by upGrad.
In 2015 when you set up upGrad, the Indian market wasn't as digitally inclined as it is today? What were some of the factors that inspired you to set up upGrad then? 
Back in 2015, India wasn't equipped enough to accept digitalisation, and had triggered issues like accessibility and affordability of education across the country. Our K-12 segment or let's say the school-going population roughly holds about 300 million people, out of which only 270-280 million students are currently studying, including the rural areas, with a participation rate of about 80 per cent in schools. As we move towards higher education, the overall participation ratio, which is also called as Gross Enrolment Ratio (GER) takes a steep cut and can be roughly estimated to be around 25-30 per cent. It also means that for every individual, there are three individuals who have not gone or enrolled for higher education in India. Therefore, we noticed that the lack of access was the primary challenge that India faced, thereby contributing to larger macroeconomic issues in the country. Online learning programs, therefore, came to aid such critical situations.
Secondly, the problem of affordability, where students and working professionals were required to travel to other locations which could be significantly expensive and have to bear the accommodation cost along with other miscellaneous expenses. These challenges were also eliminated with the online learning model. Therefore, upGrad was born with a conviction to bridge the gap between working professionals and rapidly evolving industry requirements. We started our journey with entrepreneurship programs in 2015 and expanded our portfolio to now offering online programs across the areas of Tech, Management, Data, and Law. We have onboarded 32,000 paid learners so far, and in a price-sensitive country like India, we are in a position to command at an ARPU of INR 2.5 Lakh, which is highest across the Indian online education space. We have made an investment in the tune of INR 100 crores, to build our learning platform and make world-class higher education convenient, without even having our learners to step out of their comfort.
What are your thoughts on the National Education Policy? Are there certain things, especially around online learning, that the government has not yet addressed, or needs to address better?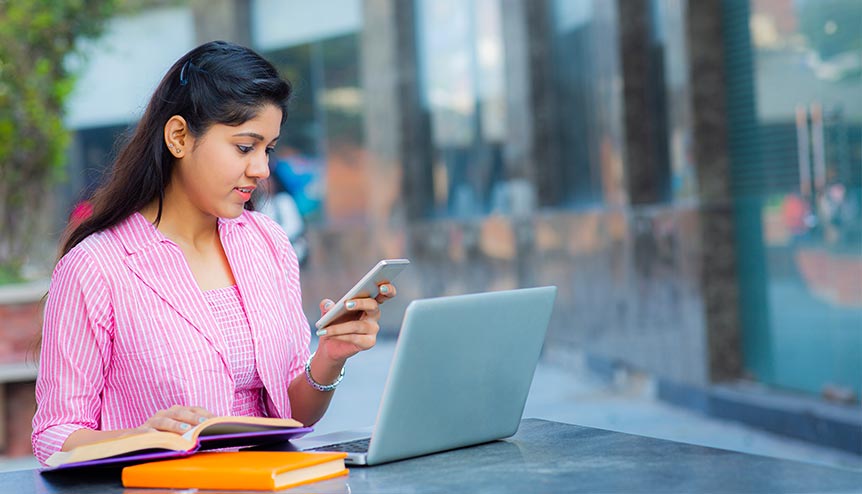 The intent of the NEP is very strong, the right messaging and communications are being considered. Starting from school education to higher education, the focus is now increasing on creating a trained workforce. The policy now allows a choice-based credit and flexible entry and exit to students. Also, institutes and faculties now have autonomy in the matters of pedagogy, curriculum, and assessment, which indeed is a breakthrough decision.
However, we need to see when the rubber hits the road and how the execution happens. While education is a concurrent subject, we may take some time to finally get it executed, as the Centre and the State need to agree on the common grounds.
The coronavirus pandemic has lent a huge impetus to e-learning. How do you see this trend developing post-covid when schools and universities resume regular classes?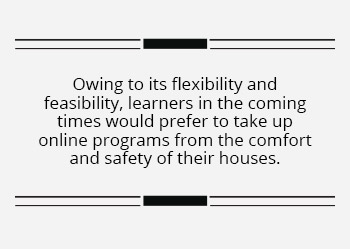 Covid-19 has dramatically changed the education landscape across the globe. Even in India, online education has proved its robustness as compared to the offline institutes, that have been shut for an infinite period. Owing to its flexibility and feasibility, learners in the coming times would prefer to take up online programs from the comfort and safety of their houses. Also, as the trend continues, with more and more renowned universities adopting e-learning and investments reducing in infrastructure, the cost of education will substantially be reduced. We are enabling 100+ universities and colleges, which includes MHRD's NIRF Top 100 universities, to seamlessly replicate their classes online, and forecasting an INR 1200 crore annual run rate with profitability, a game-changer in the Indian edtech ecosystem. Most recently, graduated a batch of 2859 learners, which marked IIIT Bangalore's largest convocation, in the history of 21 years and perhaps India's largest convocation for any online course. The batch included learners of Post-Graduate Programs in Data Science, Machine Learning (ML) & Artificial Intelligence (AI), and Software Development/Blockchain.
Therefore, the online learning sector is not momentary, but is here to stay and will continue to rise in the future, equipping India for a more competitive world, that lies upon us.
Let us dwell briefly on your collaboration with Yatra.com? A partnership between a online tourism platform and edtech is unique? How do you see this developing?
The unprecedented rate of technology advancement is disrupting companies and jobs everywhere. Across verticals, enterprises face barriers to this adoption due to skill-gap in their talent pool. Such barriers can be crippling, thereby hampering the overall business growth. Therefore, our partnership with Yatra will diversify and expand its portfolio beyond travel and shall also enable/empower its corporate clients to, in turn, deliver advanced learning and skill development for their employees, specific to their business or sector.
Rapid digitalisation depends on fast adoption and good infrastructure. What are the three things you feel India should address, in terms of infrastructure, urgently especially in context to online education?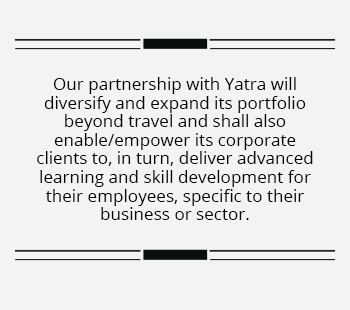 Online learning, given the pandemic outbreak, has taken the front seat, which otherwise was playing a second fiddle to the offline model. However, in the remotest parts of the country, including rural India, we do not have enough internet bandwidth to shoulder the responsibility. Education providers (including HEIs) and online platforms must make educational quality content available on 2G and 3G data speed to ensure accessibility across tier II and III cities. At upGrad, we offer our learners an option to switch bandwidth and stream video content on low bandwidth mode, in case of interrupted internet issues.
Secondly, many are navigating uncharted waters, especially the offline educational institutions, who are pushed to quickly switch gears and implement e-learning plans for the first time. They are using regular VC tools like Zoom video conferencing or Google Hangouts, to conduct online classes, which in turn are creating pressure on consumer's available bandwidth. These VC tools were primarily made for professional use/meetings which have now been adopted as a convenient mode of teaching and demand high bandwidth to stream video content on the screen. Hence, it would be appropriate to say that our existing infrastructure is not ready to support digitalisation, at large. However, at upGrad, we offer a robust tech platform that can support the large volume of students, allow for classroom-like interaction, measure session analytics and offer a seamless experience to both teachers and students.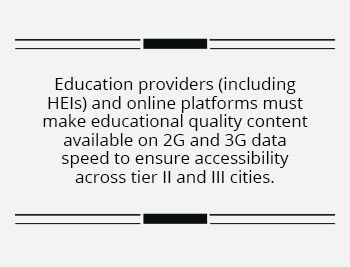 Thirdly, attitude shift needs to happen. Individuals' preparedness to transition to online is quite low. We do not see teaching as a viable career option and therefore, often miss to acknowledge the fact that edtech also opens opportunities for many great minds, who are currently pursuing different jobs, to take up online teaching as on a part-time basis. The skill has become quite critical in the current scenario, to be honest. Therefore, at upGrad, we have 220+ industry experts onboard versus 50+ university faculty members, that speaks for itself. As we scale, this tally will reach 400+ industry experts and 80+ university faculty members in the next 12 months.
What are your thoughts on data protection laws and privacy in India? As an entrepreneur running a highly successful digital business, what are some of the changes you hope to see in India's data and privacy protection laws?
I believe, India today needs a Personal Data Protection Law and it is the need of the hour, irrespective of the fact that it could make the functioning of tech platforms more cumbersome. It is one of the most important steps, that is required to provide cross-sectoral regulation of personal data, or otherwise in India, data will never be meaningfully used. Anyone can throw data at anyone and just move on. Such concrete measures would also introduce guidelines, as agencies in the country haven't yet understood technology and data and thus are incapable of providing unbiased/impartial perspective on tools and technology to brands.
Please tell us a bit about the recent scheme on pricing options, that will allow the 100 million working population across the country to start a Degree, Diploma, and Certificate programs. How do you see this developed in rural India?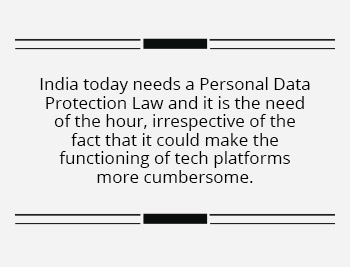 We are living in times where the pandemic has created larger roadblocks across economies and working professionals, whether in rural or urban areas, have become quite alert about the post-Covid-19 adversities. Situations like massive job loss and employment across the strata, have created a dent to the economy and will not get fixed overnight. Over 27 million youngsters in their 20's lost their jobs in April, this year, and it will have sharp repercussions in the coming times. To get the country's GDP sprinting again, we must focus on Gross Enrolment Ratio (GER), which strongly correlated to the former. And the GER growth must be driven from the semi-urban: 'rurban' as well as the urban.
Therefore, we now look at making online education affordable and accessible to 100 million workforce, as the fence-sitters who had shelved their upskilling decision due to monetary reasons will now, convert.  Moreover, it's time, we as the learning evangelists, with the most diverse range of programs for careers of today and tomorrow, fortify the future of the country which will house one in every five working professionals in the near future. We have enabled more than 60 per cent of our total learners to start their journey of lifelong learning with us.