COVID-19 and Ireland's initiatives to help the students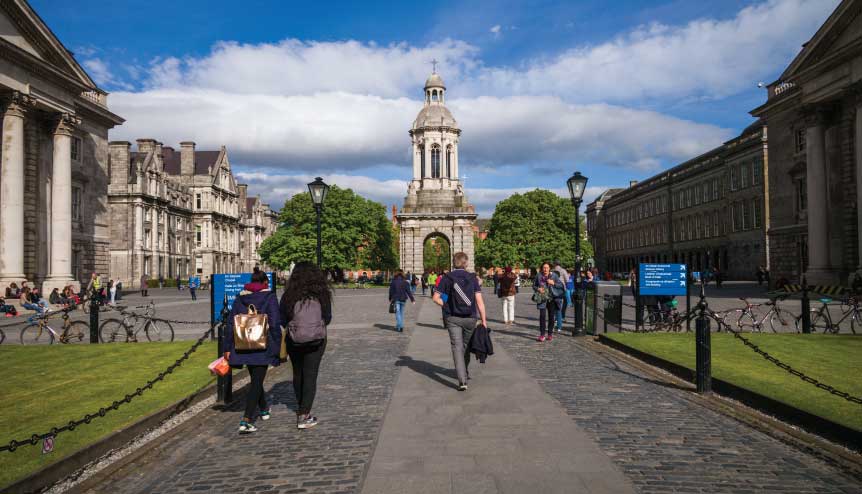 The Coronavirus crisis has massively impacted higher education, yet students remain keen as ever to continue their studies abroad. Here's how Ireland is coping with this dilemma.
The COVID-19 crisis has had an immediate impact on higher education globally. Notably, for those international students studying far from home, the decision had to be made whether to return home to continue studies online, or stay abroad during a period of social distancing measures.
Related Stories: COVID-19 hits an Indian solution to a UK problem
Indian students coming to the UK is good for both countries
Here in Ireland, in mid-March all teaching and learning in the Irish higher education institutions went online. And at that point many international students went home to continue their studies. But a significant number of international students, including Indians did remain in Ireland and are here completing their studies and preparing for exams.
Preventive measures
The Irish government undertook a set of measures, based on scientific advice, to fight the spread of the virus. For example, in early March the government decided to cancel the St Patrick's Day celebrations for this first time, which was a significant decision at the time given that this our national holiday and one of the biggest events in the year in Ireland. Following that, the government brought in some strict social distancing measures across the country which required everyone in Ireland to stay home as much as possible and exercise was only to be done within 2km of home.
At the same time, the Irish government quickly announced that in terms of healthcare, all international students in Ireland, of all nationalities who were directly affected by COVID-19 would have full access to the necessary part of Irish healthcare system, at no cost. The Irish government also decided that any international student who lost part-time work as a result of COVID-19 would be entitled to an emergency payment of 350eur per week, which was quite reassuring to students who had lost their part time job. It was important that international students who remained in Ireland were taken care of. On the academic side, all lecturers and tutors continue to be available online as students now undertake assessments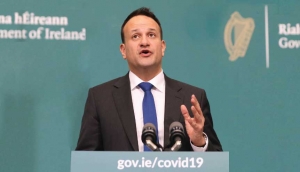 Leading from the front
It is worth noting that the Irish Prime Minister, or Taoiseach, Dr Leo Varadkar is Indian-origin and trained as a medical doctor. He also recently returned to medicine to work part time as a doctor to help out during the COVID-19 crisis while continuing to lead Ireland through the Pandemic. The good news is that the spread of the virus been significantly suppressed Ireland is now in the process of slowly unwinding it's restrictions in the coming weeks and months.
Testing times for studying abroad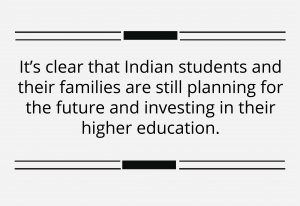 Of course the pandemic has also produced a lot of questions from students who are currently planning their studies abroad. It is interesting to note that, according to several surveys done recently, the majority of students would still like to go ahead with their plans to study abroad in the near future despite the current COVID-19 crisis. We are seeing that the Irish higher education institutions are saying that offers are still being accepted and deposits paid from students in India. So it's clear that Indian students and their families are still planning for the future and investing in their higher education. Many students would still have the intention to undertake their masters in the next academic year, despite the challenges and uncertainty. As it is not yet clear when restrictions across various countries will be lifted, and indeed when international travel will resume, students are faced with a number of scenarios for the next term, such as a delayed start and an online start to programmes.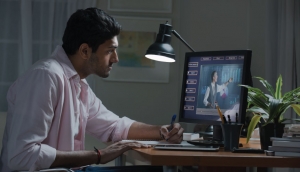 E-learning and other digital solutions
The Irish institutions, despite working remotely are fully open and dealing with a lot of queries from international students who hold offers for the next academic year. The admissions process is effectively operating as normal. In terms of the programmes that are still in demand, we are seeing a lot of interest in courses that have been popular in Ireland for a number of years. Programmes such as data analytics, artificial intelligence, MBAs, international finance, digital marketing, electronic engineering, bio-medical science. Recently some new options were introduced in terms of English language testing. Along with the usual tests like IELTS, the DUOLINGO online test is now accepted. There is also a TOEFL at Home test, by ETS that is accepted by the Irish higher education institutions in Ireland as well as our Visa Office in New Delhi.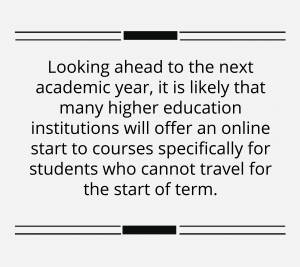 The power of technology has certainly allowed international students to continue their education during this challenging time. Current students completed their learning and are currently undertaking their assessment online. Looking ahead to the next academic year, it is likely that many higher education institutions will offer an online start to courses specifically for students who cannot travel for the start of term. There may be a common scenario where universities start the academic year with lectures and classes on campus next September or October and in parallel offer distance learning options (where the lectures are recorded for example) for international students whose travel has been delayed. This could be a useful solution to students who are keen to undertake a masters abroad for the 2020/2021 academic year and prefer not to wait for the following year. Studies have shown that students very much value the international experience of studying on campus at an overseas institution and that online learning is not an equivalent alternative, however in the next academic year we may see more of a 'blended' learning approach to learning.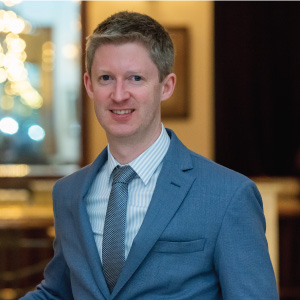 Barry O'Driscoll is the Senior Adviser for Education in Ireland.