Countering China in the Indian Ocean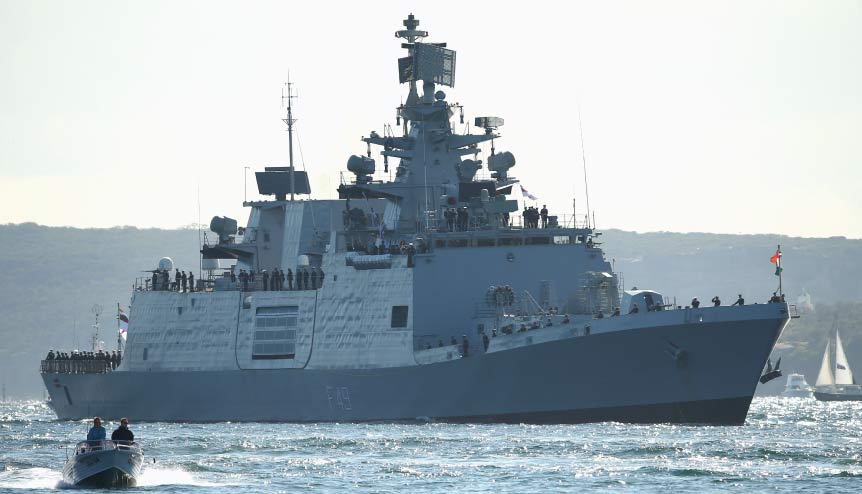 India, Japan and Australia must strengthen co-operation at sea to deny China tactical space in the Eastern Indian Ocean.
Since early May this year, China and India have been locked in a tense stand-off along the disputed Himalayan border. The situation escalated recently after a clash between Indian and Chinese troops at Galwan in Ladakh left at least 20 Indian soldiers dead. The Indian armed forces are now on high alert amid fears that the conflict could spiral into a broader confrontation, opening up other theatres of friction, including one in the maritime domain.
India's Ocean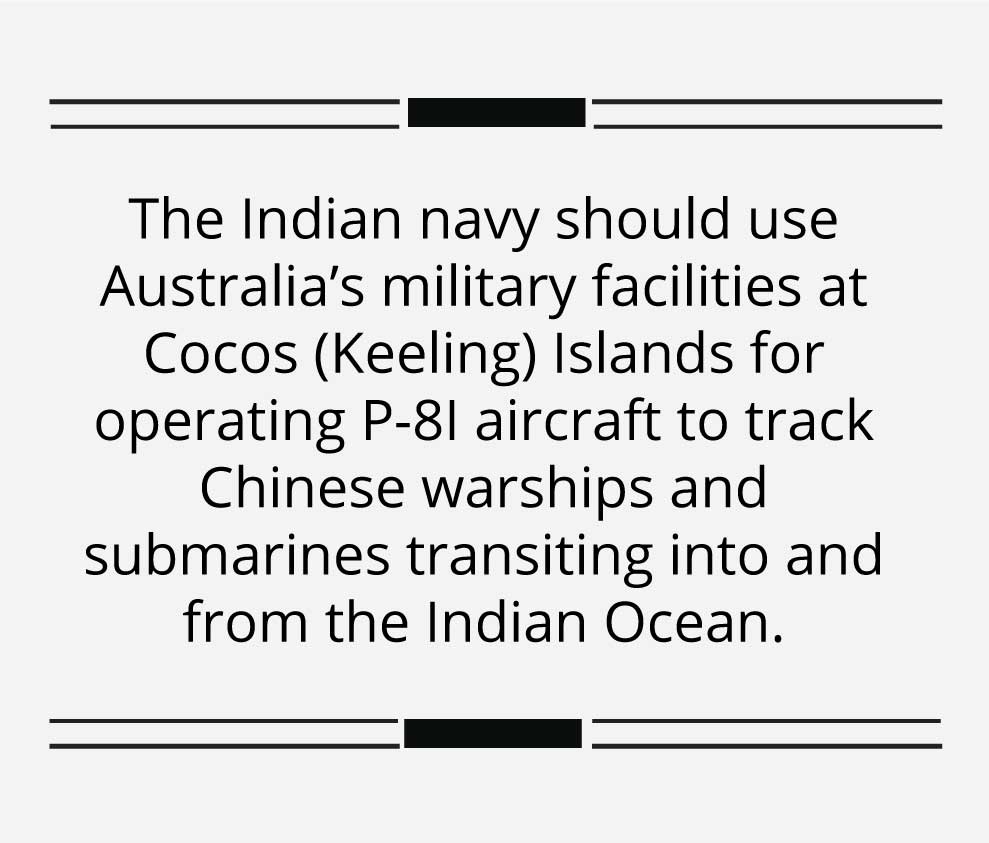 Unlike on its land border with China – where the PLA has a relative advantage of terrain, military infrastructure, and troop strength – India is better placed at sea. The Indian navy is the dominant force in the Eastern Indian Ocean, through which most of China's cargo and energy shipments pass. Since 2017, Indian warships have patrolled the Indian Ocean sea lanes and choke points, including the approaches to the Malacca Straits. In its bid to keep track of Chinese submarines in the Eastern Indian Ocean, the Indian navy has also been operating P-8I maritime patrol aircraft from the Andaman Islands.
Yet, China has been relentless in its probing of the sub-continental littorals. Since 2013, when it first sent a submarine to Sri Lanka, the People's Liberation Army Navy or PLAN has expanded its military and civilian expeditions in South Asia. In recent months, China has sent intelligence ships and survey and research vessels in the Andaman seas, attempting to track Indian naval activity in the region. The PLAN's pattern of deployment suggests an aspiration for a sustained presence in the Indian Ocean.
Joint Surveillance with Australia
To counter China in India's near-seas, the Indian navy must work in close concert with its Indo-Pacific partners. While the Indian navy closely cooperates with many regional maritime forces, including the navies of France, the United States, Japan, and Australia, it needs to do more. Having signed a maritime logistics agreement with Australia earlier this month, the Indian navy should use Australia's military facilities at Cocos (Keeling) Islands for operating P-8I aircraft to track Chinese warships and submarines transiting into and from the Indian Ocean. In exchange, New Delhi must offer the Australia military access to the Andaman Islands to operate their own P-8Is from Indian naval bases, adding to the deterrence effort.
Capacity Building Projects with Japan
With Japan, the possibilities for security cooperation are equally substantial. Tokyo has been a significant contributor to regional security efforts, providing fast patrol boats and offshore patrol vessels to Sri Lankan maritime forces, and also funding Bangladesh's Matarbari deep-sea port and Myanmar's Thilawa port. In 2016, Japan offered to upgrade infrastructure in the Andaman and Nicobar Islands, and also reportedly proposed to assist in installing a sound surveillance sensors (SOSUS) chain in the Andaman Sea. These proposals are critical to prevent Chinese submarines from operating freely in the Eastern Indian Ocean and must be revived. There is also a case for an India-Japan-Australia trilateral maritime exercise on the lines of the India-Japan-US 'Malabar' exercises (which must be expanded to include the Royal Australian Navy).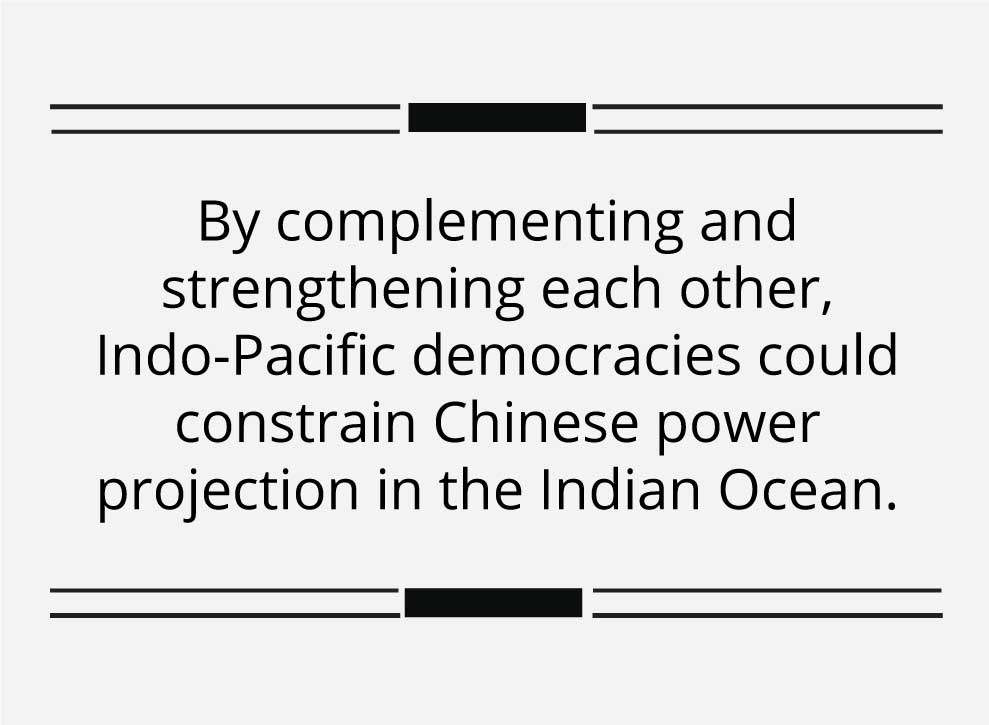 Policymakers and analysts know it would be unwise to underestimate China. With a vast fleet comprising nuclear attack submarines, guided missile warships, amphibious carriers and a host of other capable war-fighting platforms, the Chinese navy is the world's second most powerful. Yet the PLAN is constrained by the absence of operational logistics, ship-based air cover and the land-based maritime reconnaissance capability in the Indian Ocean. India, Japan and Australia should seek to exploit the gaps in Chinese power projection capability. By complementing and strengthening each other, Indo-Pacific democracies could constrain Chinese power projection in the Indian Ocean.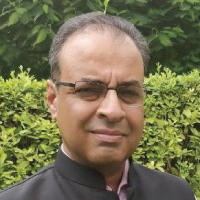 Abhijit Singh is Senior Fellow and Head of the Maritime Policy Initiative in the Observer Research Foundation in New Delhi.