Colonial Cousins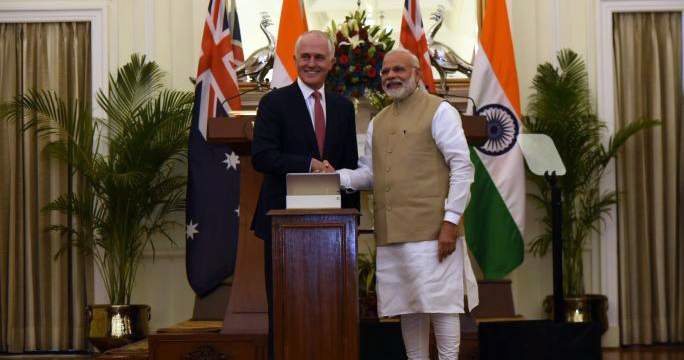 India and Australia have great historical and cultural linkages but that is yet to translate into bilateral trade and investment.
It is an anecdote that Matt Staff, a former senior executive at mining behemoth Rio Tinto's operations at Pilbara region of Western Australia and now a part time tour guide in Perth is only too happy to narrate to his occasional Indian guests. Staff's familiarity with the region and his inherent cheerful disposition would mean he would often be called upon to double up as a guide to high profile visitors while at Rio Tinto. This one time back in 2004, he was told months in advance of a particular guest he would need to take around the company's operations around Perth. There was only one instruction — to be courteous to a fault and to do all it takes to make the guest comfortable.
Staff knew very well this was no ordinary guest. Eager to impress as is his nature, he went out of his way to fill his guest in with all the information around the region — the mineral deposits, history of the aboriginal tribes, government policies, global warming and climate change and even a word or two on sports. During the course of the day, the gentleman largely kept to himself and barely uttered a word. Staff did not find it too unnatural and thought at that time, the beauty of the landscape or the clear crisp weather on the day had overwhelmed his guest.
Only much later as Staff rambled on when his guest probably wanted a solitary moment, did he speak up. "Son, all this landscape you are describing to me. I have seen it all many times before. I own much of it myself." Taken aback, Staff tried not to show it. He reckons he must have failed at that. As the gentleman politely took his leave at the end of the day offering just a handshake and not even his name, curiosity got the better of him. Feeling sheepish, he asked his senior who this fella was. Turned out, it was the phantom of Bombay House, Pallonji Mistry, the patriarch of diversified Indian business conglomerate Shapoorji Pallonji Group as also the largest shareholder in the Tata Group, the country's largest conglomerate.
Staff's story underlines the long history of India-Australia (trade) relations and the subtle ways in which the two countries are intertwined. The two land masses share much between themselves — a sense of history with a colonial past, secular multi-cultural liberal democracies not to mention a common love for cricket. Beyond the US and Canada, the globetrotting Indian has taken a liking (to the land) Down Under as well. No less than half a million Indians have made Australia their home and it is not difficult to bump into one while strolling on the streets of Sydney, Melbourne, Brisbane or Adelaide. The continent also ranks high with students and tourists. With over 60,000 Indian students teeming at its various universities, India is the second-largest source for students for Australian varsities. Helped by the growing number of countrymen settled in Australia, a record 233,000 Indians also visited the country in 2015 making it the eighth largest source of tourists. Not surprisingly, Punjabi is the fastest growing language in Australia and Hinduism the fastest growing religion.
For all the cultural and historical commonalities, trade ties between the two countries have however not lived up-to their potential. At just $19.4 billion in 2015-16, India is significantly behind China, Japan and South Korea as trading partners with Australia. The continent's bilateral trade with China for example is around $150 billion per year, over seven times that with India. Even then, the trade between the two nations is highly lop-sided in favour of Australia. The continent is rich with mineral resources and has been supplying them in bulk to feed India's growing energy needs. As the world's largest producer of bauxite and iron ore and second-largest producers of gold, lead, lithium, manganese and zinc, Australia's exports to India is 15 times what it imports from it. Bulk of the coking coal required by steel plants in India is imported from Australian mines.
"There is a rising middle class in India with 800 million people below the age of 35, so there will be ever increasing demand for infrastructure, power, water, roads, which are all business opportunities for Australian firms," says Jim Varghese, executive director, business development, Australia India institute. "Given the debate on climate change, coal will be a hot issue but the reality is India will continue to need it for a long time and Australia will continue to mine and supply it. But there is potential beyond coal as well."
The continent's mineral reserves and long expertise in mining is an obvious attraction for Indian firms. The Adani Group's Carmichael project is one such high profile example. Being developed with a $16.5-billion investment, it is projected to produce 2.3 billion tonnes of coal over a 60-year period.
Adani is not alone. Other major Indian investments in Australia include copper mines of Aditya Birla Group's Sterlite Industries and coal mines of Gujarat NRE Co. Reliance has entered into a partnership agreement with Uranium Exploration while IFFCO and Legend Holdings of Australia have entered into an agreement involving investment of over A$100 million by IFFCO in Legend's phosphate projects with buyback arrangements. Similarly, India's largest iron ore miner National Mineral Development Corporation and Rio Tinto have entered into an agreement for joint exploration in India, Australia and other countries. Tata Power and Australian company Geodynamics have entered into an agreement involving Tata Power taking an 11.4 per cent stake in Geodynamics for A$ 44.1 million. Petronet LNG, New Delhi, had signed an agreement with Exxon Mobile in August 2009 to source 1.5 mmtpa of LNG from the Gorgon Project, for 20 years starting 2014.
Lanco Infratech made an investment in Australia, spending almost A$850 million to buy Griffin coal assets in 2010. Only a year later, GVK Power and Infrastructure purchased two thermal coal mines from Australia's Hancock Prospecting for about US$ 2.4 billion and is also investing in development of rail network from the mine to the nearest port, which entails a total investment of US$10 billion.
Much of India's rise as an economic superpower over the last decade or so is led by the service sector and that has had a play in Australia as well. The country's second-largest software firm, Infosys, had in 2011 acquired Portland Group, a sourcing and category management services firm in Australia for A$37 million. Its peers like TCS, Wipro or HCL are all present in Australia as well. In fact, Tech Mahindra's largest product development centre outside India is in Melbourne.
Yet, a lot more could be done. A bilateral free trade agreement between the two nations is a sure shot way to boost trade ties but has been held up since 2011. While Australia seeks greater access to India's agriculture market, an area where India is trying to be self-sufficient, India wants better access to Australia's labour market for temporary workers.
During his first visit to India earlier this year after taking over as the Prime Minister of Australia in 2015, Malcolm Turnbull had cast aspersions on whether a free trade agreement was possible at all but added bilateral trade would grow even without it.
"Our two-way trade has doubled in the last decade to nearly $20 billion. It's an impressive point but it is a fraction of what we should aspire to given the many points of intersection between our two economies. There has never been a better time than now for us to make that relationship stronger," Turnbull had said at the India-Australia Business Dinner in Mumbai.
It was reminiscent of Indian Prime Minister Narendra Modi's address in the Australian Parliament in November 2014. Modi had then said Australia would no longer be at the periphery of India's vision but at the centre of its thoughts, adding there were few countries in the world with which India saw as much synergy as with Australia.
All that is needed is to translate the words into reality.