China's Great Wall showing signs of wear and tear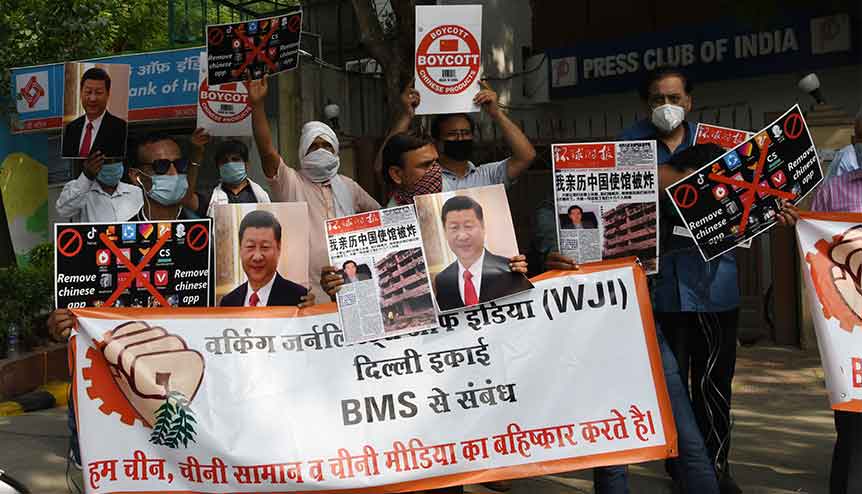 Recently amended FDI rules by the Indian government will check any hostile investments from China into nascent Indian companies and sectors. But governments across Europe, the UK, North America and Japan have also become increasingly wary of doing business with China in light of its irresponsible aggressions.
Indian Prime Minister Narendra Modi's bold and surprise visit to Ladakh on Friday, 3 July 2020 to interact with Indian troops deployed along the border with China sends a powerful message to China and its unrelenting aggression at the border – that India is in no mood to buckle down.
Related stories: Social distancing from China bringing India and the US closer?
Away from the border, India targets China in the economic battlefield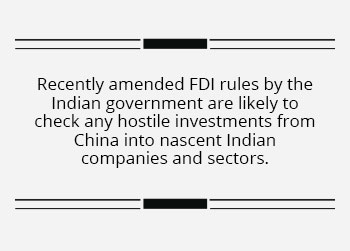 While such a visit is a massive morale booster for the armed forces deployed in one of the world's toughest terrains, India has also been prepared in many other ways to anticipate and deal with potential Chinese aggression and mala fide action ever since the coronavirus pandemic started spreading around the world from Wuhan. One of them is the way India has deftly handled the issue of foreign direct investment (FDI) during this time of unprecedented crisis.
While Chinese investors have made their presence felt in a major way in the Indian start-up ecosystem over the past few years, recently amended FDI rules by the Indian government are likely to check any hostile investments from China into nascent Indian companies and sectors.
Threat of Chinese takeovers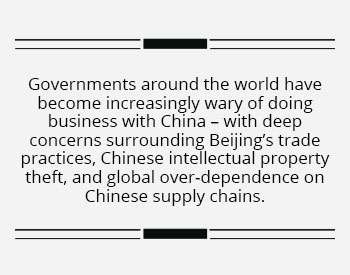 India is not alone in setting up revised investment norms to thwart Chinese designs. Governments in Europe, North America, Japan and elsewhere have also become increasingly wary of doing business with China – with deep concerns surrounding Beijing's trade practices, Chinese intellectual property theft, and global over-dependence on Chinese supply chains. Japan, for instance, recently announced a $2 billion subsidy program to get Japanese companies to relocate production from China to Japan. The European Union's competition chief, Margrethe Vestager, recently called on EU countries to consider buying stakes in their businesses to deflect the threat of Chinese takeovers.
In India, the immediate trigger for revised FDI norms is possibly the disclosure in April that the People's Bank of China – the Chinese central bank – had bought a 1 per cent stake in HDFC, India's largest non-banking mortgage provider, bringing its total holdings in the lender to 1.75 per cent at the end of March. Of course, there are several existing Indian unicorns with major Chinese investments. Alibaba, for example, is the single largest shareholder in Paytm, which handles the daily financial transactions of millions of Indians.
While the HDFC stake might not be alarming, the trend certainly was – and so the Indian Ministry of Commerce decided that tighter restrictions on Chinese investments were urgently necessary in order to prevent "opportunistic takeovers" of Indian companies. With the majority of the big companies in China being state-owned, investments in distressed assets by these companies during Covid-19 pandemic is widely being seen as politically motivated threats. In view of this, India amended its FDI policy in April, which now mandates government approval for all investments from nations with which it shares boundaries.
According to analysts, this is expected to lead to two outcomes – the immediate one being to pressure Chinese companies to seek more accountability from their government in order to be able to continue investing in lucrative sectors in India. "Chinese investors are highly motivated to invest in the Internet start-ups of India, which is the second-most populous country with more than 500 million Internet users," said Kiran Raj, Principal Disruptive Tech Analyst at analytics company GlobalData.

Catalyst for Make in India
The other likely outcome is that Indian companies so far dependent on Chinese funding and supply chains – such as the start-up ecosystem, the pharmaceutical API sector and so on – will also find new and more self-reliant ways of business continuity along with discovering potentially new investors. "Though China has been enhancing its prominence, American firms still continue to dominate the funding landscape in India and with the amended FDI regulation and recent escalation of border dispute, Indian start-ups are more likely to turn towards such non-Chinese investments," said Aurojyoti Bose, Lead Analyst at GlobalData.
India will find mutual support of its position on Chinese commerce from Europe, the UK and USA. The latter has already issued fresh sanctions against a range of Chinese companies and banks for Beijing's harsh new law to suppress the voices of democracy in Hong Kong. The UK's concern with Huawei and the rollout of 5G network is now a matter of legal caveats. And even before the coronavirus pandemic, European countries were increasingly modifying their domestic economic policies to ensure greater scrutiny of Chinese investment – especially mergers and acquisitions – in order to protect domestic firms, in particular those in technology and manufacturing.
Clandestine influence over data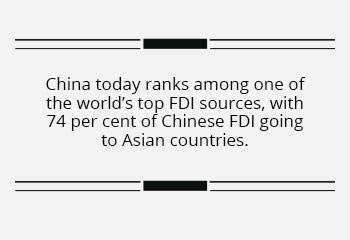 China's stakes in Indian technology companies thus also raise major concerns over the protection of intellectual property rights, censorship, and national security. Although these are ostensibly private investments, as the examples above amply demonstrate, India isn't the only country concerned about the Chinese government's surreptitious influence over private technology companies' foreign activities and access to sensitive data.
China today ranks among one of the world's top FDI sources, with 74 per cent of Chinese FDI going to Asian countries. According to India's Department for Promotion of Industry and Internal Trade, Chinese FDI from April 2000 to December 2019 totalled $2.3 billion. While this figure has been growing, in recent years India has ranked only 31st among destinations of FDI from China – of all FDI inflows to India, Chinese investments have only been 0.52 per cent.
Successfully curbing Chinese designs
While that figure is minuscule, the potential it represents for Chinese companies is massive – and this is where India has successfully blocked Beijing's ambitions. At least 18 out of 30 Indian "unicorn" companies (tech start-ups whose market capitalisation has reached $1 billion or more) have significant Chinese investment – apart from Paytm, online retailer Flipkart, and ride-hailing company Ola Cabs count China's Alibaba or Tencent among their investors. With the revised FDI regulation, Chinese investments from such companies are in a state of uncertainty. "While the new law entails investments to be scrutinised and not necessarily stopped, this move is largely seen as a measure to curb Chinese investments," said Bose.
The unofficial trade blockade is also a reflection of the surge in anti-China sentiments across the world's major economies and in the context of India, will also serve as a timely reminder to invest more vigorously in Make in India projects. The latest ban on 59 apps with a Chinese pedigree in India is a step in that direction. "The recent border conflict and the tightening of India's FDI policy amid Covid-19 as a caution to avoid takeover or acquisition of distressed assets by border-sharing nations may turn a blockade to Chinese investors in achieving their investment goals," said Raj of GlobalData.