Can Robots help India's healthcare woes?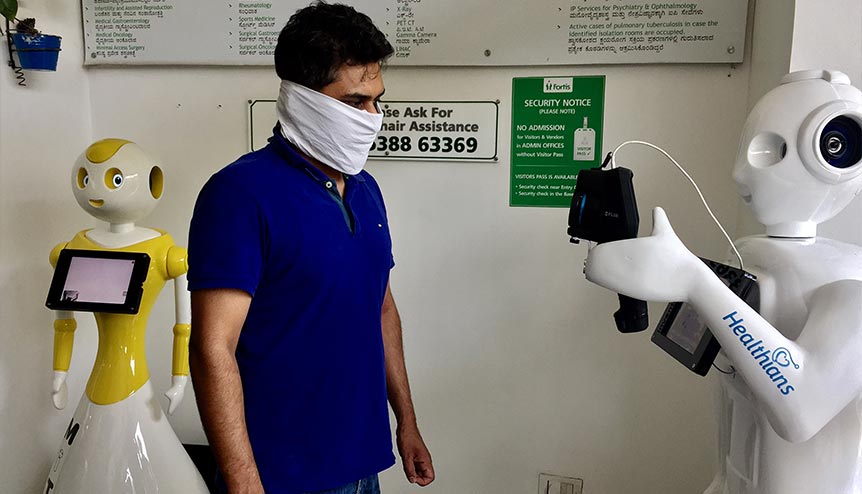 Robots are helping India's healthcare sector cope with the world's deadliest pandemic, but their applications may become more important in the post pandemic world.
India is a land of contradictory realities. While it is true that the world's fifth largest economy is surging ahead in several sectors from business, trade and investments to climate change, it finds itself falling slightly short on the healthcare front. And here lies the paradox. While the mantle of being called 'the pharmacy of the world' is very much deserved – Indeed Indian pharma companies such as The Serum Institute of India and Wockhardt are playing a pivotal as well as crucial role in the covid-19 vaccine roll out – India's actual healthcare infrastructure is lacking.
Have you read?
New era beckons for India's medical devices industry
Why should you invest in Indian health-tech now?
The age of telemedicine in India
The story so far
India ranks 145 among 195 countries on the Healthcare Access and Quality Index (HAQ). Unsurprisingly, the country's healthcare spending pre-Covid was at 3.5 per cent of gross domestic product (GDP), is significantly lower when compared to other Asian countries such as Thailand and Vietnam, who's healthcare spending as a percentage of GDP is about 3.7 per cent and 5.5 per cent, respectively.
Another challenge is capacity. According to WHO, there should be one doctor for 1,000 people. Data shows that there is one doctor for every 1,445 Indians as per the country's current population estimate of 1.3 billion. According to figures published, in March 2020, one allopathic doctor serves 43,788 people in the Indian state of Bihar while in Delhi there was one doctor for every 2,208 people. India also ranks amongst the lowest with regard to hospital beds according to a WHO report, with 0.7 beds per 1,000 people, far below the global average of 3.4.
Tech can help
India is no stranger to health tech and its applications, having adopted digital technology in the healthcare sector quite early. According to the Philip's Future Health Index 2019 report, 76 per cent of healthcare professionals in the country are already using digital health records. India also meets the 15-country average (46 per cent) related to usage of AI within healthcare.
India's Apollo hospitals was one of the first to set up a Very Small Aperture Terminal (VSAT) hospital in Aragonda, a remote village in Andhra Pradesh in India in the year 2000.
The world's first tele robotic heart surgery was done in India in 2018 was done by an Indian cardiac surgeon with the help of advanced robotics on a middle-aged women with blocked artery 32 kilometres away.
However, the Covid-19 pandemic proved to be the much-needed impetus for a large-scale adoption of technology, in particular robotics.
The age of Robots
Mitra, a robot developed by Invento Robotics, has proven to be hugely popular in Indian hospitals during the pandemic, due to its ability to assist with patient care while in reducing risk to doctors.
"Mitra was originally meant for care homes, but was adapted during the pandemic to assist doctors and nurses by taking vital readings, and to help in consultations," Balaji Viswanathan, chief executive of Invento Robotics was quoted in the Guardian. Another robot developed by the same company called RoboDoc can move around the hospital autonomously. It takes doctors inside COVID wards virtually, reducing their physical movement. It also scans temperature and other vitals of patients, and collects and feeds the data (their temperature, diet, etc.,) to the computer.
Robots are also being used in Delhi's AIIMS hospital, which has a floor disinfectant and a humanoid robot in its Covid-19 wards and Fortis Hospital, Bengaluru is using an interactive robot to screen patients and medical staff at its entrance. According to the latest report by the International Federation of Robotics (IFR), India is now among the top 10 countries for annual installation of robots in industries. Industrial robot sales reached a new record of 4,771 in 2018, up 39 per cent from 2019.
Technological applications in AI, robotic and machine learning can help India address major challenges in capacity and inaccessibility. Over the years, robotic–assisted surgeries have steadily increased within the Indian Healthcare industry, in fact research shows that, almost 50 per cent of all surgeries in India will be robot assisted by 2025. For a country still battling with a deadly global pandemic, that should be welcome news, indeed.