Building shared prosperity across the Commonwealth of nations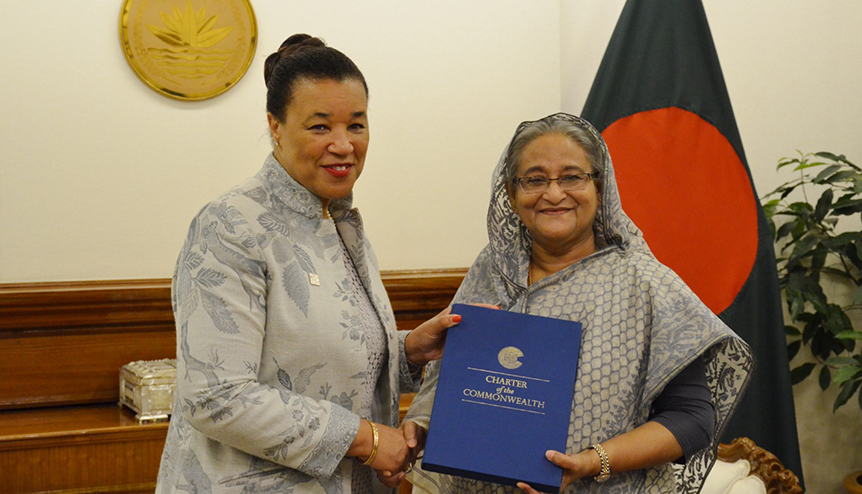 Pegged around a recent visit to Bangladesh, the Commonwealth Secretariat presents a vision of shared goals across the 53-member organisation.
Secretary General Patricia Scotland recently shared her vision to ensure that the Commonwealth remains relevant and vigorous during "troubled and troubling times".
She was speaking at the Bangladesh Institute of International and Strategic Studies (BIISS) seminar during her first official trip to the country.
Joining the Secretary-General, on the theme of "Commonwealth Advantage: Progress and Potential", were Foreign Minister Abul Hassan Mahmood Ali and Foreign Affairs Minister Shahriar Alam.
Secretary-General Scotland gave delegates insights into last April's Commonwealth Heads of Government Meeting (CHOGM) where 53-member states agreed a swathe of initiatives to build on the progress being made since she took over the organisation more than two years ago.
CHOGM highlights
"A distinctive feature of CHOGM, as of all Commonwealth ministerial meetings, whether for finance ministers, foreign ministers, health and education ministers, ministers of trade, for youth, for sport, or for women, is the ready access afforded to those on whose behalf they work," she said.
"There is a special feeling of family in the closeness and symbiotic nature of the relationship ministers and their supporting officials enjoy with Commonwealth networks of practitioners and professionals active in their spheres of responsibility. The organic and human characteristics of Commonwealth growth and development bring immensely valuable goodwill and trust to our relationships and the way in which we do business.
"That we are family, not foreign, is recognised by the fact that our member nations are represented to one another by high commissioners, not by ambassadors."
Focus on trade
There were no winners or losers at CHOGM, said the Secretary-General, because decisions were made by consensus and not by vote. The Commonwealth is helping to share prosperity among the 53-member states. The '2018 Commonwealth Trade Review' showed that even though the Commonwealth was not constituted as a formal trading bloc, trade and investment remained strong. That was because it was 19 per cent cheaper when Commonwealth countries traded with one another, when measured against comparable country pairs.
"This rising tide of intra-Commonwealth trade underlines the growing significance of Commonwealth markets for many of our member countries," said Secretary-General Scotland. "Our research finds that there are enormous untapped opportunities to boost intra-Commonwealth trade in goods, services and the digital economy. For example, we have found that we can grow intra-Commonwealth merchandise exports by five per cent if we reduce by 10 per cent the red tape and paperwork confronting exporters in daily transactions."
This should be relatively simple because 44 of the Commonwealth's 49 World Trade Organisation Commonwealth members have already ratified the WTO Trade Facilitation Agreement.
Scotland said: "Of course, sustaining trade growth depends on there being enabling conditions in the world economy.
"With rising protectionist sentiments and a backlash against globalisation in many countries, and even talk of trade wars, the role of the Commonwealth becomes increasingly important as a positive influence for strengthening trade links across boundaries and building prosperity in which all can share."
Commonwealth leaders expressed strong support for the multilateral trading system to respond to growth threats from rising protectionism, Secretary-General Scotland said. They have also backed the connectivity agenda which could increase intra-Commonwealth trade to $2 trillion by 2030.
Faith in Youth
The third Faith in the Commonwealth Youth Training of Trainers workshop, which took place in Dhaka, reiterated this message of shared prosperity. The training led participants through a practical programme on peace facilitation and project management, anchored on the values of global citizenship, mutual respect and youth empowerment.
The government of Bangladesh is fully behind the project's objectives. In May, its State Minister for Youth and Sports, Biren Sikder, opened the training workshop in Dhaka and said: "As we live in an increasingly interconnected and complex world, it is more important than ever that young people learn the values, attitudes and communication skills that equip them to navigate their way in the world, and to work with others in ways that promote mutual respect and understanding."
The Secretary-General also praised the success of the Faith in the Commonwealth project: "What this incredibly innovative training of trainers' module did in Bangladesh was to take 26 young leaders from all backgrounds and galvanise them into a movement to encourage peace, development and deep understanding of different cultures.
"These were people from all faiths and those of none, all social strata and gender with a variety of skills. We had entrepreneurs, lawyers and community workers undertaking this course. Their connections are now life-long, and they have become true friends with a respect for diversity and the determination to increase social cohesion among our youth."
Global citizenship
The project, a partnership with the Khalili Foundation, promotes global citizenship education and religious literacy among youth in the Commonwealth.
The Bangladesh Open University has offered its experience in online learning to help the Secretariat develop an e-learning version of the curriculum. The university has also agreed to deliver a global citizenship education toolkit by the end of this year and promote it to other universities across Bangladesh.
Faith in the Commonwealth is one of the Commonwealth's projects to promote peace and development across its member states. Others include the Sport for Development and Peace programme which is helping Bangladesh revise its national sport policy and "Peace at the Crease", which uses the popularity of cricket to build consensus on development issues.
Snober Abbasi works in the Communications Division of the Commonwealth Secretariat.