British Indian voters could help roll that winning dice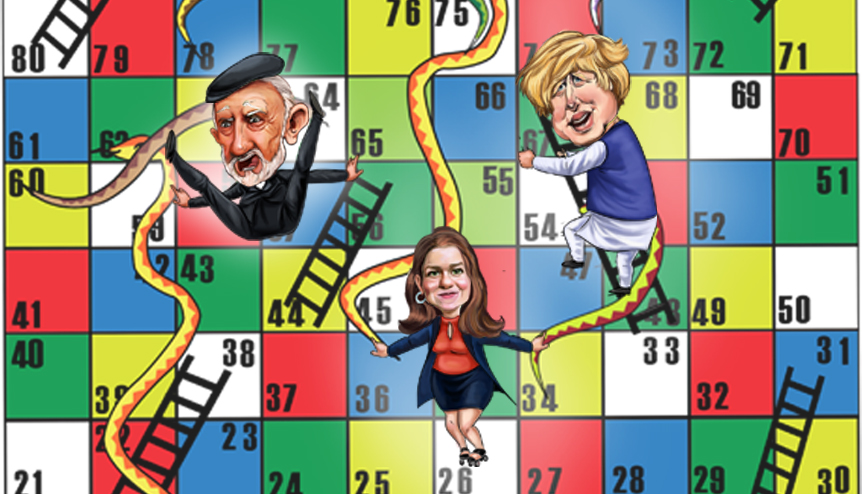 Editorial
British Indian voters may well roll in that magic number in the UK election campaign's game of political snakes and ladders.
As the UK election campaign enters its final heated stages, a game of political snakes and ladders best captures the mood of what lies ahead.
Labour Leader Jeremy Corbyn is categorically on a slippery slope, one which he tries to climb but seems to be pulled back down by a metaphorical snake of his own making – be it his party's ill-conceived stance on Kashmir or the Chief Rabbi's intervention to brand the party he leads unequivocally antisemitic. Adding to these woes is a confirmation of his dwindling support among British Indian voters, as reflected in our first-ever India Inc. poll.
By comparison, Boris Johnson's Conservative Party seems to be struggling to fully realign Labour's disaffected British Indian voters with a slippage in the Polls amongst this group. However, the scope for recovery is more promising given that it is just a four-point drop over the 2017 General Election. However, a failure to convince the large chunk of undecided British Indian voters may well prove to stem his flight mid-way unless some further quick confidence building is done.
Meanwhile, Lib Dem Leader Jo Swinson would not be blamed to feel rather comfortable with this particular electorate which handed her party a massive 10-point jump over the previous election.
But as anyone who has ever played a game of snakes and ladders knows, it's all down to the roll of the dice. And, in this case, the British Indian voters are one such swing group that may well roll in that magic number.