Brexit or no Brexit, India on investment spree in the UK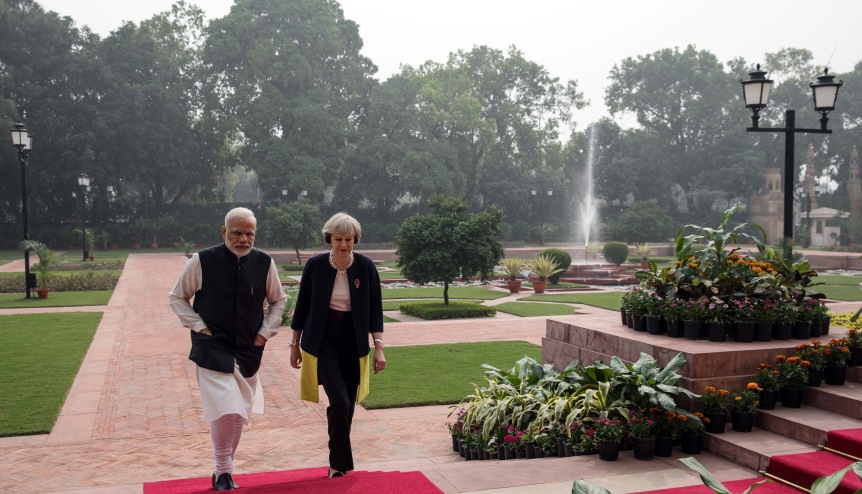 As the UK continues to grapple with an elusive withdrawal agreement with the European Union (EU), some recent investment figures from India come as a timely boost for Brexit-bound Global Britain.
It all began with a spike in export data from the UK's Office for National Statistics (ONS), which revealed that Britain's exports to India increased at the fastest rate among the country's top trading partners outside the European Union (EU), registering a 19.3 per cent increase in goods and services trade in 2018.
The UK's Department for International Trade (DIT) quite predictably went all out to hail the figures as proof of the post-Brexit Global Britain promise paying off.
"From exports of our Scotch Whisky to our world-class cars, consumers all over the world are demanding British goods at unprecedented levels," noted Dr Liam Fox, the Secretary of State in charge of the department.
"My international economic department is confident British businesses will continue to excel as we leave the EU and will offer its full support to businesses with the same ambition," he said.
And, there was even more good news for him to celebrate, with the Organisation for Economic Co-operation and Development (OECD) firmly categorising the UK as the leading destination for foreign direct investment (FDI) in Europe, and the third most significant in the world, behind the US and China, over the previous year.
The Brexit effect
Behind these headline figures for a country still floundering with its exit strategy from the EU, is one country that stood out with some of the most robust statistics.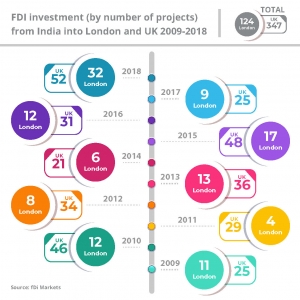 The Confederation of Indian Industry (CII) and Grant Thornton revealed in their annual 'India Meets Britain Tracker' that the number of Indian companies investing in the UK jumped over the previous year, despite the ongoing uncertainties around Brexit. According to the 2019 analysis, the number of Indian companies doing business in Britain increased from 800 in 2018 to 842 in 2019, with a combined turnover of £48 billion and employing nearly 105,000 people.
UK minister for investment Graham Stuart was jubilant: "The headline figures in the Tracker are startling. We will always welcome Indian investments and we recognise India's importance as one of our most critical bilateral investors."
Three companies in this year's Tracker reported growth of more than 100 per cent, with the fastest growing of these being TMT Metal Holdings Limited, with a growth rate of 649 per cent. This was followed by Route Mobile (UK) Limited, which reported growth of 189 per cent, and BB (UK) Ltd, which achieved turnover growth of almost 129 per cent.
Some of the stand-out investments in 2018 included Bharat Forge's £10 million investment in Tevva Motors, marking the Indian manufacturing giant's another major move into the electric vehicle (EV) space. Also grabbing the headlines was Indian hospitality firm OYO, which plans to set up across 10 cities in the UK by 2020, and Indian taxi-hailing business Ola, which kick-started with operations in Wales and Manchester.
Jeremy Saunders, head of OYO UK, expressed the company's excitement at its launch in the UK.
"We are very encouraged by our progress so far. This is one of the most advanced and innovative hospitality markets in the world, and OYO is extremely proud to now be a part of it," she said.
Notably, Grant Thornton found that Indian companies betting big on the UK market came against the backdrop of a dip in the number of FDI projects into the UK from the rest of the world – perhaps reflective of Brexit uncertainties.
As the Indian High Commissioner to the UK, Ruchi Ghanashyam, contextualised the latest Tracker – the data reflected Indian confidence in the UK market in very graphic terms.
"We all wondered how the Brexit process would have affected the investment sentiment from India and now we have the answer – Indian business retains its positive outlook towards the UK," she said.
London, a pull factor
Besides the wider attraction of the UK market was most definitely a very specific pull factor of London. The British capital emerged as the top choice for Indian investments ahead of other cities, such as Dubai and Singapore, in 2018.
London & Partners (L&P), the Mayor of London's promotional agency, revealed that Indian companies choosing to invest and expand in London hit an all-time high last year, with 32 investment projects – a giant leap from nine in the previous year.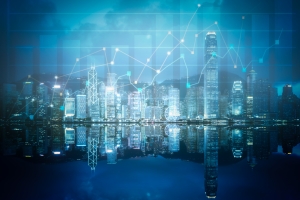 According to data sourced from fDi Markets, L&P revealed that over the past 10 years, Indian companies added £2.49 billion in capital expenditure and created over 5,691 new jobs for London's economy. In 2018, investment into the UK from India grew by over 100 per cent compared to the previous year, with London accounting for over 60 per cent of all Indian investment into Britain. Overall, the UK emerged as the topmost country to attract Indian FDI with 52 projects, ahead of the US (51) and UAE (32).
Laura Citron, CEO of London & Partners, said: "A record number of Indian businesses have chosen London as a base for their international expansion and we look forward to welcoming more ambitious companies to our city."
She led a major fintech trade mission to India recently to explore further synergies between the two markets.
"India and London share strengths in financial services and technology, making India a natural market for our international growth," said Emma Steeley, CEO of AccountScore, one of the companies participating in the trade mission.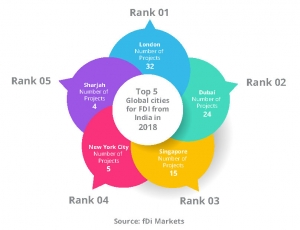 The data analytics firm, which has an office in Mumbai and customers across India, said it will be scouting for new opportunities to explore collaborations and meet stakeholders in some of India's fast-growing fintech hubs.
Nadia Sood, Founder and CEO of Credit Enable, another participating company, added: "India is bubbling over with opportunity, promise and above all, entrepreneurial talent.
"But while there is ample supply and demand for finance, there is far too little connectivity between the two. Instead, a dysfunctional credit market means SMEs are borrowing informally at 30 per cent interest. This represents an unparalleled opportunity for financial institutions to lend to them far more competitively."
While in India, Credit Enable announced a pan-Indian initiative called the Changemakers Programme together with its partner CAIT, the Confederation of All India Traders. The programme is pegged as the largest mobilisation initiative ever attempted to help secure affordable credit for small and medium enterprises (SMEs).
Fintech focus
The strongest theme running through the positive India-UK investment spectrum is quite conspicuously the fintech sector.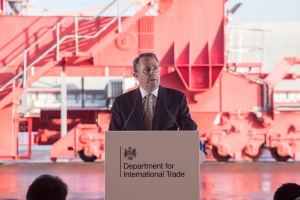 As the Lord Mayor of London, Peter Estlin, recently noted: "India and the UK have much to gain by increasing ties in fintech, an area seeing significant growth and innovation in both our countries.
"Many Indian firms have expressed interest in setting up in the UK, but market access remains an issue for some, especially smaller companies."
And, keeping that market access in mind, the City of London Corporation recently hosted a spin-off meeting for Indian fintech companies on the sidelines of the UK Fintech Week in London, with the aim of exploring what support it can provide Indian SMEs embarking on their UK journey.
The participating companies, across sectors such as mobile tech, data analytics and online payment solutions, were among the new cohort to benefit from the Rocketship Awards, set up as part of the UK-India Tech Partnership to collaborate and raise funding for fintech entrepreneurs from the UK and India annually. Some of the latest set of Indian SMEs eyeing the UK market include Nomisma Mobile Solutions, Nineroot Technologies, Chillar Payment Solutions, Rupeepower, Credenc, Lithasa Technologies, CredRight, Fingpay, Aye Finance, StashFin, Intelligence Node, Safehouse, Zuper, Oro Wealth, Clensta, Zest IOT, Inclov and Mobile Wallet.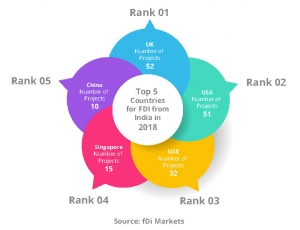 "These businesses demonstrate the industry's ability to attract Foreign Direct Investment (FDI) from all corners of the globe. Just last year we saw a 321 per cent increase from India," said Graham Stuart, DIT's Investment Minister, who has been kept fairly busy by some of these Indian tech companies.
He recently also inaugurated a new UK-India Tech Hub in London to promote cross-border technology transfer in early stage businesses between the two countries. The hub, described as a first-of-its-kind collaboration between a venture capital (VC) fund and a business district, has been set up by UK-based VC fund Pontaq at the new Royal Albert Dock business district in East London and is aimed at promoting bilateral investments in the field of financial technology, artificial intelligence (AI), blockchain and smart cities.
"The UK has a consistent track record of producing successful tech companies and has more venture capital investment in tech than anywhere else in Europe. The launch of the UK-India Tech Hub marks a notable milestone in further promoting technology partnership and investment with India," the minister declared.
UK-India Week 2019
With India undergoing a momentous election cycle and the UK edging towards the latest October 31 Brexit deadline, these figures come at a crucial point for both economies. They reaffirm the commitment on both sides to overcome barriers to closer cooperation and offer a much-needed springboard for future negotiations.
The UK-India Week in June will present an ideal platform once both countries are more geared towards building on some of this groundwork. The UK-India Awards shortlist, inevitably, includes many of the success stories highlighted in the positive investment spike. Both OYO and Ola are shortlisted in the Market Entrant of the Year category this year, among many of the Indian companies making a mark over the previous year in the UK market. Organisations and consultancies, such as the Manchester India Partnership and PwC, which help facilitate this process are also among some of the shortlisted nominees, with software giants like Infosys laying out the Indian innovation scenario.
The power-packed programme will set the stage to not only celebrate the successes of the year gone by but also thrash out any hurdles in the way to these figures soaring further. Indian companies have certainly provided the UK with that much-needed vote of confidence amid the persistent uncertainties of Brexit.
It is time the UK showed some vigour in building on that vote of confidence.