Brexit a huge opportunity for new India-UK deal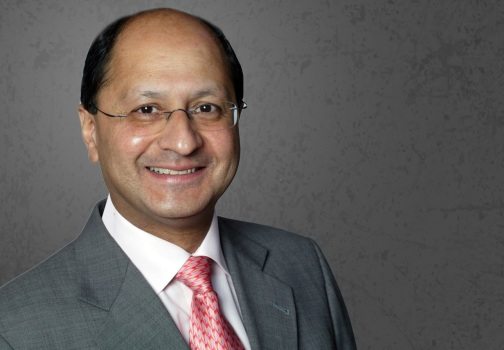 Shailesh Vara MP was elected to the British Parliament in 2005 and has held a number of senior positions, including former justice minister and former work and pensions minister. Prime Minister Theresa May recently appointed him co-chairman of Conservative Friends of India (CFI) alongside Ranjit Singh Baxi. 'India Global Business' caught up with him to discuss his priorities in a new post-Brexit scenario.
How important is a group like CFI in the current post-Brexit climate?
I think it is very important. India is a key country for the UK for trade purposes and as we seek to develop individual trade agreements with countries across the world, I very much hope CFI can help the process as far as India is concerned.
There is always rhetoric in the world of politics. What we need to do is to make sure that CFI works very closely with the Foreign Office and the Department of International Trade as well as the Home Office and collectively with relevant people in India to ensure that we have the best deal possible for both countries.
The way to do that is to continue the deep engagement that we have had for a long time and to make it absolutely clear that we recognise India as one of main countries with whom we wish to trade.
What are some of your plans in the short and long term to use this platform to enhance India-UK ties?
CFI has a two-fold role; firstly, its role is to engage with the British Indian diaspora, which is the second-largest in the world after the US. There are many people of British Indian origin who support the Conservative Party but there are even more potential supporters. It is our aim to try and persuade them to support the Conservative Party.
Those who are particularly interested in politics, we would like to encourage them to join the party, to play an active role in the various activities that we have – whether it is as an active member or as an elected member to a particular office, as a councillor or as an MP.
A very important role is to harness the British Indian vote.
Additionally, it is our role to try and help create even stronger and better relations with India in many ways. In terms of trade as well education, cultural matters, sport and all variety of areas where we already have close cooperation.
But we are not taking anything for granted because wherever you have close cooperation, you have to continue to work at it to make sure that it continues.
Does the UK's ruling party do enough to engage with the Indian diaspora?
Historically, it has been the case that all ethnic minority groups tended to veer towards the Labour Party but in recent years it is the case that more and more ethnic minorities, particularly those of Indian origin, are turning to the Conservative Party as the party that they see as their natural home in terms of political affiliation.
Certainly a lot of the policies that we have across education, business, health, international matters, lot of the British Indian diaspora feel they can associate with them. There are many who still need to be persuaded and it is my aim, and that of my colleagues, to try and bring even more over in the future.
In terms of the political seriousness, David Cameron visited India three times while he was Prime Minister. Prime Minister Theresa May has been in office a matter of months and already she has spoken with Prime Minister Modi and also had meetings with him at international gatherings.
We in Britain take our relationship with India very seriously, as was evident when Prime Minister Modi visited in November 2015 when 62,000 people, mostly of British Indian origin, turned up at Wembley Stadium to greet him. That shows the strength of the diaspora and also shows the warmth of Britain.
It is worth noting that it was the largest diaspora event Prime Minister Modi addressed overseas anywhere in the world. I think by all accounts it was a hugely successful visit.
Why should the diaspora connect with the Conservative Party?
The British Indian community are very aspirational. Their parents or grandparents, and in some cases individuals, came to Britain to have a better life. The Conservative Party is prepared to try and create an environment where everyone can prosper as far as their talents can take you.
That message is one that appeals to people who have come to Britain for a better future because there are no restrictions.
The Labour Party, on the other hand, says the state should tell you what you should be doing and they have very backward looking policies going back to the 1960s.
We say, if you are ambitious and want to work hard, then you can prosper and go as far as your abilities can take you.
It is worth remembering that many of the people who came here relatively poor, have prospered hugely under Conservative governments.
Do you see the desired results of the series of trade delegations and visits to India?
It is important to remember that this is a cumulative and ongoing effort. We have had visits to India at the highest level, including myself as justice minister [2014], and high-profile visits from India to the UK.
I think post-Brexit, we need to really work hard and recognise that we need to build on the engagement that we have. This really is a huge opportunity for both countries, for India to deal with Britain on a one-to-one basis and secure a deal that is good for both of our countries.
The UK at present is the largest G20 investor in India and India invests more in the UK than the rest of the European Union combined (EU). India has also emerged as the third-largest source of foreign direct investment (FDI) for the UK; Indian companies are major employers in the UK and in my own constituency [North West Cambridgeshire] around 800 people are employed by an Indian firm.
So it is already a very strong relationship between the two countries, in terms of figures and in the real practical sense. The challenge is to ensure that we build on this and the relationship gets ever stronger.
How does this balance with news of a crackdown on students and professionals from India?
Any crackdown on students is a crackdown on bogus students. There were a large number of bogus universities that were closed down because they were not doing anything in terms of educating people coming here.
It is wrong for institutions to be attracting people from India to the UK on the basis that they will be getting university education when that is not the case. They were being duped and closing such bodies is surely good for both countries – for the UK's reputation of providing world class education and for students from India paying huge sums of money for the right education.
As far as proper students are concerned, they are more than welcome to come here if they have got the qualifications and financial means to support themselves. It is as simple as that and that message needs to go out. Anyone who says there is a restriction on Indian students is misinformed.
As far as professionals are concerned, we have qualifications and if people meet them they are welcome. It is not unreasonable for any country to have rules.
What are some personal milestones you have set in this role?
I go into this in a very positive light. I very much hope that we will be able to engage with the British Indian diaspora even more than in the past and people of Indian-origin will see the Conservative Party as their natural home.
I would also hope we will work towards making our relationship with India closer than it has been ever before. Our two countries have a relationship that goes back over 400 years, that is something that must be cherished.