Brexit as usual keeps businesses on edge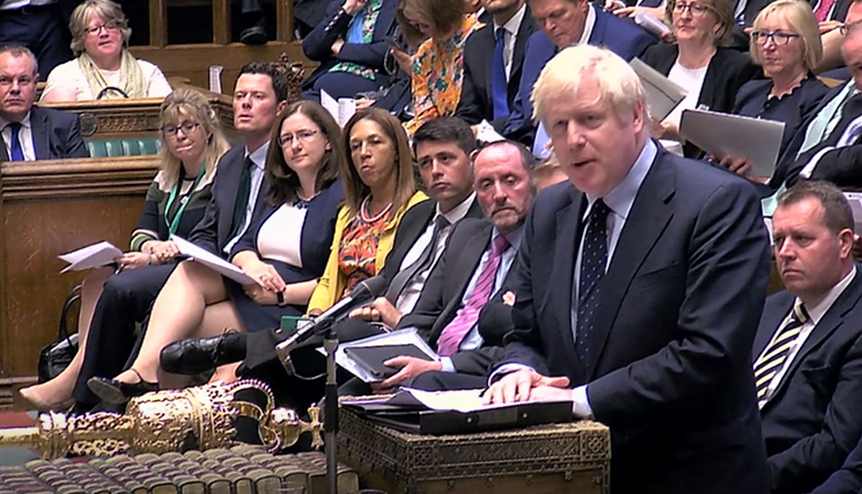 Business chiefs and analysts wearing thin of a wait and watch approach to an ever-moving target for Britain's exit from the European Union (EU).
The finish line in any race is most often the clearest goal towards which competitors can focus their attention. However, in the Brexit race, more of a dash in the days leading up to the October 31 mark, it is that very finish line that has continued to blur every time it seems remotely within reach.
UK Prime Minister Boris Johnson took charge at 10 Downing Street in July with the central pledge of getting Brexit done, "no ifs or buts". Indeed, he declared in his characteristic dramatic style that he would rather be "dead in a ditch" than miss the Halloween deadline for Britain's long-drawn exit from the European Union (EU).
"I am reassured that despite his pledge, he's not to be found anywhere in a ditch," retorted Opposition Labour Party Leader Jeremy Corbyn as MPs delivered a fresh bruising to Johnson in the House of Commons, forcing him by law to send a letter seeking another extension to the Brexit deadline and then reluctantly accepting his new deal but rejecting the fast-track timetable attached to it.
Johnson, akin to a matador, has struggled against being overly rattled by repeated parliamentary bruising and is demanding a December 12 General Election, offering Parliament a kind of sop in the form of more time to debate his EU withdrawal agreement in the interim. Of course, an election itself is predicated on MPs passing it through and whether, and what kind of, an extension the EU's remaining 27 members agree to offer the UK this time around.
Voice of business
For the Indian companies based in the UK, numbering around 842 at last count in the 'India Meets Britain Tracker', Brexit is an everyday reality. The dominating voice from within these quarters is one of general frustration, with many approached by 'India Global Business' simply refusing to even contemplate a comment or reaction on the issue until the road ahead offers some more clarity. Indian industry bodies, Confederation of Indian Industry (CII) and Federation of Indian Chambers of Commerce and Industry (FICCI), have an unofficial moratorium on Brexit-related statements until there is a significant shift in the process.
The few who were willing to address the issue, indicated a widely wait and watch policy, which has meant a squeeze on investment sentiment across the board.
"As far as Indian companies are concerned, it is about managing the uncertainty," said Sharad C. Chandak, CEO of State Bank of India (SBI) UK, India's largest bank operating around the world. SBI did its bit amid the uncertainty to express confidence in the UK market with the launch of its mobile application recently. Its CEO explained that while much of the worries around the EU-wide financial passporting rights do not affect Indian banks as much, the general feedback from customers has been one of wariness.
He said: "From an SBI point of view, the financial passporting rights do not affect us as we have no branches in Europe. So, in many ways, being a UK subsidiary, it is business as usual.
"However, the feedback we have been getting for some time now from customers is that many are holding back on making investment decisions. There is clearly a wait and watch approach when it comes to investments, a factor that affects the wider sentiment in the economy."
A recent survey by the business lobby group the Confederation of British Industry (CBI), which represents 190,000 UK businesses – small and large, found that the prospect of leaving the EU's Customs Union and Single Market without a deal had led a majority of industrialists to cut back investment for the coming year.
"Brexit has created huge uncertainty, and has not been good for the country. It's not been good for business," says Lord Karan Bilimoria, CBI Vice-President.
The Founder and Chair of Cobra Beer highlighted how his product is able to travel seamlessly and frictionless between countries, a factor that is not a given unless a good deal is in place.
"We should never take for granted how wonderful the single market is," he reflects.
Take back control
Former Reserve Bank of India (RBI) Governor Raghuram Rajan, the rare expert credited with forecasting the global financial crisis of 2008, was asked about his views on Brexit in the days ahead of the latest October 31 deadline.
"The cry of take back control is not just about taking back control from Brussels to London. It's taking back control also from London to the local communities/region of the UK," said the Professor of Finance at the University of Chicago Booth School of Business.
He elaborated: "Increasingly, the world which has been buffeted by various forces, feels that it has very little ability to respond because so much is determined elsewhere and not locally. So, they are asking to take back some of the power, so they can do something about it.
"It also reflects the anger against the elite. Some decentralisation may not be a bad thing because even if people make mistakes, at least it's their mistakes and they learn from it while feeling empowered."
With a General Election in the coming weeks or months a very real prospect, this mantra of decentralisation may well gain further ground alongside the post-Brexit Global Britain message.
Hard or Soft Brexit?
While those on the Remain side of the Brexit fence would argue against leaving the EU altogether, the reality is that if an exit is imminent it needs to reflect a balanced approach.
R. Chandrashekhar, a well-known Indian IT chief and former President of the industry body Nasscom, recently reflected on how a hard Brexit may in fact end up benefiting the Indian technology sector because the UK would be on the lookout for new partners. However, even he conceded that ultimately if a hard Brexit hammered the economic credentials of the British economy, it would end up doing no sector any good.
Therefore, to borrow a popular fairy-tale analogy, the choice is not just between hard and soft to find the right kind of Brexit but also a timely one, because there is only that much waiting and watching possible.
But as has been the case with Brexit, even an hour is a long time, which means there is no point speculating on the next crucial deadline by the time this edition goes live.