Bolstering the foundations of social impact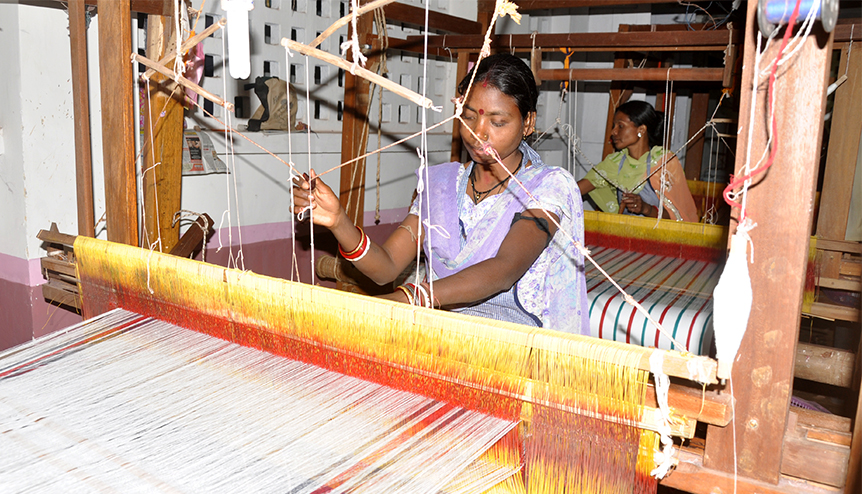 India's state-run Steel Authority of India Limited (SAIL) prides itself at leading the way on corporate social responsibility in the country.
The Steel Authority of India Ltd (SAIL), a "Maharatna" steel producer under the aegis of the government of India claims to continuously contribute to laying a sound infrastructure process for industrial development of the nation.
The company says it conducts business in ways that produce social, environmental and economic benefits to the communities in which it operates and recognises that its business activities have direct and indirect impact on the communities. With the underlying philosophy and a credo to make a meaningful difference in people's lives, SAIL highlights how it has been structuring and implementing CSR initiatives since its inception. These efforts have seen the erstwhile obscure villages located around SAIL plants turn into large industrial hubs today.
SAIL CSR initiatives are undertaken in conformity with the CSR provisions (Section 135) of India's Companies Act 2013, CSR Rules 2014 and Schedule-VII of the Cos. Act 2013.  "SAIL, being sensitive to the requirements of the community at large, carries out CSR projects in and around periphery of steel townships, mines and far flung locations across the country in thrust areas falling in line with the Schedule-VII, namely, Education, Medical and Health Care facilities, Village development, Access to Water & Sanitation facilities, Environment Sustenance, Women Empowerment, Sustainable Income Generation through Self Help Groups, Assistance to Divyangs(People with Special Abilities), Promotion of Sports, Art, & Culture,  etc," the company said.
Healthcare
Good health contributes to better economic growth, as healthy populations add to the productivity of nation. Aligned with it, specialised and basic healthcare is extended to peripheral population through our extensive and specialized Healthcare Infrastructure at plants and units. Treatment of hearing impairment, anemia and identification & counseling of Sickle Cell & Thalassemia patients, women with gynecological disorders, Leprosy & Tuberculosis patients are provided free of cost treatment. Nearly 1.70 crore patients were benefitted during the period 2011-18.
Quality healthcare is brought at the doorsteps of the needy through regular health camps in the periphery of plants/units, mines & remotes. During FY 2017-18, about 4130 Health Camps were organized facilitating over 76,000 villagers, 7 Mobile Medical Units (MMUs) covered about 44,000 villagers at their doorsteps in remotes and 27 Primary Health centers exclusively provided free medical care and medicines to 3.43 lakh villagers.
Education
Training and education is one of the key drivers of nation building. SAIL is supporting about 77 schools imparting modern education to more than 40,000 children in the steel townships. About 68,000 students in over 630 government schools at Bhilai and Rourkela are provided mid-day meals in association with Akshya Patra Foundation and respective state governments.
Under SAIL's initiatives, 19 Exclusive Schools (Kalyan & Mukul Vidyalayas) are educating around 4,274 BPL students with facilities like free education, meals, uniforms, text books, stationeries, bags, etc. across steel plants.
More than 524 tribal children get free Education, Accommodation, Meals & Uniforms, textbooks, etc. at Saranda Suvan Chhatravas, Kiriburu; RTC Residential Public School, Manoharpur; Gyanodaya Chhatravas, BSP School Rajhara, Bhilai; Kalinga Institute of Social Sciences, Bhubaneswar; Gyanjyoti Yojna for Birhors, Bokaro.  Over 2,300 school students are awarded annual scholarships in plant peripheries.
Vocational and specialised skills development training is targeted towards sustainable income generation are imparted to rural youths and woman folks in areas such as Nursing, Physiotherapy,  Driving, Computers, Mobile repairing,  Agriculture techniques, Mushroom cultivation, Goatery, Poultry, Fishery, Piggery, Achar/Pappad/Agarbati/Candle making, Screen printing, Handicrafts, Sericulture, Yarn Weaving, Tailoring, Sewing & embroidery, Gloves, Spices,   Towels, Gunny-bags, Low-cost-Sanitary Napkins, Sweet Box, Soap, Smokeless chullah making etc.
Approximately,  601 youths and 1,468 women were trained during 2017-18 at Bhilai Ispat Kaushal Kutir, Swayamsiddha & PG College of Nursing, Bhilai with Free Boarding & Lodging, Kishori at Rourkela, Shipangan & Skill Development and Self Employment Training Institute (SDSETI) at Durgapur, Vocational Training Centre & 'Mahila Mangal Sabha' at Burnpur, Garment Technician Training at Salem, JHARCRAFT centre at Bokaro and Self Employment Centre "KIRAN" at Kiriburu Ore Mines & Meghahathaburu, Aashaye Handloom Center at Gua,  etc.  SAIL is also instrumental in marketing of the products manufactured at such centres.
Almost 845 youths have been sponsored for ITI training at ITCs Bolani, Bargaon, Baliapur, Bokaro Pvt ITI and Rourkela etc. and 71 youths have undergone training in Plastic Engineering through CIPET at Bokaro. The ITIs at Bolani and Bursua have been adopted for upgradation and operation by SAIL –Raw Materials Division (RMD).  Also, at Bokaro Pvt ITI youths from the periphery are being trained in streams of Electrician, Welder & Fitter.
Rural infrastructure
SAIL, since inception, has been instrumental in rural infrastructure development and has connected over 790,300 people across 450 villages to mainstream through roads. Also, over 50,00,000 people in remote areas have easy access to safe drinking water via installation of 8,128 water sources approx.
To promote renewable sources of energy, solar street lights and solar lanterns and smokeless chullahs have been distributed in Saranda and other locations.  Maintenance of parks, water bodies, botanical gardens and plantation of over 2 Lakh trees in townships has been undertaken during 2017-18.  SAIL has supported setting up and operation of 100 KW Capacity Solar Power Plant at Jari, Gumla in Jharkhand.
Divyangs, or children/youth, are empowered with tools such as tricycles, motorised vehicles, calipers, hearing aids, artificial limbs, etc. SAIL supports Enabling Centres, such as "Sneh Sampada", "Prayas" and 'Muskaan" at Bhilai, "Schools for blind, deaf & mentally challenged children" and ''Home and Hope" at Rourkela, "Ashalata Viklang Kendra" at Bokaro, "Handicapped Oriented Education Program" (Hope) and "Durgpaur Handicapped Happy Home" at Durgapur, "Cheshire Home" at Burnpur, Old age homes, viz. "Siyan Sadan" at Bhilai, Acharya Dham and Badshah at Durgapur etc.
Lepers Colonies have been adopted and maintained in peripherals.
Sports, Arts & Culture
The promotion of such activity helps revive the creative ecosystem of communities in deprivation.  Thus, bringing about positivity and giving shape and voice to the goals the local populations are striving to achieve. SAIL is supporting and coaching aspiring sportsmen and women through its residential sports academies at Bokaro (football), Rourkela (Hockey) – with world class astro-turf ground, Bhilai (Athletics for boys), Durgapur (Athletics for girls) and Kiriburu, Eklavya Achery Academy & Ladies Cricket Coaching Club, Jharkhand. The company is regularly organising inter-village sports tournaments, extending support to major national sports events & tournaments. Cultural events like Chhattisgarh Lok Kala Mahotsav, Gramin Lokotsav are organised every year.
In an effort to bring the marginalised masses of Saranda forest, Jharkhand to the mainstream of development, SAIL provided ambulances, 7000 each of bicycles, transistors, solar lanterns and established an Integrated Development Centre (IDC) at Digha village in Saranda forest. IDC comprises of facilities like Bank, Panchayat Office, Ration shop, Telecom office, Anganwadi Centre, Meeting room etc. for the local populace.
Model Steel Villages
In order to bridge the gap between rural and urban areas and to provide comprehensive development of both physical and social infrastructure, 79 Model Steel Villages across the country (in eight states). The developmental activities undertaken in these villages include medical & health services, education, roads & connectivity, sanitation, community centers, livelihood generation, sports facilities, etc. These facilities are maintained regularly.
SAIL constructed 672 toilets in schools in Plants & Mines peripheries in the States of Chhattisgarh, West Bengal, Odisha, Jharkhand, Madhya Pradesh and Tamil Nadu; as allocated by the Ministry of Human Resource Development, under the "Swachh Bharat Abhiyan" initiated by the Hon'ble Prime Minister of India.
*This article is based on information provided by the Steel Authority of India Limited.