Biden's policies will compliment India's global vision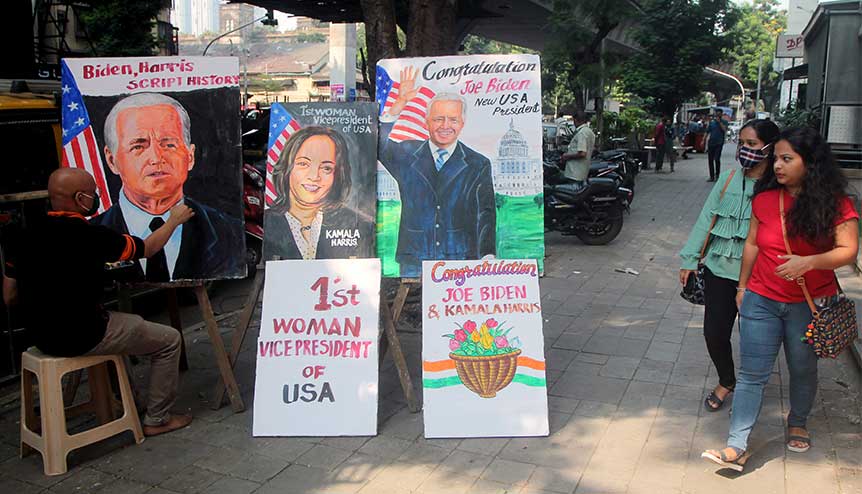 The US President elect is expected to address multiple issues which will endorse the already solid ties between India and the US. Boosting trade, restoring the H1B visas, regional and global security will be a few of the key points under consideration.
The word is out on the street – the markets have evinced undying love for US President elect Joe Biden if the soaring numbers in Dalal Street and Asia are any indicator.
Read more:
A nuclear bolstering of India-US ties
India-US trade deal offers hope and limitless possibilities
India-US-UK alliance in AI can boost global tech
The India-US Strategic Energy Partnership stays strong
Risk assets got a boost on Monday on expectations of fewer regulatory changes and more monetary stimulus under US president- elect Joe Biden. E-mini futures for the S&P500 jumped 0.6 per cent. MSCI's broadest index of Asia Pacific shares outside of Japan inched up 0.1 per cent. Japan's Nikkei gained 2 per cent. Korea's Kospi was up 1.7 per cent. China's Shanghai Composite was up 1 per cent.
Congratulations @JoeBiden on your spectacular victory! As the VP, your contribution to strengthening Indo-US relations was critical and invaluable. I look forward to working closely together once again to take India-US relations to greater heights. pic.twitter.com/yAOCEcs9bN

— Narendra Modi (@narendramodi) November 7, 2020
Much awaited stimulus
It is being speculated that Biden's march to the White House could see an inflated stimulus-cum quantitative easing (QE) package initiated by the US – should it be passed through the House and Senate, where it is expected to encounter more push back – of as much as a staggering $5 trillion which is substantially more than the $1-2 trillion projections.

Perhaps the best pointer of Biden's triumph elevation would come when India-US economic ties will prepare to reach new highs.
A new Indo-US roadmap
The writing is clear – it is expected that Indian prime minister Narendra Modi and the US President elect will lay out the roadmap for addressing the Covid-19 pandemic; climate change and a rules based global trade policy. Addressing the pandemic will be crucial as the US became the first nation worldwide since the pandemic began to surpass 10 million coronavirus infections, according to a Reuters tally on Sunday, as the third wave of the COVID-19 virus surges across the nation. The grim milestone came on the same day as global coronavirus cases exceeded 50 million.
More to read:
India-US trade talks: Don't miss the woods for the trees
Shared values lie at the core of warm Indo-US ties
India poised to direct the activities of the Quad
Indo-Pacific instills new momentum into India-France ties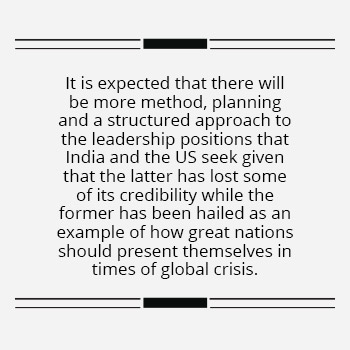 Australia and India, converging perceptions, aligning interests
It is expected that there will be more method, planning and a structured approach to the leadership positions that India and the US seek given that the latter has lost some of its credibility in the global stage and among leading nations, while the former has been hailed as an ideal example of how great nations should present themselves as role models specially in times of global crisis.
Information technology, scientific research, strategic business to business engagements, global security should set the pace of the India-US commitment once the pieces into place after the US elections.
Heartiest congratulations @KamalaHarris! Your success is pathbreaking, and a matter of immense pride not just for your chittis, but also for all Indian-Americans. I am confident that the vibrant India-US ties will get even stronger with your support and leadership.

— Narendra Modi (@narendramodi) November 7, 2020
Addressing the H1B policy
The H1B visa issue, which had been put on the back burner during the tenure of Donald Trump, is expected to be revived once again in what can be seen as a win-win for IT professionals whose services the US industry values. Biden is expected to overturn quite a few of Trump's immigration policies and chief among this will be addressing the issues which have impacted professionals from India with a possible increase in high-skilled visas and the elimination of employment-based visas by country which could see thousands of Indian professionals benefiting. There is also strong sentiment that US Vice President Kamala Harris will be playing a key role in the initiation of the policies by applying her influence to these much awaited executive decisions.
Still more to read:
Invite to Australia to join Malabar shows India's defiance of China
India and Taiwan should lay groundwork for an FTA
India-South Korea cash in on unlimited opportunities
India-Japan 5G collaboration thwarts Chinese ambitions
India-Vietnam relations reflect mutual interest in SE Asia

On the issue of India's regional security and the attempts made by key members of the QUAD to establish fair, rules-based trade and security operations in the Indo-Pacific, New Delhi is optimistic that it will find an able ally in the US against the destructive intentions of China.
Focus on Asia and Indo-Pacific will not wane
There is an expectation that this theatre will see more mature negotiations taking place, but the pressure on Beijing to reduce its unhindered attempts to destabilise the Asian region will not reduce. Washington has globally committed to backing India against China's aggressive postures along the LAC and there is little doubt that this support will wane.
Biden shows statement of intent
Such a step has been reiterated by Biden himself in an op-ed written ahead of the elections when he stated, "The Obama-Biden years were some of the best we've ever had between our two countries…We can and should be natural allies. That's why if elected President, I will continue what I have long called for: The US and India will stand together against terrorism in all its forms and work together to promote a region of peace and stability where neither China nor any other country threatens its neighbours."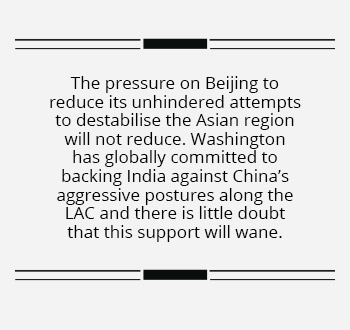 China is clearly America's strategic adversary and this will form the basis of the Biden administration's core policy against Beijing. To execute such policies effectively, Washington will need the services of New Delhi in a role where both nations should be seen as first among equals with focus on the Indo-Pacific region where the political and economic spotlight has shifted. In this, India and the US will benefit from the services of the EU states, specially Germany and France, who have altered their foreign approach for this region in a bid to thwart Chinese President Xi Jinping's expansionist postures.
The future prospects of a new world order emerging, post the US elections, seems to be the anticipation. There is little doubt that in this scheme of affairs India, in collaboration with the US, will be orchestrating a period of global change and optimism.
Podcast: Play in new window | Download