Biden's bold new era of engagement with India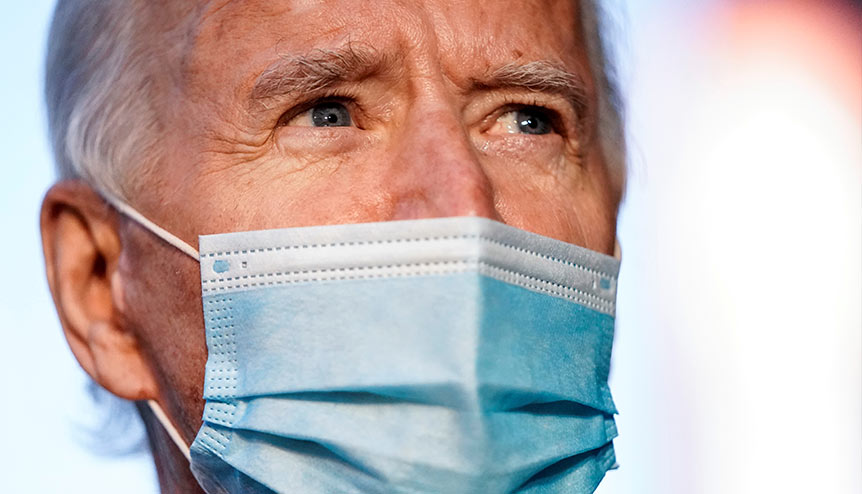 With an unprecedented number of Indian-Americans among Biden's core advisers and potential nominees, New Delhi will remain the lynchpin of the US President-elect's pivot to Indo-Pacific calculus.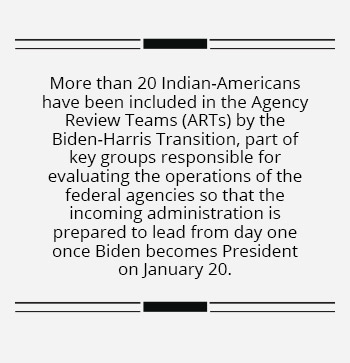 As Joe Biden finally got the formal go-ahead for a transition from the Trump administration and clearance for the daily presidential intelligence briefing on Wednesday, the job only became more frenetic for the team of core advisers guiding the US President-elect on issues ranging from the coronavirus pandemic, economic recovery to foreign policy and climate change.
Read more:
Landmark defence pact brings India and US closer than ever
India-US-UK alliance in AI can boost global tech
Building on India-US people-to-people ties
The India-US Strategic Energy Partnership stays strong
The energy landscape in a Biden era and its implications for India
Promising News: early data today from a second #covid19 vaccine shows 94.5% effectiveness. This is very encouraging. FDA evaluation still needed and wide availability is months away, so keep masking, distancing, and hand washing to #StopTheSpread.https://t.co/kpRfiiL1Kb

— Vivek Murthy (@vivek_murthy) November 16, 2020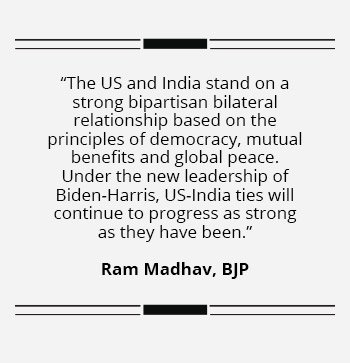 And among that core team is an unprecedented number of Indian-Americans, weighing in on everything from healthcare and space research to trade, investments, climate change, an overhaul of the justice system and, of course, foreign policy.
Former US Surgeon General Vivek Murthy – widely tipped to be Biden's choice for US Health Secretary – and Harvard economist Raj Chetty are among those who have briefed the President-elect on a wide range of economic and healthcare issues against the backdrop of the coronavirus crisis.
Indian-Americans in the spotlight
Along with them, more than 20 Indian-Americans have been included in the Agency Review Teams (ARTs) by the Biden-Harris Transition, part of key groups responsible for evaluating the operations of the federal agencies so that the incoming administration is prepared to lead from day one once Biden becomes President on January 20.
Dr. Rahul Gupta​, former West Virginia State Health Officer tapped to head Biden transition team for Office of National Drug Control Policy. Congratulations DrGuptaMD! https://t.co/AkIN9YnYg8

— West Virginia Health News (@CAMC_HS) November 11, 2020
Arun Majumdar has been chosen to lead the Department of Energy, which includes reviewing the Federal Energy Regulatory Commission and the Nuclear Regulatory Commission, while Kiran Ahuja will lead the Office of Personnel Management that includes the Office of Government Ethics and the Office of Special Counsel under its ambit. Rahul Gupta has been made the team leader of the Office of National Drug Control Policy.
Joe Biden makes his pitch to the Indian-American community: "Seven years ago, as Vice President, I told business leaders in Mumbai that the U.S.-India partnership was the defining relationship of the 21st Century…We can and should be natural allies." https://t.co/XGCmGhRgkm

— Dhruva Jaishankar (@d_jaishankar) October 24, 2020
These Indian-American leaders not only possess a diversity of perspectives critical to addressing the most urgent and complex challenges facing the US and the international community, but also reflect the growing importance of the Indian diaspora in US politics and administration.
Addressing multiple challenges
"Our nation is grappling with a pandemic, an economic crisis, urgent calls for racial justice, and the existential threat of climate change. We must be prepared for a seamless transfer of knowledge to the incoming administration to protect our interests at home and abroad. The agency review process will help lay the foundation for meeting these challenges on Day One," said Senator Ted Kaufman, the chairman of the Biden-Harris Transition.
More to read:
Why a Biden presidency is good news for India
Biden's policies will compliment India's global vision
India staying away from RCEP is a good move
Indian diaspora is the Trump card in the US elections
But with that record number of Indian-Americans in the team, where will it take the new administration's engagement with India after four years of close synergy between President Trump and Indian Prime Minister Narendra Modi?
India-US ties will continue to progress
"The US and India stand on a strong bipartisan bilateral relationship based on the principles of democracy, mutual benefits and global peace. Under the new leadership of Biden-Harris, US-India ties will continue to progress as strong as they have been," said BJP stalwart Ram Madhav. Prime Minister Modi and Biden – who know each other well from the days of the Obama administration – will take the ties forward to the next level, he said. Madhav also pointed out that Biden was instrumental in holding an event for Modi at New York's Madison Square on his first trip to the United States since being elected as the Prime Minister. "I am sure the two leaders will take this relationship forward," he said.
Echoing similar sentiments, BJP spokesperson Rajeev Chandrasekhar said Modi and Biden will take the vibrant Indo-US relations to the next stage since this partnership is the future of democracy and trade in the global political order.
Indian diaspora weighs in
But the collective weight of the Indian diaspora in the Biden administration would count as much in policies and engagement with India as the role of other veteran advisers with high-level government experience in the team.
Still more to read:
India looks to re-energise its bilateral ties with Central Asia
Luxembourg, a small country offering big opportunities
India and Italy revisit and re-energise their strategic ties
Indo-Pacific instills new momentum into India-France ties
India-South Korea cash in on unlimited opportunities
With Vice President Kamala Harris in the West Wing, analysts feel that there will be a further strengthening of the general direction in which US-India relations have headed in the past four years.

The Trump administration made India a key part of its "Free and Open Indo-Pacific" strategy, and backed the Modi government vigorously following the latter's stand-off with China along the Himalayan border in June.
Along with the US, India also remains a vital member of the regional grouping to counter China known as the Quad, which also includes Japan and Australia. The geopolitics of a post-Covid world would make any reversal on those strategies untenable – and the most ringing endorsement of the same has come from Tony Blinken, Biden's nominee for Secretary of State.
"We have a common challenge, which is to deal with an increasingly assertive China across the board, including its aggression toward India at the Line of Actual Control, but also using its economic might to coerce others and … to its advantage, ignoring international rules to advance its own interests, asserting unfounded maritime and territorial claims that threaten a freedom of navigation in some of the most important seas in the world," Blinken said during a virtual panel discussion on US-India Relations on the occasion of India's Independence Day on August 15.
"We have to sort of take a step back and start by putting ourselves in a position of strength from which to engage China so that the relationship moves forward more on our terms, not theirs. India has to be a key partner in that effort," Blinken said.
Maintaining the strategic momentum
For more than 20 years since the Clinton administration, successive American presidents have underlined strong relations with India – the Indo-US nuclear deal under the George W Bush presidency marked a generational leap in bilateral ties and set the stage for a strategic partnership, New Delhi became the lynchpin in President Barack Obama's 'Pivot to Asia' calculus, and Trump advanced it to a bold new level. President Biden is thus set to maintain that strategic momentum, with a plethora of Indian-American officials, policy advisors and technocrats by his side.