Bet big and bet long in the Indian economy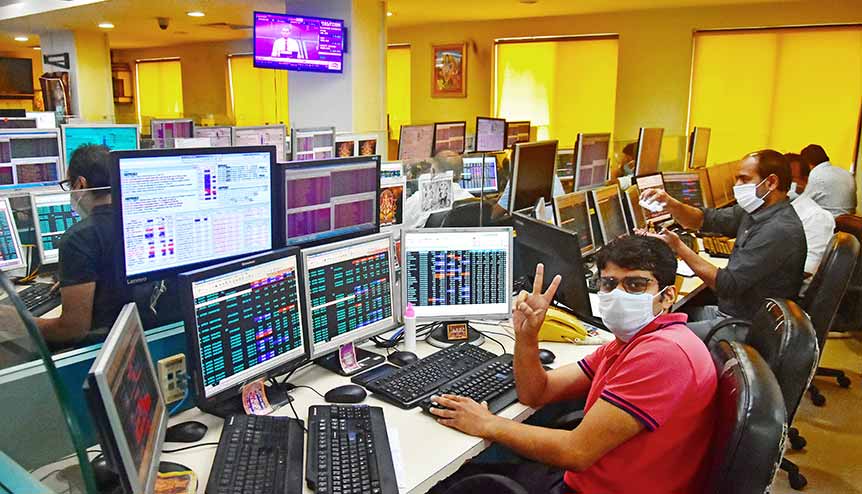 India's economy is getting warmed up and any dire predictions made towards it at this point are exaggerated. The negative lining brought about by Covid-19 will soon be tempered and it will be business as usual for India.
One can see the glass either half empty, or half full. The latter is typically the right way to perceive the black, white and shades of grey that make up the world of business and economics.
Which probably has a lot to do with the fact that India's economy – despite being dubbed as shrinking by many experts – is attracting busloads of foreign investors who are putting their money into stocks in a bid to ensure that the apparition of a recovery never fades away.
While most other markets, including China suffered net withdrawals during the month, investors committed nearly $6 billion worth of shares into the Indian economy. Investors are already predicting that financing in India will ensure healthy returns within 12-24 months and that Indian equities illustrate one of the fastest growth areas in the world.
Have you read?
Indian economy doomsday predictions are highly overstated
India's economy and fiscal position is set for a sharp rebound
Farmers may rescue Indian economy this year
India's economy weathers Covid-19 storm better than others
India's economy under lockdown, but there are reasons to be hopeful
India is poised to become an engine of growth for the world economy
Enthusiasm outside India
Even while India's economy shrank by a reported 23.9 percent, in the June quarter foreign investors invested back nearly a net of $231 million within the first three days of September. According to Reuters, foreign craving to buy Indian equities has risen suddenly, with investors outside India buying $10.3 billion of new shares in the three months to August.
According to a snap analysis provided by Morgan Stanley's Samarth Jagnani, "The interest from foreign investors has been very strong and that reflects the fact that the quality of issuers that have come to market have been from the Top 100 companies."
There are more facts to chew on – Indian companies have raised a record $31 billion in equity capital in 2020, as banks strengthen their balance sheets to prepare for any economic uncertainty and corporates delve into elevated global liquidity levels.
Banks have been the most active issuers, raising $13.68 billion, followed by the energy and power sector with $7.05 billion, and consumer products with $3.41 billion.
Big business plays its part
The top business entities in the country have played their part. Reliance Industries' $7-billion raising in June was the country's largest, the data showed, as the company turned net debt-free and is now looking to expand its consumer business after having acquired Future Group's retail arm.
Real estate companies were identified by corporate advisors as the most likely candidates to tap the markets further in 2020 as property demand is expected to return after the disruption caused by the coronavirus crisis.
Surging cash levels – helped by $15 trillion of stimulus made available for economies to withstand the fallout of the pandemic was primarily responsible for the raising rush, advisors said. The record raising comes despite India's economy contracting 23.9% in the June-quarter.
The signs are evident – investors are looking past the negativity and preparing themselves for the good times which is part of an economic cycle.
There are plenty of reasons to be optimistic about the Indian economy – which, given the ravages of the pandemic globally, is better off than most other economies – given that the signs are all there for investors to cash in on in the long term.
V-Shaped Recovery of India: Industrial production & consumption is gaining a strong pace as economic activity rebounds.

With high revenue collections, robust supply chain & logistics growth, India is well poised for economic buoyancy. pic.twitter.com/B9I72Fzq5Z

— Piyush Goyal (@PiyushGoyal) September 8, 2020
Getting warmed up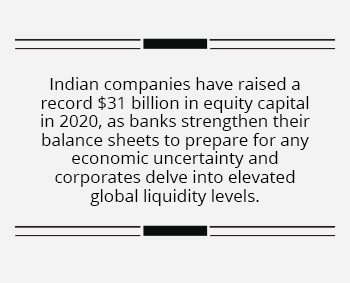 It would be fair to say that India's economy is just about getting warmed up and any dire predictions made towards it at this point are exaggerated. The negative lining brought about by the effects of Covid-19 will soon be tempered with the announcement of a vaccine and post that it will be business as usual for India. The vibrancy on the street is vastly in contrast with the cold deadpan reading of the data that is put out for analysis periodically. These prophets of doom have become so insular in their vision that they are missing out the bright spots. The optimistic investor, in the meanwhile, is looking beyond the statistics in search for tangibles. The formula is simple -bet big and don't leave the table in a hurry.