Australia wants to come out on top with India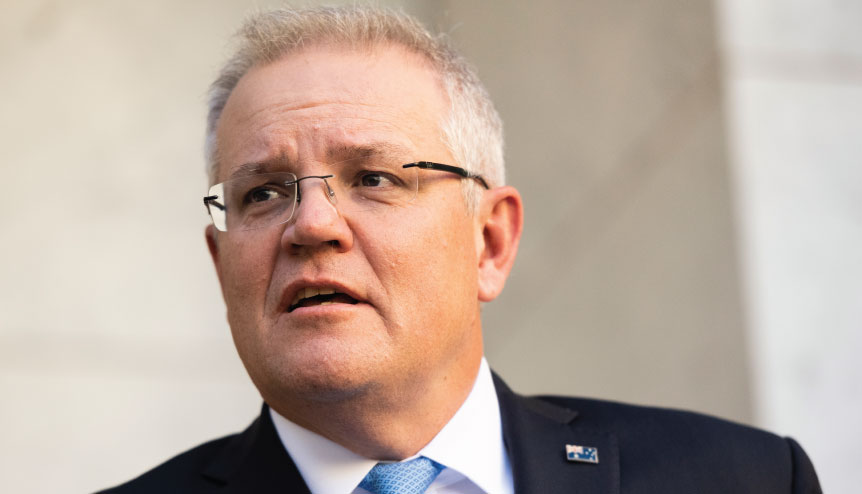 PM Scott Morrison's declaration of furthering economic ties with India comes against the backdrop of a deepening trade war between China.
India-Australia trade ties are set to receive a significant boost with Prime Minister Scott Morrison announcing a proposed video meeting between Indian counterpart Narendra Modi and himself.
Reciprocal defence agreements, partnerships in education, exports of Australian agricultural products and people-to-people links are just some of the proposals that are on the table.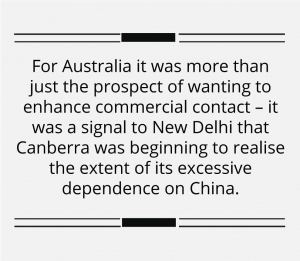 Related stories: Australian businesses on a mission to India
Australia can help with India's nation-building agenda
Australia's declaration of furthering economic ties with India comes against the backdrop of a deepening trade war between China, who has put stiff tariffs on Australian barley. Many are seeing this as a punitive measure initiated by Beijing thanks to Australia's backing of a WHO inquiry against China for allegedly being responsible for the coronavirus pandemic.
Adding credence to the deepening of India-Australia trade ties a spokesman for Prime Minister Morrison told AAP, "Australia and India are natural partners with deep people-to-people links. The Prime Minister looks forward to holding a virtual summit with Indian Prime Minister Modi, in the near future, as another step to advance our India economic strategy and cement India in the top tier of Australia's partnerships."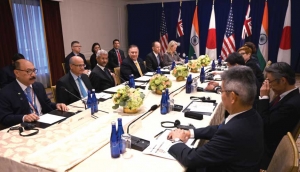 It makes sense for both countries to boost business with each other. India's links with Australia have been re-energised not just in the field of trade, but also by their mutual interest in maintaining a robust association through their respective roles in the Quad which also includes the United States and Japan. China's steady and growing influence in the Indian Ocean is a disturbing feature and the Quad will also need to reassess maritime security and freedom of navigation in the Indo-Pacific region in a bid to protect their commercial interests while curbing China's overt aggression. 
India and Australia are naturally keen to seek new markets and enhance economic growth. The Modi government has announced massive reforms in a bid to fire up its economy and Australia should be keen to capitalise.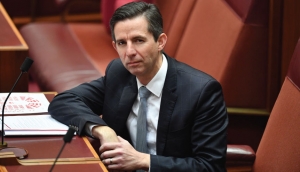 The visit to India, in March, by a 120-member Australian business delegation led by Trade, Investment and Tourism Minister Simon Birmingham was an early signal that the Australians were fired up to further economic ties. This was one of the largest trade missions from Australia to India in the last five years. The delegation was part of the Australia India Business Exchange (AIB-X).
However, for Australia it was more than just the prospect of wanting to enhance commercial contact – it was a signal to New Delhi that Canberra was beginning to realise the extent of its excessive dependence on China and, by that logic, its need to diversify into equally promising markets. While it is true that there is a lot of ground to make up between the two countries – trade between Australia and India was $30 billion in 2019, while the numbers between China and Australia was close to $200 billion – perhaps the time is right to capitalise now, given the extent of reforms, against multiple platforms, that have been announced in India.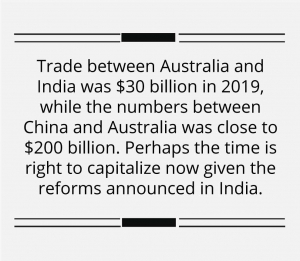 Set against such developments Australia's India Economic Strategy (IES 2035) stands out. The plan was to fix a target for India to become one of Australia's top three export markets; to make India the third-largest destination in Asia for Australian outward investment and to bring India into the inner sanctum of Australia's strategic partnerships.
The buzzwords for Australia would be resources, agribusiness, education and tourism. The Australians possess sufficient experience in these sectors and by leveraging their skills in the Indian sphere they can ensure the beginning of a healthy partnership.
This will not only provide opportunities to the big mining companies of the world; it will also opens up new business avenues for a host of technical consultants and equipment suppliers.