Australia and India, converging perceptions, aligning interests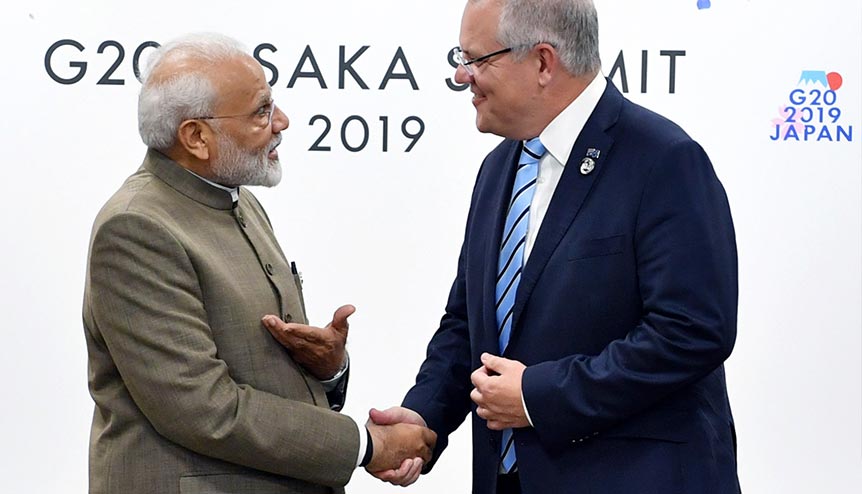 The two countries are entering into a new phase of unprecedented but close bilateral relations while putting aside the hesitations of the past.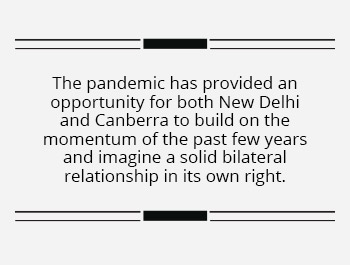 The Australia-India relationship is perhaps the fastest growing relationship in the Indo-Pacific today, and one that has far-reaching significance for the regional security architecture. The pandemic has provided an opportunity for both New Delhi and Canberra to build on the momentum of the past few years and imagine a solid bilateral relationship in its own right, rather than within the context of the great power competition between the US and China. The Comprehensive Strategic Partnership signed between prime ministers Modi and Morrison this year is reflective of this development.
Covid-19 has helped both nations to overcome the residual negative baggage of the past and move beyond the memories of Australia's criticism of India's nuclear tests in 1998 and more importantly, Canberra's withdrawal from the Quadrilateral Security Dialogue in 2008. Australia, for its part, has come to see India as an economic and political counterweight to China.
Have you read?
Invite to Australia to join Malabar shows India's defiance of China
It's B for business as India-Australia come together to forge a new power bloc
India-Australia are the architects of a new World Order
India-Japan-Australia supply chain plan to check China's dominance
Can virtual talks lead to real actions for Australia and India?
Converging Perceptions
The most important factor behind the strengthening of bilateral India-Australia relations has been the alignment of mutual perceptions on China. Even until five years ago, Australian attitudes to China were inconsistent to how India saw it. While India had always been wary of China's threat on its borders, Beijing's close relations with Islamabad and its growing clout in the Indian Ocean Region, Australia, until five years ago, believed in the possibility of China's peaceful rise.
Australian foreign and defence policy, until around the middle of the last decade, was premised on the notion that it could seamlessly balance between its strong strategic and defence ties to the United States and its close economic relations with China.
Influencing factors
Three inter-related factors have contributed to a recalibration of Australian perceptions of China: China's aggression and revisionism in the South China Sea, growing Chinese influence and the prospect of Chinese dual-use ports in the South Pacific and most importantly, Beijing's attempts to interfere in Australian domestic politics.
These factors, along with the growing defence and strategic ties between the US and India have played a big role in Australia investing heavily into the India relationship in recent years. On its part, India has begun to recognise Australian efforts to stand up to Beijing in recent years: starting with Australia's decision to exclude high-risk vendors Huawei and ZTE from its 5G rollout in 2018, to introducing strict foreign interference legislation to protect against Chinese manoeuvres.
Australia's reputation has been enhanced in Indian eyes for its forthright stance on seeking an enquiry into the origins of Covid-19, and its refusal to cave in in the face of the resultant Chinese economic coercion. More importantly, Australia's overt support to India during its current crisis with China has laid the foundations of an enduring and resilient partnership between the two nations.
On the flip side, India's resolute handling of the border standoff with China this year has convinced Australia that New Delhi cannot be bullied by a belligerent China. In other words, the pandemic has reinforced Australia and India's mutual perceptions of each other's reliability.
Read more:
Australian businesses on a mission to India
Australia wants to come out on top with India
Australia can help with India's nation-building agenda
Australia can bring a depth of experience to Indian mineral mining sector
Critical minerals, strategic ties to take India-Australia relationship forward
Current State of Play
The India-Australia relationship is advancing economically, strategically and mini and multilaterally. Economically, Australian exports to India doubled between 2013 and 2018, from A$11 billion to A$22 billion, respectively. India was Australia's eighth largest trading partner and fifth largest export destination in 2018-19. Although New Delhi's refusal to sign up to the Regional Comprehensive Economic Partnership is disappointing for Canberra, there are still hopes that India may be more open to a freer bilateral trading arrangement with Australia in the future.
The supply chain resilience initiative between Japan Australia and India- JAI- will be victorious.

We have three like-minded democratic countries with transparent, rule-based trading. We will invite other countries with the same mindset to be a part of this JAI initiative. pic.twitter.com/1jf6xy6K2E

— Piyush Goyal (@PiyushGoyal) September 10, 2020
More importantly, India and Australia have agreed to be part of the Japan-led Resilient Supply Chain Initiative, which aims at reducing dependence on any one country for essential supplies, including raw materials and finished goods. In this respect, the Australia-India agreement on cooperation on critical minerals and rare earths is especially relevant, as the two nations have complementary interests; while Australia is keen to find alternative export markets for its minerals, India needs rare earth minerals to bolster its advanced manufacturing sector.
A multipronged relationship
Strategically, Australia-India defence and security ties have never been as strong as they are currently; both countries signed a mutual logistics support agreement and have upgraded their bi-annual '2+2' defence and foreign leaders' meeting to the ministerial level this year. More importantly, India's invitation to Australia for this year's Malabar naval exercises is likely to further improve defence ties and interoperability between the two militaries.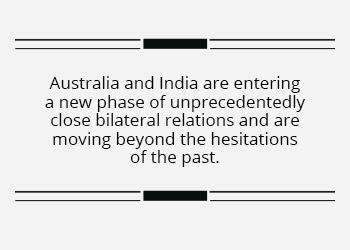 Australia-India relations have blossomed in several trilateral and minilateral initiatives too, such as the Quadrilateral Security Dialogue with the US and Japan, which has been active as a consultative forum for cooperation on vaccines, PPE and economic recovery during the pandemic. While patchy Australia-India relations could partly be blamed for the weakness of the Quad in the past, it can be argued that the strengthening ties between Canberra and New Delhi have contributed to the overall strengthening of Quad 2.0 in no small measure.
Australia and India are entering a new phase of unprecedentedly close bilateral relations and are moving beyond the hesitations of the past. As Australian High Commissioner to India, Barry O'Farrell remarked recently, the two nations no longer have 'converging' interests; 'their interests are now aligned'. Given that trust is the new currency in the international system, the Australia-India relationship is being built on firm foundations.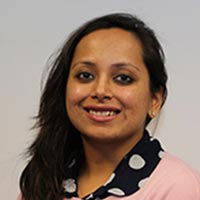 Aakriti Bachhawat is a Researcher in Defence, Strategy and National Security at the Australian Strategic Policy Institute.