Antigen tests are India's potent weapon in arresting the Covid-19 surge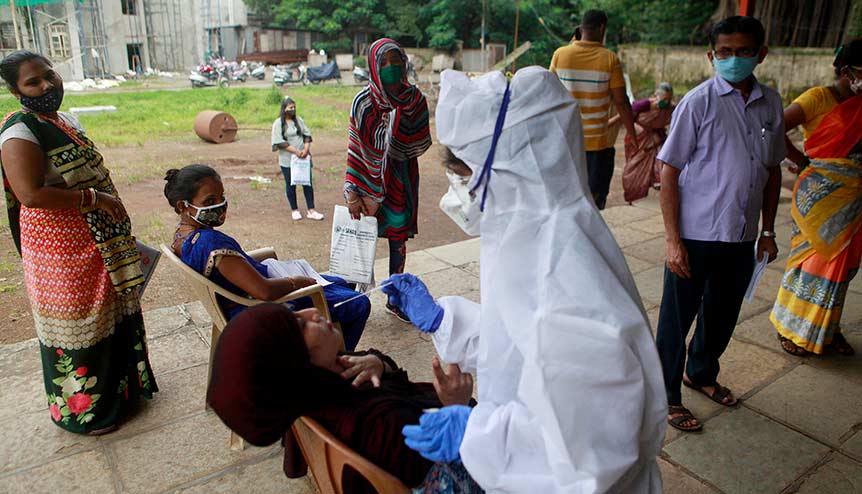 Unlike PCR or antibody tests, antigen tests quickly detect highly infectious individuals with a high viral load, who might be super-spreaders. That's the reason why more Indian states are now opting for them.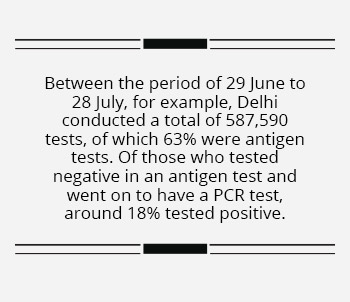 India's in-vitro diagnostics market was valued at about $2 billion in 2019, primarily driven by the growing number of laboratories, demand for pre-treatment testing and growing affordability.

That's not much a number – except that this vital segment of the health industry has become a potent weapon in India's battle against coronavirus as cases surge by nearly 100,000 every day, with antigen testing being used to rule out the asymptomatic and symptomatic carriers of COVID-19 in a fast and cost-effective way.

This is one reason why many Indian states are rushing to procure antigen test kits instead of the more expensive and time-consuming PCR tests.
Have you read?
Why India-UK partnerships are booming amid the Covid-19 pandemic
Covid-19 crisis may hit UK-India education success story
The US-India partnership will reach a higher plateau in the post-pandemic world
Cutting edge tech the key to reshaping the hotel industry post-pandemic
How the Indian start-up sector can survive the pandemic disruptions
How the pandemic is fuelling India's edtech platforms
The national capital of Delhi became the first state to begin antigen-based testing in June, and many other states followed suit. Between the period of 29 June to 28 July, for example, Delhi conducted a total of 587,590 tests, of which 63% were antigen tests. Of those who tested negative in an antigen test and went on to have a PCR test, around 18% tested positive. In the weeks after the antigen tests were introduced, Delhi recorded a fall in infection rates.
Boosting rate of testing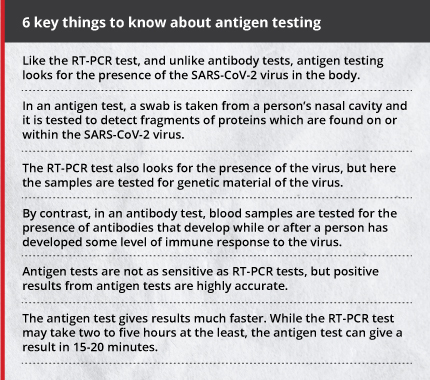 The antigen test has been regarded globally as a key tool to boost the rate of testing as the battle against the coronavirus intensifies. "It allows a faster detection process and means you can quickly detect highly infectious individuals with a high viral load who might be so-called super-spreaders," Dr Anupam Singh, a public health expert, told the BBC in a recent interview.
The test that's been most commonly used globally is a PCR (polymerase chain reaction) test, which isolates genetic material from a swab sample. But such tests are among the most expensive in India and take up to eight hours to process the samples. And test results often take up to a day to produce, depending on the time taken to transport samples to labs.
Around 60% of the Active Cases are concentrated in only 5 most affected States.

There are 13 States and UTs that even today have less than 5000 Active Cases. pic.twitter.com/K0ZwC5yQGS

— Ministry of Health (@MoHFW_INDIA) September 18, 2020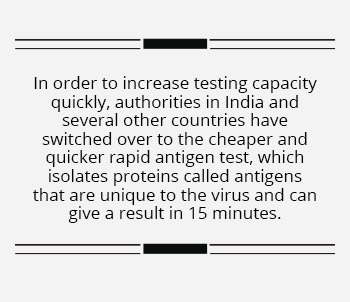 In order to increase testing capacity quickly, authorities in India and several other countries have switched over to the cheaper and quicker rapid antigen test, which isolates proteins called antigens that are unique to the virus and can give a result in 15 minutes. There's a notable difference with antibody tests – the antigen tests only tell you if you are currently infected, not if you were infected in the past. But that's also what makes the antigen test scalable at a short notice – and many countries such as India have deployed these tests in virus hotspots and healthcare settings.
Ease of testing
"Badly hit and highly populated countries such as India can fight back the battle against COVID-19 by relying on antigen testing as conducting RT-PCR test requires higher investment in the form of skilled work force, expensive infrastructure, equipment and reagents. In contrast with RT-PCR tests, antigen testing can be easily done on the spot in doctor's clinics, day care centers, hospitals, home care settings and industries," said Bhaskar Vittal, medical devices analyst at GlobalData.
Read more:
The pandemic might have opened up a huge export market for India – Skills
Pandemic gives a renewed thrust to India-EU ties
Post-pandemic, India will need to focus on fast-paced development for building Atmanirbhar Bharat
Funding for start-ups in the post-pandemic era
Indian innovation leads the fight against the pandemic
Covid-19 pandemic offers a bigger opportunity for India than the 1991 reforms
The southern Indian state of Karnataka started using antigen tests in July, aiming for 35,000 a day across 30 districts, and in Maharashtra – India's worst affected state – the authorities have rolled out antigen tests in Mumbai. The scale up was more dramatic in the eastern state of Odisha, where 90% of total daily tests are now antigen tests.
Call for early community screening
"In India, a few state governments have ramped up antigen testing to meet the unprecedented demand for COVID-19 tests. Taking cue from this, other state governments should follow suit by increasing antigen testing… Early community screening with antigen testing gives fair idea about COVID-19 infection transmission. This will help healthcare bodies to segment the communities into low, medium and high risk population groups. It will also help in prudent allocation of limited medical resources to benefit the most vulnerable communities," said Vittal.
As India crosses the 5-million mark for Covid-19 caseloads, arresting the rapid surge in coronavirus cases is crucial – and antigen tests will thus remain of the most important tools to fight the pandemic by saving valuable time, cost and lives.