An Indian backstop: Insurance policy for a stronger post-Brexit Britain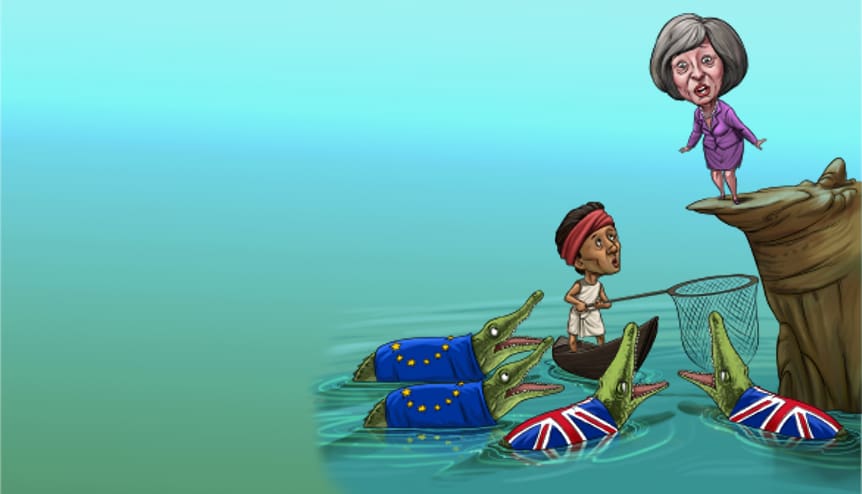 As the Brexit deadline looms, all options are on the table. But British Prime Minister Theresa May should be selling her deal to the British public by also leveraging the existing technology and economic cooperation agreements her government signed with India last year.
Will Brexit be delayed? British International Trade Secretary Liam Fox thinks it is possible, if Prime Minister Theresa May's deal is rejected and Article 50 extended. It will be very unfortunate, "but, if we have no option, in order to deliver a smooth Brexit, then so be it," he told BBC One. That pretty much confirms what many have been talking about in private – that a no-deal Brexit is now finally off the table.
Wolfgang Schäuble, President of Germany's Bundestag, in fact, seems convinced that the UK is not going anywhere. "I believe Britain will either not leave the EU at all or come back at some point," the Guardian quoted Schäuble as saying.
As Britain lurches tortuously towards its date with divorce from the European Union (EU), May, who is piloting the process through a minefield of domestic opposition and discord, has had to survive major embarrassment and erosion of political capital.
She barely survived the largest parliamentary defeat for a British Prime Minister in a long, long time thanks in part to a face-saving victory in a no-confidence vote brought by Opposition Leader Jeremy Corbyn.
We are now barely three weeks away from D-Day – 11 pm on March 29 – when Cinderella will, figuratively, have to come face to face with reality but there seems to be very little evidence that the political class in Britain sees it that way.
But May's UK may get an economic lifeline from an unlikely quarter – India or a kind of Indian backstop that provides an insurance to both British and Indian companies as they grapple with the Brexit-induced turmoil that is buffeting British businesses.
Business sentiment hit
Businesses, including some 800 Indian companies that have invested billions of pound sterling in the UK, meanwhile, are trying to make sense of the theatre of the absurd that seems to be playing out in the UK.
They are also trying to assess the long-term damage being caused to the British economy by what is turning out to be long-running parliamentary soap opera. Japanese car giant Nissan has already announced the shelving of its plans to build its new X-Trail in the UK, costing Britain several hundred million dollars in fresh investments and hundreds of additional jobs.
Danish Prime Minister Lars Løkke Rasmussen summed the damage to the British economy in which "one car factory after another stops or cancels planned production" while pledging to never put his country's EU membership to a referendum.
"The British public had been taken in by some rhetorically skilled politicians who turned out to be untrustworthy conmen who subsequently left the sinking ship," he said, adding that Westminster is a circus and "a paralysed political system that is about to melt down".
Strategic fit with India
The potential synergies between May's idea of a Global Britain that does not retreat into isolation after Brexit and Indian Prime Minister Narendra Modi's vision of fully integrating India into the global supply chain for the mutual benefit of both India and the world are massive.
Many analysts and politicians in the UK see in this a strong case for a closer clinch with India at this juncture. The country is already the third-largest investor in the UK. In fact, India's Tata Group is the largest brick-and-mortar employer in this country.
This investment is driven not only by the huge British market but also by the UK's position as India's bridgehead to the vast EU market and beyond. Many Indian companies have set up shop in the UK to take advantage of London's position as the centre of global finance.
The advantages are clearly visible. The UK is the world's fifth-largest economy with truly global linkages with every part of the world. It will also retain its global technology leadership and its organically evolved infrastructure to support cutting edge innovation. And London will continue to be among the world's top two financial centres.
These will not disappear overnight… or even in the near future. Indian companies can continue to benefit from these for years to come.
For the UK, India offers a huge market for its technology and consumer products as well as for its huge services industry that can cushion some of the shock its economy will feel after Brexit.
Platform already in place
The much-delayed trade deal between the UK and India is not likely to see the light of the day anytime soon. But as US President Donald Trump's revocation of tariff-free benefits under the Generalised System of Preferences (GSP) for India shows, New Delhi cannot count on concessional access to developed markets forever. It has to sign bilateral deals with partner countries and the Brexit backdrop provides an ideal opportunity to do so with the UK.
Till that happens, an alternative platform already in place can help the two countries to deepen their economic engagement.
During Modi's visit to Britain last year, the two countries signed over two dozen pacts and MoUs on a wide range of subjects, in acknowledgement of the fact that the UK, as a global financial powerhouse and technology leader, can find many synergies with India, the world's fastest growing major economy, with a billion-plus aspirational consumers.
The UK's Department of International Trade (DIT) has collaborations with dozens of companies in sectors ranging from security, cyber security, wind and renewable energy etc, that the two countries can leverage.
Technology cooperation
India is acknowledged as a software superpower and Britain has long been among the world's technology leaders. The agreement signed between the two on establishing a cyber-relationship framework to develop a common understanding of the issue internationally is an important platform to widen the economic and strategic engagement between them, especially in the light of the advances made by China in the field of cyber warfare.
At a time when India is digitising at the speed of light – with millions of people and more services and businesses going online – it can absorb Britain's cutting-edge technological leadership in cyber security to ensure a seamless experience for online service providers and users alike.
This can generate a large number of jobs in the UK and at last partially offset fears of job losses from Brexit.
And technology need not only mean IT and related fields. British company MacRebur, for example, has pioneered a technology to use granules made from used plastic bottles with asphalt to build roads in the UK, US, Slovakia, Australia and other countries. This not only reduces the cost of roads but also provides a sustainable way of dealing with plastic waste. India, which is building thousands of kilometres of highway every year, can benefit tremendously from this new technological innovation.
Skilling individuals
TechUK and Nassom, the leading technology sector bodies in the UK and India, respectively, set up the UK-India Tech Alliance to collaborate on skilling professionals in both countries in new technologies by leveraging the deep knowledge base that exists in India and UK. Leading stakeholders – both corporate-institutional as well as individual – from the UK and India will be part of this alliance.
This will facilitate the development of new technologies and an exchange of ideas that are expected to generate billions of revenues over the coming decades.
Then, it will also help upgrade Skill India, a major flagship programme of the Modi government, that has already provided livelihood training to millions of people to prepare them for jobs in industry and the services sector. The pact for providing vocational education and training will promote greater collaboration in high demand sectors where the UK has technical expertise. It will also provide for collaborations between British and Indian institutions for providing apprenticeships, quality assessment and certification.
This will open up a huge market for the British services sector and help the British government address the issue of potential job losses from possible denial of access to the EU market.
A new tech hub
Another initiative that can help the UK absorb the shock of losing unfettered access to the huge EU market is the agreement to set up a UK-India Tech Hub that will be located in the premises of the British High Commission in New Delhi. This hub will provide a network of people and generate ideas, investment and prosperity for the two countries. Its remit will include tracking and adapting the latest developments in the technology world including artificial intelligence, future mobility, electrical vehicles, big data, healthcare, cyber security, digital manufacturing and digital identity.
The hub will also facilitate collaboration on artificial intelligence and digital healthcare by applying evidence-based healthcare in vogue in the UK and strengthen healthcare delivery in areas such as primary, secondary and tertiary care, including self-care, eye care, diabetes and cancer.
The Indian government has announced that a large part of its automobile and commercial vehicle fleet will be powered by electricity by 2030 and the country is well on its way to achieving the target of generating 175 GW of electric power from renewable energy sources such as solar, wind and biomass.
But substantial technological challenges still persist, most notably in the field of storage technology, which is sine qua non for providing balancing capacity for the inherently infirm nature of solar and wind power. This hub is expected to help generate solutions for the challenges that still exist en route to that goal and, thus, create new markets and job opportunities for UK's technology sector.
River rejuvenation
The two countries had also signed an MoU for the rejuvenation of the river Ganga. The UK, which has successfully rejuvenated the Thames, will help India replicate that experience in the Ganga, which is now ranked among the most polluted rivers in the world. The National Environmental Research Council, UK, signed an MoU with the National Mission for Clean Ganga to support the Indian government in sustainable management of the Ganga basin through project-based and policy-based collaborations as well as through the exchange of experts from the UK.
The Modi government has taken up the mission to clean the Ganga and a rejuvenation of the river basin, which spans states such as Uttarakhand, Uttar Pradesh, Bihar and West Bengal and provides livelihoods to almost half a billion people will add billions of dollars to the country's GDP and help uplift many millions of people living it its catchment area.
It will also provide the UK with a potential multi-billion-dollar opportunity to sell its technology and utilise its technically skilled personnel in newer geographies.
The two countries also have subsisting agreements on nuclear cooperation, animal husbandry and fisheries, on popularising Ayurveda in the UK and in healthcare. For example, York-based life sciences company OptiBiotix has recently signed an agreement with Indian healthcare company Zeon for its weight management technology SlimBone.
There are also agreements on the launch of a fund to finance the growth of eco-friendly and sustainable businesses in India with participation from the private sector, and a new dialogue on investment to improve mutual understanding of priorities and review future opportunities for cooperation.
From potential to reality
The potential is there for all to see. Businesses, experts and analysts in the UK and India acknowledge the bright prospects of economic ties between the two countries. But a few niggling issues and domestic political concerns over immigration in the UK and its fallout on Indian professionals and students have come in the way of fully consummating these ties.
As a result, the relationship between the countries has often drifted along shallow transactional lines, with the focus firmly on "quantity" rather than the quality of the relationship.
It is widely acknowledged that India looks at Europe and the EU through the eyes of Great Britain. Similarly, it can also be argued that for decades, Europe has looked at India either with confusion or via the leadership of the UK.
But Brexit has brought about a decisive break in this world view. Things have now changed; India has changed; the UK has changed; and the power dynamic that defined the relationship between these two countries has changed.
It naturally follows that the rules of engagement should also change in line with the ground realities.
So, it will be fair to say that India and the billions of Indians who make up this very complex, highly aspirational but very lucrative market can provide British Prime Minister May the backstop insurance. In negotiations, it is always good to the let the other side know that theirs isn't the only show in town.