Ambani-Bezos rivalry heats up; market awaits Amazon's next move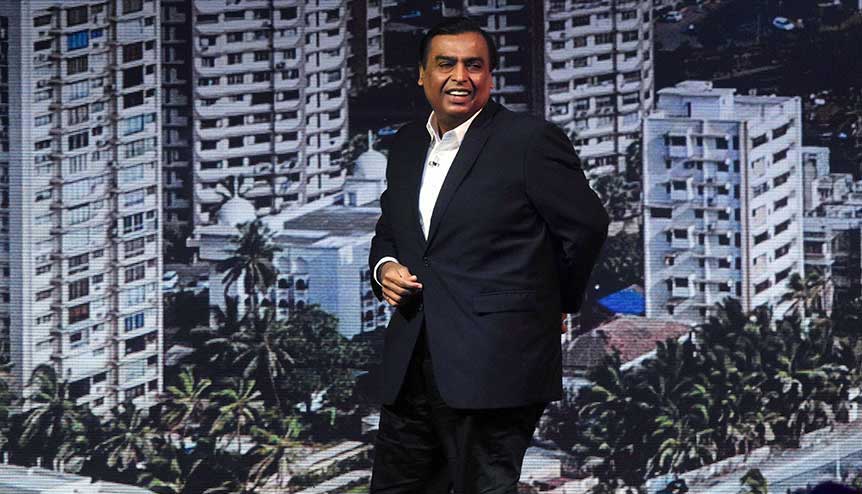 The fight to dominate India's $700-bn retail market gathers intensity as Reliance acquires its nearest rival, leaving Amazon far behind. Even as there is speculation of Walmart buying a minority stake in Reliance Retail, the market is awaiting Bezos' next move with bated breath.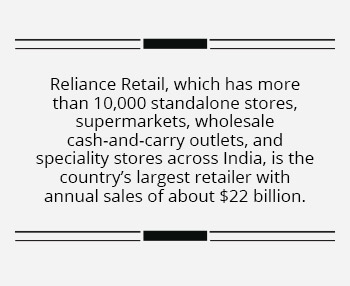 Two of the world's richest men, Mukesh Ambani and Jeff Bezos, are pulling out all stops to dominate the Indian retail market, the only billion-plus country in the world that is open to foreign and multinational retailers. Add Walmart, the world's largest brick and mortar retailer to the mix and you have a heady cocktail of high-octane corporate warfare, intense backroom strategising and increasing benefits for investors and consumers. Ambani, Asia's richest man and Reliance Industries Chairman, is ranked fourth in the global pecking order of the uber wealthy by Bloomberg. Bezos, of course, is the richest. And the Waltons, the promoters of Walmart, are the world's richest family.
Have you read?
Reliance's 5G ambitions provides alternative to a tainted Huawei
Digital India receives added boost with KKR-Reliance deal
Forget the experts, follow the money
Retail and e-commerce must present level playing field for all
Reliance Retail consolidates leadership position
But Ambani beat Bezos to the draw and consolidated his position as the leader of India's retail market by sealing a deal to acquire the retail, wholesale and logistics & warehousing business of Future Group, a leading Indian retail group, for $3.4 billion. The acquisition is subject to receiving regulatory approvals from the relevant authorities and is carefully structured to deny Bezos' Amazon, which has a call option to buy a stake in Future Group, any chance of muscling into what is now Reliance territory.
The transaction consolidates Ambani's grip over India's organised retail industry and adds substantially to scale of Reliance Retail's business. "A combined entity with larger market share will also increase potential strategic investor interest, in our view," said global brokerage firm Nomura Securities. CLSA, another major global brokerage firm, concurs with this assessment. It said Reliance Retail's acquisition of Future Group will expand its retail outlets by 15 per cent, retail footprint and warehousing area by more than 80 per cent and increase Reliance's share in India's organised retail market to 17.8 per cent, up from 13.7 per cent now.
Reliance Retail, which has more than 10,000 standalone stores, supermarkets, wholesale cash-and-carry outlets, and speciality stores across India, is the country's largest retailer with annual sales of about $22 billion. In recent times, it has focused on beefing up its e-commerce play and is also reportedly in talks to buy several smaller players in the online medicine, furniture and grocery spaces.
Amazon leads in e-commerce

Amazon, the world's largest online retailer, on the other hand has invested $5 billion in India since it entered the market in 2013. It has committed to invest $1 billion more on improving its back end in India over the next five years. Since its entry, it has faced stiff competition from Indian unicorn Flipkart, which is now owned by its US rival Walmart, but Amazon has established itself as the leader of India's e-commerce market.
Read more:
Rural India drives the boom in Indian e-commerce sector
Getting fit for a post-Covid World – India's huge privatisation programme
Why India's IT sector is on the cusp of a global metamorphosis
Post-pandemic, India will need to focus on fast-paced development for building Atmanirbhar Bharat
Trillion-dollar baby
The e-commerce segment accounts for a tiny 1.6 per cent share of India's $700 billion retail market that global consultancy BCG expects to almost double to $1.3 trillion by 2025.

Reliance, Amazon and Walmart are all fighting to dominate this market. Hence, the urgency to acquire brick and mortar assets in India's retail sector.
Deal structured to keep Amazon at bay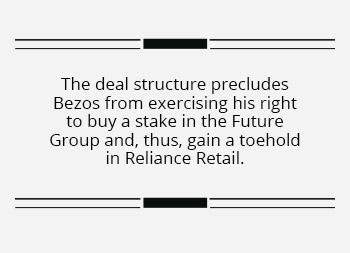 It was, perhaps, with this in mind that Amazon bought a 49 per cent stake in Future Coupons last year. The deal gave Amazon a call option to acquire Future promoter Kishore Biyani's stake in Future Retail at a future date. "This call option allows Amazon to acquire all or part of the promoters' shareholding in Future Retail Ltd, and is exercisable between the 3rd and 10th years, in certain circumstances, subject to applicable law," the company had said in a regulatory filing last year.
Ordinarily, this would have allowed Bezos to buy a stake in Reliance Retail if it had acquired the Future Group directly or merged the latter into itself. Instead, the deal has been structured by merging 19 Future Group companies into Future Enterprises, which will then sell the assets of the businesses to two Reliance subsidiaries.
Thus, Ambani has taken care to ensure that Amazon does not gain a toehold in his company.
This round goes to Ambani
This round, then, has gone Ambani's way quite decisively. But Bezos is not one to throw in the towel so easily. The market is waiting with bated breath to see what he does next to protect his flanks in India.
Meanwhile, there is media speculation that Reliance is considering the sale of a minority stake in its retail business to Walmart but India Global Business could not independently confirm this.

As these behemoths fight it out, the action is definitely heating up in India's retail space.