A year of elections that ended with a vote for stronger India-UK ties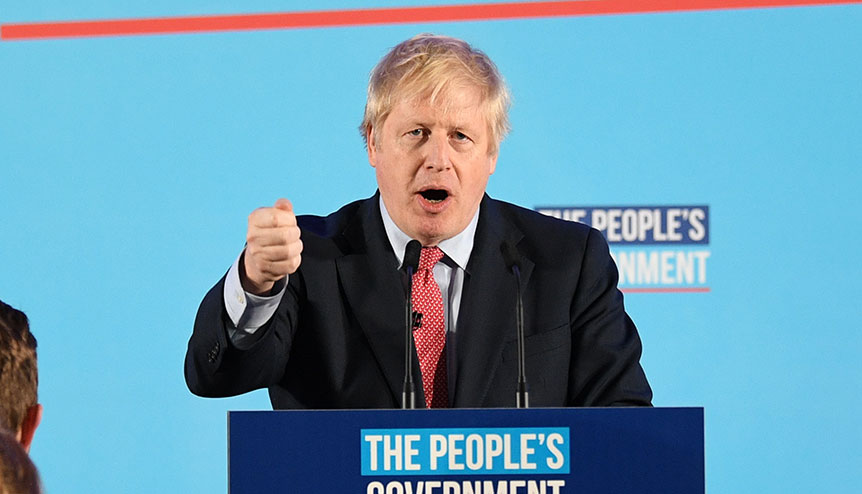 The year 2019 saw two major elections in the world's largest and oldest democracies and the common thread in the outcome of both was the promise of a new strategic partnership between India and the UK.
Highlights:
Boris Johnson astutely leveraged the power of the 1.5-million-strong Indian diaspora, by stressing on building stronger relations with India during the General Election in December.
Johnson's good relationship with Prime Minister Modi of India helps sets the tone for the next phase of the India-UK relationship.
The Queen's Speech in Parliament spelt out the contours of this new post-Brexit strategy, which will also include a special fast-track visa for medical professionals.
It was no accident that Boris Johnson saved his visit to one of the world's famous temples in London, the Swaminarayan Mandir in Neasden, for just days before the General Election on December 12. Being an astute politician who has always struck an India-friendly tone, he knew well the power of the 1.5-million-strong Indian diaspora, especially in these elections as they had been feeling betrayed by the Opposition Labour Party for its perceived anti-India messages.
Sporting a tilak and garland, Johnson performed a traditional puja at the temple and later told the diaspora gathering that they could well guess what he had wished for. Well, whether it was anything to do with those prayers or not, his wish certainly did come true and more as the British electorate voted him back into 10 Downing Street with a "stonking" 80-seat majority.
"British Indians have played a vital role in helping the Conservatives win elections in the past. When I told Narendrabhai [Modi] this, he just laughed and said Indians are always on the winning side," he said, striking a note of bonhomie with the Indian PM who had himself won a solid majority in elections earlier in the year.
"I know Prime Minister Modi is building a new India. And, we in the UK government will support him fully in his endeavour," he added, amid cheers.
New partnership
It is this spirit of partnership that ran through the Conservative Party manifesto, which made a categorical reference to India as a dynamic economy.
It read: "We will forge stronger links with the Commonwealth, which boasts some of the world's most dynamic economies such as India, with which we already share deep historical and cultural connections.
"We will use export finance to increase our businesses' access to emerging markets and engage diaspora communities in the UK with this agenda."
The plans are now set in motion, including a promise to make India one of his first stops on his overseas visits trail in the New Year. The prospect of such a visit was further reaffirmed with Prime Minister Modi extending a formal invitation to him during the customary congratulatory phone call to Downing Street.
Trade, security and environment
"The Prime Minister spoke to Prime Minister Modi of India, who congratulated him on the result of the General Election. The two leaders resolved to continue working closely together on issues such as trade, security and defence, and to step up our cooperation on climate change ahead of next year's COP26 climate summit in Glasgow," said a Downing Street readout of that call, soon after Johnson's landslide victory.
It sets the tone for the next phase of the India-UK relationship, which experts believe can now be "unleashed" – to borrow one of Boris Johnson's election refrains.
Rahul Roy-Chaudhuri, Senior Fellow for South Asia at the International Institute for Strategic Studies (IISS), believes the election result should pave the way for a real strategic partnership, beyond the rhetoric.
"Convergences on maritime security, cyber space, counter-terrorism/extremism and defence technology/trade need to be deepened, thickened, highlighted and mainstreamed to remove the trust-deficit that has recently emerged between the two countries," he says.
However, the complexities of Brexit and Britain's 31 January 2020 timer to leave the European Union (EU) would undoubtedly lead to some delays in this game-plan being fully rolled out.
Movement of people
However, it is the impending exit from the EU which has been repeatedly flagged by Johnson as a freeing up the UK to set up a "fairer" points-based system of immigration – which would be open to skilled migrants from countries like India on the same basis as those from within the EU. Untethered from the economic bloc's freedom of movement rules, the Queen's Speech in Parliament spelt out the contours of this new post-Brexit strategy, which will also include a special fast-track visa for medical professionals addressing acute shortages being faced by the state-funded National Health Service (NHS).
Doctors from India have historically been referred to as the backbone of the UK's health service but have not had a very welcoming ride in recent years. Skilled professionals and students from India have also felt unwelcome, a perception that is being addressed if the latest data is anything to go by.
Truly special relationship
The stage is set for the New Year to be the start of what Boris Johnson has previously dubbed a "truly special relationship" with India.
"The sooner we leave the EU and take back control of our trade policy, the sooner we can strike a new trade deal with India that will deliver new jobs, growth and prosperity for both our countries. Securing this new and improved trading relationship with our friends in India will be a priority for me," he is on the record as saying.
Now that leaving the EU is really within his grasp in 2020, it remains to be seen how he intends to put those words into action.