A mixed year for Indo-US ties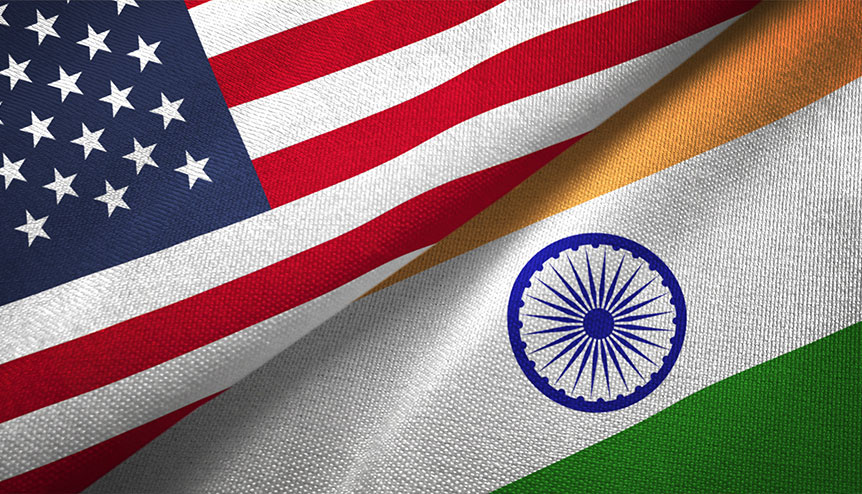 India and US have drawn even closer on the strategic side – with a close convergence in the views on the Indo-Pacific, China and other issues. But Trump's insistence on looking at every bilateral relationship through the prism of trade is threatening to limit the gains emanating from the stronger diplomatic engagement.
Highlights:
2019 has been a milestone year for both strategic convergence and trade between India and the US.
Trump's order to terminate India's designation as a beneficiary developing country has significantly impacted trade.
India' raise on import duties on auto parts, capping of prices for certain medical devices and its reluctance to open up trade in poultry products have not gone down well with the US.
But while India and the US haven't reached a conclusion on a trade deal in 2019, the two sides collaborated significantly on the strategic front.
Are India and the US natural allies who are building the defining global partnership of the 21st century? Or does the US view India as a "tariff king" that levies unacceptably high import tariffs on US products such as medical devices and Harley Davidson motorcycles, among many other items?
The answer to both is an unequivocal yes. And that has made defining this relationship, especially in the time of President Donald Trump, very difficult.
That's because there is almost complete convergence on defence, military sales, strategic ties and geopolitical understanding. Influential quarters in the US are keen on elevating ties with India to the same level as those with NATO members. But at the same time, there is wide divergence on trade issues. President Trump's single-minded focus on correcting what he perceives as anti-US skews in almost every trade deal signed by his predecessors has taken Washington's relationships with several allies to the brink. With India, things still haven't reached the edge of the precipice but foreign policy experts in New Delhi feel damage control measures will be needed before long.
In both these spheres – on strategic convergence and trade – 2019 has been a milestone year.
Large chasm on trade
The year began with the decision of the Trump administration to withdraw Generalised System of Preferences the (GSP) benefits to India from March 2019. But keeping in mind the Lok Sabha elections in the first half of 2019, this decision had been kept in abeyance. Trump finally issued the order to terminate India's designation as a beneficiary developing country effective 5 June 2019, a day after the new Modi Cabinet was sworn in.
Under GSP, Indian exports to the US worth $5.6 billion received preferential tariff treatment. Following the withdrawal of GSP, these items are now levied normal US customs tariffs.
With Trump approaching re-election next year, he's taking off his gloves to unveil his iron fist – to appeal to his protectionist domestic constituency. The decision of Indian Finance Minister Nirmala Sitharaman to raise import duties on several items including auto parts and alloy steel in the Budget she presented on 5 July has almost certainly raised his hackles further.
Indian officials, however, point out that at least some of Trump's pet peeves are not based on facts. They point to the US President's complaints on the balance of trade between the two countries at a time when India's surpluses have been falling – from $24.4 billion in 2016 to $22.3 billion in 2017 to $21.3 billion last year. In fact, India is the only major trade partner with which the US's trade deficit has shrunk this consistently.
No solution in sight
India and the US have been negotiating hard for months. Though the gap between the two sides has narrowed considerably, Indian Commerce Minister Piyush Goyal and US Trade Representative Robert Lighthizer have still been able to find the common ground needed to a deal to be signed.
India's decision to cap the prices of certain imported medical devices and drugs, in order to support its policy objectives of delivering affordable healthcare to millions of its poor, has not gone down well with the US.
Then, the US considers Indian reluctance to open up trade in poultry products, to protect its largely unorganised and small poultry farmers, and animal feed, to safeguard religious sentiments, as protectionist and against the spirit of free trade. India bans the use of animal extracts in animal feed to safeguard the religion-ordained vegetarian eating habits of a large section of its population.
Data another sticking point
The US government has also strongly opposed India's data localisation rules, taking its cue from US companies such as Amazon, Google, Mastercard, Facebook, etc. These companies have lobbied against the Indian government's efforts at governing the use of data generated by Indians in India. The Indian Cabinet recently approved the Personal Data Protection Bill that seeks to legislate rules and requirements on data sovereignty, which means a country's right to control data within its territory, and the storage and processing of some kinds of data within India's borders.
US companies have objected to these, saying the requirement of storing data locally would increase costs, sometimes prohibitively, hurt both local and foreign companies and "negatively impact the flow of foreign investments".
Impeachment a new unknown
It is well known that Trump uses protectionism and associated rhetoric to shore up his support base and build his own image as a strong leader who can make America great again. Many experts expect him to ramp up the protectionist and nationalistic rhetoric following his impeachment by the US Congress – though the US Senate is unlikely to uphold the Congress verdict.
In this backdrop, it remains to be seen how accommodative the US is of India's legitimate demands in its ongoing trade talks.
Tightening the strategic clinch
Even as India and the US were pulling in opposite directions on trade, they were coming closer strategically. They signed several agreements, including the Industrial Security Annex on transferring sensitive military technology to the Indian private sector, at the just concluded 2+2 dialogue between Indian Defence Minister Rajnath Singh and Foreign Minister S. Jaishankar with their US counterparts Mark Esper and Mike Pompeo.
Both sides have reiterated their resolve to advance maritime security by working together for a free, open and inclusive Indo-Pacific. Shorn of diplomatese, this means India and US will together balance and counter China's aggressive military muscle flexing. Expanding the scope of military cooperation, India will now work with the USCENTCOM and its Africa Command in addition to its existing exercises with the US Indo-Pacific Command.
The two sides also signed the Defence Technology and Trade Initiative (DTTI) Industry Collaboration Forum agreement and DTTI Standard Operating Procedure (SOP) during 2019.
These will help sustain the India-US industry dialogue on defence technological and allow both sides to reach and document a mutual understanding of how to define and achieve success.
During the year, the US began supplies of its Apache attack helicopters and M777 lightweight howitzers to the Indian military, further cementing defence ties between the two countries.
Mixed year for bilateral ties
It will be fair to say, in Dickensian terms, that 2019 was the best of times for Indo-US strategic ties; it was also the worst of times for bilateral trade.
The strategic relationship seems to have weathered the trade storm for now – as was evident from the just concluded 2+2 dialogue in the US. But a give and take approach to trade from both sides and a climb down from Trump's all-or-nothing doctrine has become necessary to find common ground.
India and the US cannot, after all, be strategic allies and part of "the defining partnership of the 21st century" while being at loggerheads on trade.