13 Global Indians who are building living bridges with India and the world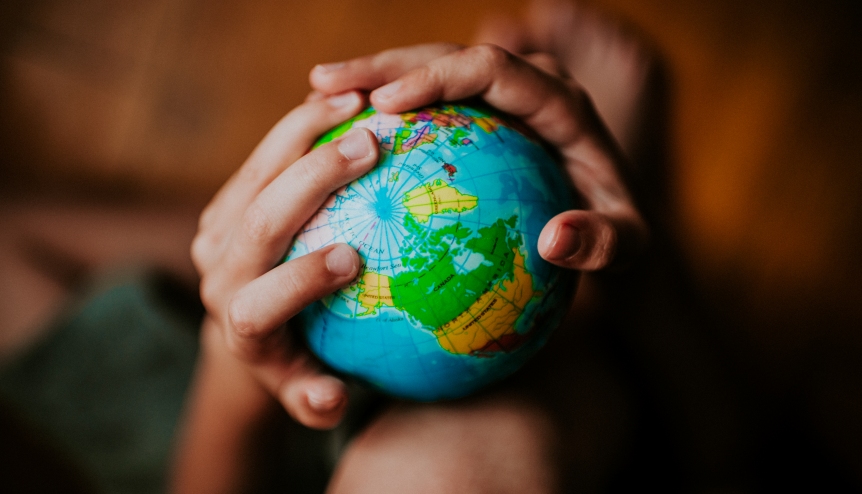 A round-up of some of the influential business and political leaders among the Indian diaspora in North America.
As we look at the teams of Fortune 500 companies, it is not uncommon to find several Indian names in the C-Suite. Here, we recognise some of the most influential business tycoons and politicians from behind the limelight in the US and Canada.
 Anita Anand, Minister of Public Services and Procurement and MP, Oakville

As the Minister of Public Services and Procurement and Member of Parliament representing the riding of Oakville in the House of Commons of Canada, she is the first Hindu to become a federal minister in Canada and is the first female Hindu Member of Parliament. Before her political career, Anand was a Canadian law professor at the University of Toronto, Faculty of Law specialising in corporate governance and the regulation of the capital markets. A scholar and researcher, she was also the J.R. Kimber Chair in Investor Protection and Corporate Governance at the University of Toronto as well as Scholar-in-Residence at the law firm Torys LLP.
Nikesh Arora, Chairman and CEO, Palo Alto Networks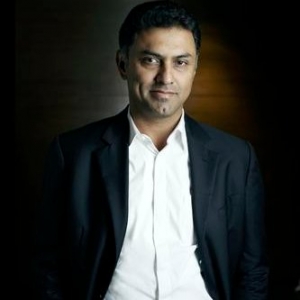 Born into an Indian Air Force family, the IIT BHU alumnus moved to the US to pursue further studies. Having held multiple leadership positions in Google – Vice President, Europe Operations; President Europe, Middle East and Africa; President, Global Sales Operations and Business Development and then finally Senior Vice President and Chief Business Officer of Google Inc – he quit the company to join SoftBank Corp where he served as President and Chief Operating Officer and was referred to as the heir apparent to Masayoshi Son. Now, as Chairman and CEO of Palo Alto Networks in June 2018, he is currently among the highest-paid execs in the US.
Nandita Bakhshi, President and CEO, Bank of the West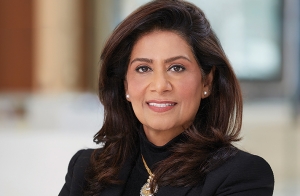 Among the top 5 Most Powerful Women in Banking in 2017 by American Banker and the #1 Woman to Watch in Banking in 2016, Bakhshi has been involved in diverse aspects of banking during her nearly 30-year career. In her current role as President and CEO of Bank of the West and Co-CEO of BNP Paribas USA Inc, she oversees the bank's three main business lines of Commercial Banking, Consumer Banking and Wealth Management, as well as its functional lines – a total team of 10,000 employees in more than 20 states. In 2018, she was inducted to the US-India Strategic Partnership Forum (USISPF) board. She has previously held executive positions at TD Bank, Washington Mutual, FleetBoston, First Data Corp, Home Savings of America and Banc One Corp.
Ami Bera, Representative for California's 7th Congressional District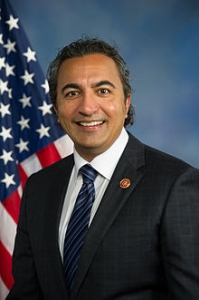 Born to Gujarati parents in Los Angeles, he earned both his B.S. and M.D. from the University of California, Irvine. His desire to serve the community led him to become a doctor and later run for Congress. During his 20-year medical career, he has worked to improve the availability, quality, and affordability of healthcare. He has occupied positions in California Pacific Medical Center, MedClinic Medical Group and Mercy Healthcare. Congressman Bera went on to put his medical experience to work for his community, serving Sacramento County as Chief Medical Officer. He is currently a member of the House Foreign Affairs Committee, where he serves as Chair of the Subcommittee on Asia, the Pacific, and Nonproliferation. He is also Vice Chair of the House Committee on Science, Space, and Technology. He is the longest-serving Indian American currently in Congress.
Nikki Haley, Former Governor of South Carolina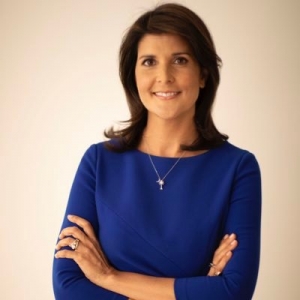 Nimrata "Nikki" Haley was previously the face of the Trump administration at the UN as the United States ambassador to the United Nations. Haley also served as the governor of South Carolina from 2011 to 2017 – the first woman to hold the position – and is also the first Sikh American to serve as governor in the United States. In 2016, she was named among Time Magazine's 100 Most Influential People in the World. She left her Trump administration post in October 2018 to join Boeing's board of directors – a position she recently quit. She has authored two books – her autobiography "Can't Is Not an Option: My American Story" and a memoir "With All Due Respect: Defending America with Grit and Grace".
Kamala Harris, United States Senator for California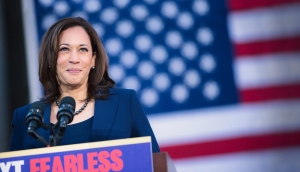 An often-mentioned name in headlines recently, the former Democratic presidential candidate is the second African-American woman and first South Asian-American senator in US history. She has stated that her passion to fight injustice comes from her Tamilian mother Shyamala, an activist and breast cancer researcher. After earning an undergraduate degree from Howard University and a law degree from the University of California, Hastings, she began her career in the Alameda County District Attorney's Office. Later, after completing two terms as the District Attorney of San Francisco, she was elected as the first African-American and first woman to serve as California's Attorney General.
Raja Krishnamoorthi, Representative for Illinois's 8th Congressional District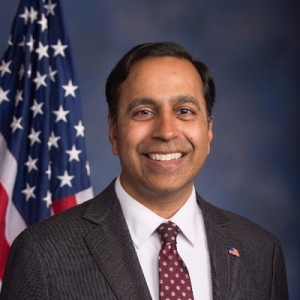 Born to a Tamil family in New Delhi, Krishnamoorthi moved to the US at a very early age. After graduating summa cum laude from Princeton University with a degree in mechanical engineering and a certificate from the Woodrow Wilson School of Public Policy, he graduated with honours from Harvard Law School and clerked for a federal judge before practising law in Chicago. He was later was appointed as Special Assistant Attorney General to help start Illinois' Public Integrity Unit created to root out corruption in the state. He was elected in November 2016 to represent the 8th District of Illinois and is now seeking his third consecutive term in the House of Representatives. Krishnamoorthi is the first Indian American to have been elected to the House Permanent Select Committee on Intelligence.
Suresh Kumar, Executive Vice President, Global Chief Technology Officer and Chief Development Officer, Walmart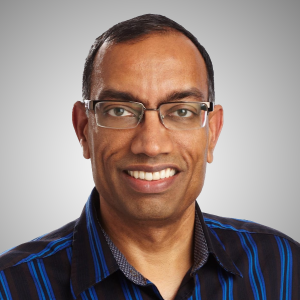 With 25 years of technology leadership experience under his belt, Suresh Kumar was announced as Global CTO of Walmart last year. His illustrious career includes the role of Vice President and General Manager of Display, Video, App Ads, and Analytics at Google as well as that of Corporate Vice President of Microsoft's cloud infrastructure and operations. Prior to that, the IIT Madras alumnus spent 15 years at Amazon in various leadership roles, including vice president of technology for retail systems and operations. At Walmart, he sets the technical strategy and is in charge of developing and managing internal systems to engage with Walmart's 2.2 million employees and its vast supplier network.
Thomas Kurian, CEO, Google Cloud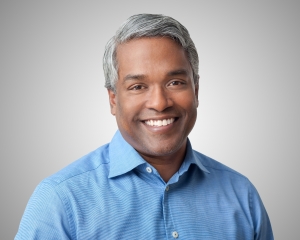 Thomas Kurian, along with his twin brother George – who is the CEO and President of NetApp – moved to the US from Kerala to study engineering at Princeton University. With nearly three decades of experience in engineering, enterprise relationships, and leadership of large organisations, he serves as a member of the Stanford Graduate School of Business Advisory Council and Princeton University School of Engineering Advisory Council. Before joining Google in 2018, he worked at Oracle for over two decades with his final position being President of Product Development. He has also worked at McKinsey as a business analyst and engagement manager.
Komal Mangtani, Advisory Board Member, Women Who Code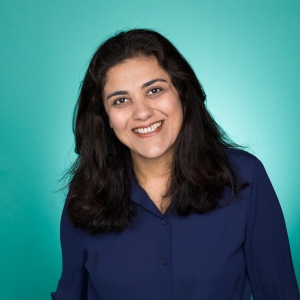 Known widely for her previous role as Senior Director and Head of Engineering and Business Intelligence at Uber, the Surat-born tech icon is an inspiration to women in the industry. She works extensively with communities such as Women Who Code and Girls Who Code in order to encourage more female participation in the technology sector. Before joining Uber, she served as Vice President of Engineering at Box and has also led product development for cloud service products at VMWare. She has also been featured in Forbes' 'The World's Top 50 Women in Tech 2018' list.
Dinesh Paliwal, President and CEO, Harman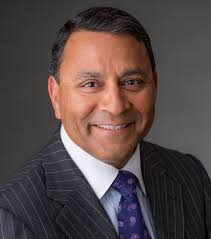 Through his career, the Indian-American businessman has worked and lived in six countries on four continents, including the United States, China, Switzerland, Singapore, Australia, and India. Prior to joining Harman, a wholly-owned subsidiary of Samsung Electronics, in 2007 as President and CEO, he has spent 22 years with the ABB group. He serves on the board of directors of the US-India Business Council (USIBC) and the Board of Visitors of the Farmer School of Business, Miami University. He has also served as chairman of the US National Foreign Trade Council (Washington DC) and on the boards of the US-India CEO Forum, the US-China Business Council, the National Symphony Orchestra (Washington DC), and the International Swimming Hall of Fame. Paliwal will be stepping down from his current role in April 2020.
Steve Sanghi, CEO, Microchip Technology Inc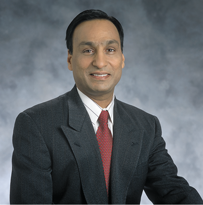 The Punjab-born businessman, author and columnist has been the head of five different companies in his career, including Waferscale Integration, Intel Corporation, FlipChip International and First Organization. He is currently the Chairman and CEO of Microchip Technology Inc as well the Chairman and CEO of Microsemi Corp and President and CEO of Silicon Storage Technology Inc – both companies are subsidiaries of Microchip Technology. He writes the weekly 'Ask Steve' column in the Sunday Business Section of The Arizona Republic and has also co-authored the book "Driving Excellence: How the Aggregate System Turned Microchip Technology from a Failing Company to a Market Leader" along with Microchip's former head of human resources Michael J. Jones.
Jayshree Ullal, CEO, Arista Networks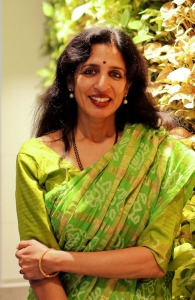 The London-born New Delhi-raised businesswoman is noted among the top five influential people in the networking world. She quit her job at tech giant Cisco as Senior Vice President to move to Arista Networks in 2011. She led the company to a historic and successful IPO in June 2014, turning it into a multibillion-dollar business. With more than 30 years of networking experience, she has been named EY's 'Entrepreneur of the Year' in 2015, been part of Barron's 'World's Best CEOs' in 2018 and is one of Fortune's 'Top 20 Businessperson' in 2019.